NATO States Boost Maritime Security to Counter Russia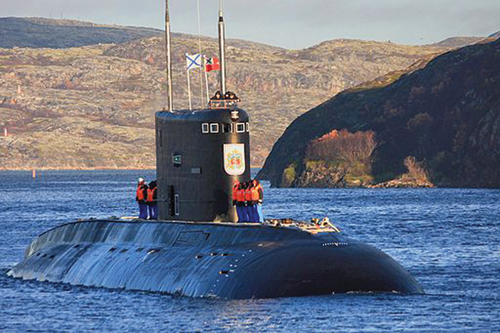 The Ministry of Defence of the Russian Federation
As tensions with Russia grow, the United States and its NATO allies are reinforcing their commitment to strategic issues, including maritime security.
In a brief by the Atlantic Council's Brent Scowcroft Center on International Security, titled "NATO's Next Consortium: Maritime Patrol Aircraft," analysts argued that it's time for NATO members to improve their high-end maritime capabilities in order to face multiple security challenges.
Russia's aggressive sub-surface tactics in the High North and Baltic regions — where it has boosted the numbers of submarine and intelligence-gathering ships — are only one part of the challenge, but one that deserves "special attention," the report said.
"NATO's maritime command also recently reported that Russian submarine activity in the North Atlantic now rivals that seen during the height of the Cold War," the report added.
During a May speech at the Center for Strategic and International Studies, Norwegian Prime Minister Erna Solberg said the NATO alliance, and particularly the U.S.-Norway relationship, was key to her country's national security.
"We need those countries that are like-minded to stand together in an insecure world," she said. "In practical terms, this means investing in our common security."
Norway has now increased its defense budget for the third time in three years, she said. The proposed 2016 government budget includes an increase of the defense share of Norway's gross national product to 1.5 percent, up from 1.4 percent in 2015, a near 10 percent increase adjusted for inflation for the country's armed forces.
Magnus Nordenman, an Atlantic Council analyst and deputy director for the Brent Scowcroft Center, said those investments would primarily be in readiness and long-term procurements, including the F-35 Lightning II and new naval strike missiles.
"In Europe, there's a dawning recognition that Russia can act very fast, and it's no longer possible to have this low-state readiness and you can react a month later," he said.
U.S. manufacturers might see opportunities as Norway looks to replace its aging P-3 Orion fleet. Norway's proposed defense budget includes $4.2 million to strengthen its patrols in the High North with P-3C maritime patrol aircraft, and $38.4 million for its Navy maintenance budget.
Photo: WikiMedia Commons
Topics: International, Undersea Warfare