F-22 Restart Might Not Be Beneficial for Lockheed Martin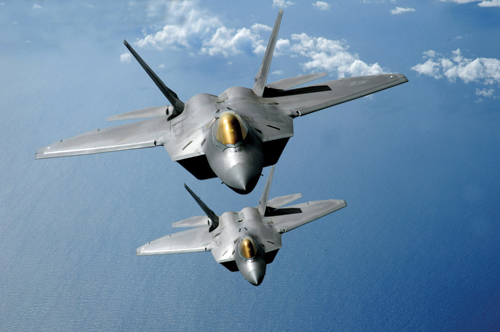 Congress recently tasked the Air Force to study the cost and feasibility of restarting the F-22 Raptor production line. But building more of the stealthy jets might not make good business sense for prime contractor Lockheed Martin. And practical and political hurdles stand in the way of such an endeavor, according to analysts.
Early in the Obama administration, then-Secretary of Defense Robert Gates succeeded in his effort to kill the F-22 program. The assembly line was shut down after the last Raptor was delivered in 2012. Some air power advocates believe that capping production at 195 planes was a big mistake.
"We don't have enough F-22s," said Gen. Herbert "Hawk" Carlisle, commander of Air Combat Command, at a conference last year. "That's a fact of life. We didn't buy enough."
Other experts hold similar views.
"There are many people out there, including me, who think it was killed prematurely," said Richard Aboulafia, vice president of analysis at the Teal Group, a Fairfax, Virginia-based aerospace and defense market consulting firm.
"It's sort of got a kind of James Dean/JFK died-too-young thing going on," he said. "That's sort of a sinkhole tragedy of the industry."
Carlisle said he dreams that someday the Air Force will buy more Raptors.
Lawmakers could be on the path to making Carlisle's wish come true, having recently directed the Air Force to complete a cost and feasibility analysis for doubling the size of the F-22 fleet.
Advocates for building more advanced aircraft have identified high-tech fighters developed by China and Russia as challenges that must be addressed.
"With threats to America's air superiority growing, it is time for Congress to consider resurrecting the [F-22] or finding a suitable replacement," Rep. Randy Forbes, R-Va., and former secretary of the Air Force Michael Wynne said in a press release.
The Raptor "still outclasses everything else in air-to-air combat," they said.
House Armed Services Committee chairman Rep. Mac Thornberry, R-Texas, said he would wait for the results of the study before passing judgment on whether the production line should be reopened.
"I don't know that [building more] is the answer, but in my town hall meetings I get asked about this," he said at a recent breakfast with defense reporters.
"I think enough members were getting the question that the decision was made [to] see what [the Pentagon] says about that," he added.
In an official statement provided to National Defense, a Lockheed spokesman said the company would give the Air Force any data that it needs to conduct the assessment.
Perhaps counterintuitively, the resumption of F-22 production might not be beneficial for the manufacturer, analysts said.
One reason is that in the current fiscal environment, the plane would likely compete for dollars with the F-35 Lightning II joint strike fighter, another stealthy jet built by Lockheed.
The F-22 is a more maneuverable aircraft designed primarily for air-to-air combat, whereas the F-35 has greater ground-strike potential, said Andrew Hunter, director of the defense-industrial initiatives group at the Center for Strategic and International Studies.
"Given the capability that the F-22 has, if that's the capability you value the most … there could be a way to make room for it" in the budget, he said. "The logical tradeoff of course would be probably coming out of the F-35 program, and that's one reason why I'm not sure Lockheed is wildly enthusiastic about this idea."
The F-35 is a multi-service acquisition program, with the Air Force, Navy and Marine Corps planning to procure more than 2,400 aircraft. At least 10 foreign countries have also signed on or expressed interest in buying the joint strike fighter. In contrast, the F-22 is solely an Air Force platform, and current law prohibits the aircraft from being exported.
"The F-35 has a much bigger market," Hunter said. "If I were in [Lockheed's] shoes it's pretty clear that it's a poor tradeoff to move resources out of the F-35 program and possibly damage that program and its future prospects in order to restart an F-22 line which is only going to run for a few years probably, and then shut down again.
"That's not to say that it would necessarily be wrong for the nation, but from Lockheed's perspective I'm not sure it looks like a great deal," he added.
Even if Congress lifted the export ban, which was put in place due to concerns that the sophisticated technology on the F-22 could fall into the wrong hands, not many countries would be lining up to buy it, analysts said.
Japan, Israel and Australia are the only allies that have expressed interest in the fighter and would be in a position to purchase and operate it effectively, Aboulafia said. However, those nations also have limited resources to spend on stealthy aircraft.
"They're F-35 customers," he noted. "For every F-22 you sell to them you probably could take away at least one F-35."
The F-35 joint program office is counting on international sales to reduce the unit cost of the plane for U.S. taxpayers. A decision by overseas partners to buy Raptors instead of joint strike fighters would undermine that goal without significantly benefitting Lockheed or the defense industry, Aboulafia said.
"That would probably damage the economics of the F-35 program," he said. "There's sort of a broad awareness that this is not a huge new business generator that enhances U.S. competitiveness. It's just the rebirth of a plane."
Hunter said the only way that restarting F-22 production would be a boon for Lockheed is if Congress beefed up the Defense Department's aviation budget to pay for it. "If one were to assume that the money could come completely from somewhere else and that you wouldn't reduce F-35 production, then it would obviously be a great deal for Lockheed."
But he doesn't see that happening in the current fiscal environment. "The way government budgets are built, the two would inherently be in competition with one another," he said. "It kind of boils down to this question of do you think we're going to enter in the next few years an era where defense budgets are dramatically increasing? Personally I don't see it as terribly likely."
A communications officer for Lockheed's integrated fighter group did not respond to multiple requests to interview company executives about the F-22.
From a financial, industrial and political perspective, there are a number of hurdles to reopening the F-22 line and building 194 additional planes. One is the price tag.
Such an effort would cost about $40 billion including the costs of getting the production pieces back into place and modernizing outdated components, Aboulafia said. A 2010 study by the RAND Corp. yielded similar cost estimates.
On the industrial side, a restart would be difficult but doable, analysts said.
"There is absolutely no space or facility shortfall," Hunter said.
The disassembled Raptor tooling was placed in storage, and every F-22 assembly process was videotaped, photographed and recorded in case production ever needed to be resumed, according to a Lockheed news release from 2012.
Aboulafia said: "It's just a question of [readying] the onboard building blocks, from the fan blades to the gallium arsenide" semiconductor material.
Hunter noted that the F-22 has titanium cast parts that normally require long lead times to acquire. There could also be problems at the subcontractor level.
"It's quite possible that the limitations there would be more significant because … that production … may have been at a more commercial facility that, once the line was done, they stood it down" and stopped producing the components, he said. "There could be many more bottlenecks in those subsystem suppliers."
A highly skilled workforce would also have to be reassembled.
"It will take some time," Hunter said. But for "a lot of those folks that were on the F-22 program before, you can find them again and they are probably [going to be] happy to have the job back."
None of the industrial hurdles are insurmountable, he said.
"The real kicker to this thing is the money and … a question of time," he said. "How long would it really take to get the line up and running? Probably longer than you might like or think."
It would likely take years to start cranking out new aircraft, Hunter said.
"It could theoretically be as few as two years if one were really, really motivated and really [well] funded to do this aggressively," he said. But "we don't really know the answer of how long it would take" until the Air Force completes its study.
Pentagon leaders are not exactly clamoring to reopen the F-22 assembly line.
Secretary of Defense Ashton Carter is firmly opposed. During a recent press conference at the Air Force Academy in Colorado Springs, Colorado, National Defense asked the Pentagon chief about his position on the issue.
"I'm concerned" that it could take money away from other high priority programs, he said. "Restarting the F-22 — that's an inefficient way to proceed. It's not something the Air Force has recommended to me."
Air Force officials have also thrown cold water on the idea, saying it would be too expensive.
"Congress asked us to look into the option to restart the F-22 production line, and we are looking at it in more detail as a result, although we believe it would be cost prohibitive," Air Force spokeswoman Ann Stefanek said in an email.
The Obama administration — and presumably Carter and James — will be out of office next year, but Aboulafia doesn't expect a groundswell of political support for restarting F-22 production after the White House changes hands.
"It's unlikely you're going to find an administration that champions this," he said. "It's very unlikely that the contractors involved, particularly Lockheed, champion it. Unless the Air Force works with Congress directly and aggressively, it's not going to happen. You have to get Congress to get on it [and] you've got to get the Air Force to decide this should be a priority."
Still, a restart is not a political impossibility, Hunter noted.
"There have been some very confusing and vague things said about defense budgets by the presidential candidates, and so you can't completely rule out the possibility that a defense buildup of the nature of, for example, the Reagan buildup" could happen in the coming years, Hunter said.
"That would change the equation" for the F-22, he added.
Down the road, the prospects for more Raptor production could increase as the Air Force considers acquiring a next-generation fighter.
"What do you have in mind for sixth-gen planes?" Aboulafia said. "If there really is something amazing coming down the pike, then [building more Raptors] would be foolish. But if you believe that … a sixth-gen plane would probably look like a reinvented F-22, if our top scientists and technology development people are telling us that, then all of a sudden this becomes a really good idea."
Air Force Chief of Staff Gen. Mark Welsh III, who is slated to retire June 24, said that reopening the F-22 manufacturing line may cost less than developing a whole new fighter.
"Rather than thinking of a sixth-generation fighter, can you modify the F-22 and reopen the line cheaper?" he said at a recent conference.
"The airplane is exactly what everybody hoped it would be," he said. "Its potential is really, really, really remarkable."
The Air Force has indicated that it will assess the F-22's ability to fill the role in the coming decades. Next year the service is planning to conduct a formal analysis of alternatives for a future "offensive counter-air capability," Stefanek said.
"Consistent with the agile acquisition mindset designed to deliver capability sooner, our focus is less on generational leaps and more on options to leverage rapid development and prototyping in order to keep ahead of the threat," she said.
Regardless of future production decisions, technology upgrades will continue to be made on the Raptor.
"We value the F-22s we have," Carter said. "We're busy upgrading them and making sure that their avionics and so forth are state of the art."
Aboulafia estimated that the upgrade effort would likely cost about $5 billion or $6 billion.
Hunter said the changes could be incorporated into new builds.
"The assumption that I would have is if you did restart the production line you wouldn't build the F-22 versions that we're flying today, you would build the upgraded versions that Carter is referring to," he said.
Future upgrades could create new business opportunities for subcontractors with advanced technologies, he said. "The subsystems … added to the aircraft may end up being different from some of the original subsystems in some cases" and those modifications might be open to competition.
Photos: Air Force
Topics: Aviation, Procurement