ROBOTICS AND AUTONOMOUS SYSTEMS
Beacons Seen as Undersea Robot Navigation Aid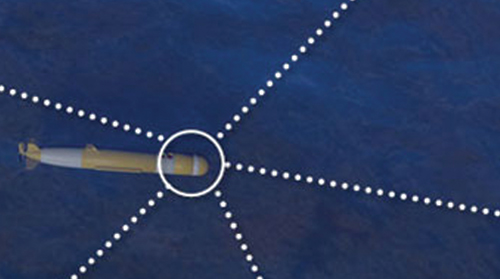 Beacons could serve as underwater GPS for unmanned systems.
Unmanned underwater vehicles have become increasingly popular within the military, but finding ways to stealthily navigate undersea has been a perennial issue.
Draper Labs — operating under the Defense Advanced Research Projects Agency's positioning system for deep ocean navigation program contract that was awarded in March — is working in earnest to solve that problem.
The program is "intended to revolutionize navigation underwater like GPS did in terms of revolutionizing navigation above the water," said Neil Adams, director for defense systems at Draper Labs.
To remain stealthy, UUVs use inertial sensors to navigate underwater. However, during long missions these sensors can accumulate errors, rendering navigation systems inaccurate, Adams said.
"Inertial sensors … come in a lot of different varieties but the one thing they all have in common is that they have systematic biases in them," he said. "Their measurement sources drift over time and you need some external absolute source to discipline an inertial instrument."
Even the best inertial systems can't operate for extended periods of time without having updates to correct the drift, he said.
GPS is one way to bring a system back into line, he said. However, such signals are opaque underwater. "The only way you can use it for underwater operations really is to surface, get a fix and then submerge again," he said.
A potential solution could come in the form of a constellation of underwater antennas that can transmit accurate location data across the ocean using acoustic waves, he said. Sound waves can travel thousands of kilometers underwater and are a natural corollary to what GPS does in the air.
"These beacons would be set up around the ocean basins," he said. An antenna would "know their location very precisely and they would be sending out signals much like GPS satellites do."
While Adams did not disclose a specific number, only a small quantity of beacons would be required to cover the globe. "We don't need to blanket the oceans with transmitters to do this," he said.
The first phase of the contract kicked off in April with Draper engineers "developing high-fidelity models of how the positioning signals will travel through the ocean," a company press release said. There will be at-sea experiments in January to verify those models, Adams said.
Phase two will begin in spring 2017 with waveform development. Within two years, Draper will start building a prototype beacon. Sea trials are slated for 2018, he said.
Photo: Draper Labs
Topics: Robotics, Unmanned Underwater Vehicles, Science and Engineering Technology