Analysts: More Money Needed to Boost Navy Fleet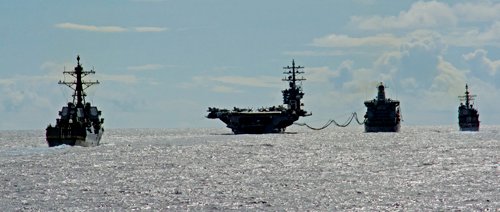 As the Navy considers whether to increase its force structure requirements, analysts said the service would need billions of dollars in additional funding each year to grow and maintain a fleet sufficient to deal with potential threats.
The Navy's latest assessment calls for a fleet of 308 ships. But the sea service is undertaking a new review to see if that force level would be enough in a different strategic landscape.
"We're on track to meet that number of 308 ships," Adm. John Richardson, the chief of naval operations, said at a conference in February after the fiscal year 2017 budget request was released. "But even that assessment is a little bit old. The last time we did that … we really didn't have to account for a resurgent Russia. We really didn't have to account for [the Islamic State]. And so we're starting again."
The force structure assessment is expected to be completed this summer.
"Some observers believe this new [assessment] will result in an increase in the Navy's force-level goal to a figure higher than 308 ships, in part because it will call for an increased Navy forward-deployed presence in the Mediterranean, a region that was deemphasized … during the post-Cold War era," naval specialist Ronald O'Rourke said in a recent Congressional Research Service report.
Beefing up the fleet to deal with an increasingly assertive China and Russia would require a big boost in the shipbuilding budget, analysts noted.
"The Navy said they needed 308 ships, which is going to require $3 billion or $4 billion more per year [over the next 15 years] than they're receiving today," said Bryan Clark, a senior fellow at the Center for Strategic and Budget Assessments, and a retired Navy officer.
"If you add on these additional requirements from the new great power challenges … that [ship level] requirement is likely to go even higher, which means even more money is necessary if you want to maintain the fleet size that is going to produce sustainable deployments," he said during a recent conference call with reporters.
Retired Navy officer Bryan McGrath, deputy director of the Hudson Institute Center for American Seapower, said the service needs about 350 ships to project power in the Asia-Pacific, Europe and Middle East, and fulfill maintenance needs for vessels that aren't on deployment.
Despite budget constraints, McGrath believes the Navy can get the funding it needs if future administrations push for it.
"The dirty little secret is that the Congress of the United States gives the Navy year in and year out virtually every penny that it asks for," he said. The problem is that administrations, as they try to do their job of balancing all of the other requirements, they hamstring" the Navy.
Photo: Navy
Topics: Defense Department, DOD Budget, Shipbuilding