ROBOTICS AND AUTONOMOUS SYSTEMS
Long-Delayed Navy Robot Program Passes Critical Design Review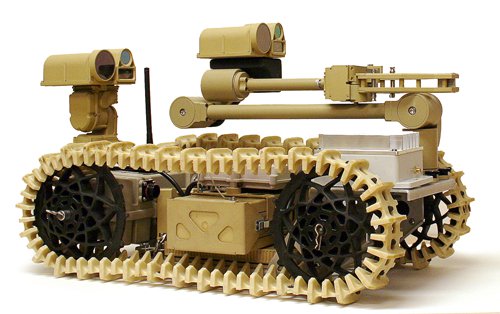 A Navy program first conceived in 2007 to replace commercial-off-the-shelf bomb disposal robots has passed a critical design review, the program's prime contractor Northrop Grumman Corp. reported June 7.

The advanced explosive ordnance disposal robotic system (AEODRS) program began nine years ago with the goal of fielding a family of small, medium and heavy robots, increments 1, 2 and 3 respectively, that would replace the thousands of bomb disposal robots rushed into combat at the outset of the Iraq and Afghanistan wars.

The critical design review was for the increment 1 backpackable robot. The Navy, which is responsible for EOD technology development for the four services, awarded the contract Aug. 31, 2015. The 35-pound robot is intended for dismounted operations and for reconnaissance and threat assessment. It is expected to go into production in the second quarter of fiscal year 2017, Navy officials have said.

Lincoln Hudson, Northrop Grumman's director of land systems and force protection, said in an email that the company is in the process of building four units plus one spare. "We expect to complete integration and test late summer for delivery of these [low-rate initial production] units to the Navy and support the Navy's evaluation and test after our delivery."
Progress came too late for the Air Force and Army, both of which dropped out of the AEODRS increment 1 program within the past year and announced that they would develop their own recon robots. The Army, the largest buyer of EOD robots, also announced that it was developing its own increment 2-sized robot. The 130-pound truck transported robots are considered the workhorses for EOD teams and are strong enough to dismantle bombs remotely.

"The successful CDR so soon after contract award clearly shows the commitment of the Navy and Northrop Grumman team to fill this key gap for EOD robotic operations," Dan Verwiel, vice president and general manager, missile defense and protective systems division at Northrop Grumman Mission Systems, said in a statement. "We will continue our close collaboration with the Navy and user communities to ensure the delivery of a quality system that meets Navy requirements."

The company is responsible for integrating a number of subsystems. Its partners are Bokam Engineering, Carnegie Robotics, Harris Corp., Hunter Defense Technologies, Neya Systems, QinetiQ North America and Telefactor Robotics. Northrop Grumman's offering uses a modular, open systems approach that allows the robot to be quickly adapted for a variety of mission scenarios, the statement said.

Increment 2 is not expected to go into production until the third quarter of fiscal year 2019, according to information provided to National Defense by the Navy. The Air Force is the only service with a requirement for the increment 3 robot, a trailer-towed machine that will be strong enough to pick up large bombs. It has not made a decision on purchasing increments 2 and 3 robots yet. Last year, it awarded a contract to Roboteam, a U.S. subsidiary of an Israeli company, to supply it with a small recon robot. Both the Air Force and Army risked losing allocated funding if they did not proceed with their own programs.

Navy officials have attributed the slow pace of AEODRS' development to problems with creating an interoperable system, and a fixed-price contract that was widely criticized by industry and was later changed to a cost-plus incentive fee.

"The CDR provided an in-depth assessment, by a government team of experts, managers and Navy and Marine Corps users, that the final design for the AEODRS dismounted operations variant is programmatically and technically realistic and achievable. The successful review determined the detailed design satisfies cost, schedule and mission performance requirements and demonstrates the maturity for proceeding with system fabrication, assembly, integration and test," the statement said.
Photo: Northrop Grumman
Topics: Robotics