Navy to Test Powerful 150-Kilowatt Laser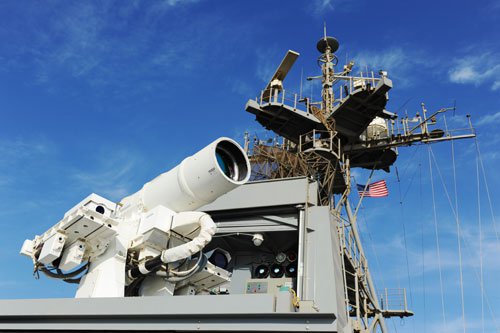 Laser Weapon System
The U.S. Navy, which has already developed a 30-kilowatt laser that has been used operationally, will soon test a new directed energy weapon that is five times more powerful, said the vice chief of naval operations July 23.
The Office of Naval Research "will perform a shipboard test of a 150-killowatt laser weapon system in the near future," said Adm. Bill Moran during a speech at Booz Allen Hamilton's Directed Energy Summit, which was held in Washington, D.C.
The Navy's 30-kilowatt laser weapon is currently onboard the USS Ponce. The system, which has been used operationally in the Persian Gulf, offers military leaders precision accuracy at a low cost, Moran said.
The laser weapon system, or LaWs, "has an extremely low-cost per engagement ratio," he said. "We're spending pennies on the dollars … every time we use that capability."
While the U.S. military is developing laser weapons that can be installed on platforms across the Army, Air Force, Navy and Marine Corps, military leaders must be cognizant that potential adversaries are as well, Moran said.
"These technologies are being developed and fielded by a growing number of countries all around the world, it's not just us," he said. "If we don't get ahead of that capability by our adversaries, we're going to find ourselves in a very difficult position in the future."
As the Navy considers its future fleet design, laser weapons must be a part of the equation, Moran said.
"If we have to continue to rely on projectiles, propellant-driven projectiles, we will run out of our ability to defend ourselves over time," he said. "This capability in directed energy is incredibly important."
Military engineers are turning science fiction into reality, but such technology needs to be pushed out to the services faster, he said. The Navy cannot afford to wait 20 years to advance directed energy weapons.
"Our future success as a service depends largely on the efficient and rapid development and acquisition and fielding of this game changing technology," he said.
Advancements in laser technology fit in with the Pentagon's current third offset strategy, said Gen. Ellen M. Pawlikowski, commander of Air Force Materiel Command.
"I think we are pretty well postured to be part of this third offset, to be able to be what I consider the pointy end of the third offset," she said.
The strategy is a plan to maintain the United States' military superiority through investments in emerging technology such as autonomy. For example, unmanned aerial vehicles could carry laser weapons, giving operators precision strike capabilities and reducing collateral damage, she said.
Pawlikowski urged developers to not repeat the mistakes that plagued previous efforts, such as the airborne laser program, which Pawlikowski once oversaw. The mega-watt laser program, which was canceled at the start of the decade, faced major cost overruns and schedule slippages.
"I want to make sure that we don't have another five or eight year development program that we told everybody we were going to do in three to four," she said. "It's so vitally important that we continue this path of expectation management and we target for something that is achievable within the bounds of the state of technology as we see it today."
Photo: Navy