Army Chief Not Concerned About Looming A-10 Retirement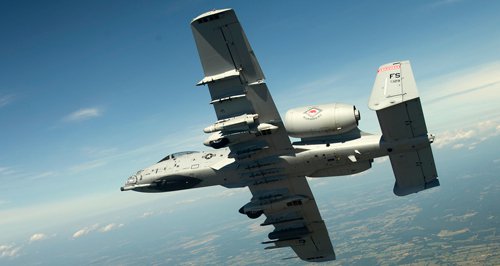 The Army's top officer said he isn't worried about the possibility that the A-10 will be retired in the coming years, expressing confidence that the Air Force will be able to deliver the close-air support that U.S. ground forces need.
Air Force leaders have been pushing to remove the Thunderbolt II from the fleet, citing the need to save money and invest in higher priority capabilities. Service leaders have said that other aircraft, such as the F-35 joint strike fighter, could perform the close-air support role.
Proposals to retire the A-10 have drawn criticism, including from members of Congress who have argued that taking the aircraft out of service would put soldiers at risk. But Army Chief of Staff Gen.Mark Milley said he isn't wringing his hands about it, and he has no preference for any particular aircraft when it comes to supporting troops on the battlefield.
"As a soldier and a guy who has been in my share of firefights, the only thing I care about is the effect on the target, and I don't give a rat's ass what platform brings it in," he said June 23 at a conference hosted by the Center for Strategic and International Studies.
"I could care less if it's a B-52, if it's a B1 bomber, an F-16, an F-15, an A-10. I don't care if the thing was delivered by carrier pigeon. I [just] want the enemy taken care of," he added.
Citing a long history of operational successes, Milley said he would defer to the Air Force when it comes to assessments of which planes are needed to carry out close-air support missions.
"The fact of the matter is — when push comes to shove and bullets are actually flying and there are peoples' lives at stake — the United States Air Force never failed me and it doesn't fail the Army," he said. "I don't care what the platform is, the Air Force delivers, they deliver on time and on target… and they're very, very good at it. So I have enormous confidence that they will make the right decisions on the platform and it's not really my place to say [whether they should use] this platform or that platform."
Earlier this year, Defense Department leaders pushed back the planned retirement of the A-10 to 2022, citing the aircraft's successes in the campaign against the Islamic State.
While praising the Air Force's ability to support Army operations, Milley cautioned against overreliance on airpower on a strategic level.
"We love technology, we don't want to needlessly spend the lives of our soldiers … but we have to be careful [not] to take that to the extreme," he said. "An important myth to kind of avoid is that you can just win from afar."
The Army chief said policymakers shouldn't "lull ourselves" into thinking that armed conflicts can be won from the air and sea with smart bombs and standoff weapons.
"The whole purpose of a war is to impose your political will on your opponent by the use of violence," he said. "To do that … land power is fundamental because politics is done amongst people on the land."
Milley's remarks came a time when the Army has been shrinking due to budget constraints and the withdrawal of most ground forces from Iraq and Afghanistan. Just a few years ago, during the height of counterinsurgency fighting, the active duty Army had 570,000 soldiers. It has since declined to about 475,000 and is on a path to be reduced even further.
Under the current plan, by 2018 the Army is slated to shrink to approximately 980,000 soldiers including the Guard and Reserve.
"History tells us that depending on the situation, you might have to have more than that," Milley said.
To enable the Army to regenerate more quickly in the event of a national crisis requiring a larger force, service leaders hope to create "train/advise/assist brigades" over the course of the next four to five years.
"These would be structures that would look … similar to the existing chains of command" with sergeants and officers, Milley said.
The task of these troops on a normal day-to-day basis would be to deploy overseas to advise, assist and help train partners and allies in a manner similar to what U.S. forces have been doing in Iraq and Afghanistan in recent years, he said.
"If there was a national emergency … we could take [new volunteer] soldiers and put them through basic training … and then marry those soldiers up to those existing chains of command, and then run them through collective training to get them ready as a unit," he said. "That would considerably shorten the length of time it would take" to beef up the force.
Photo: Air Force
Topics: Aviation, Tactical Aircraft, Procurement