Vice Chief of Army: More Maneuver Forces Needed in Europe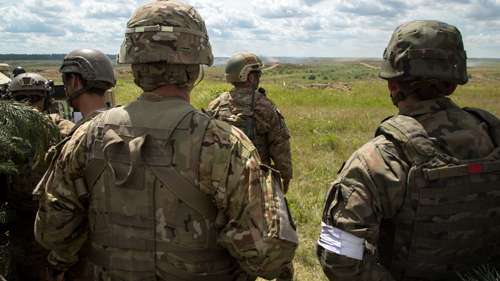 U.S. Army and Polish Soldiers observe the Multinational Live Fire Exercise during Anakonda 2016
Additional maneuver forces are needed in Europe as Russia continues to intimidate its neighbors, said the vice chief of staff of the Army June 21.
"There is a significant lack of maneuver forces in Eastern Europe," said Gen. Daniel Allyn. "That's something that we are helping address with our rotational presence that will be a sustained presence starting on the first of January … this coming year."
Russia has been a continued source of worry for officials. Through the European Reassurance Initiative, the United States is increasing its footprint on the continent to counter Russia. The Obama administration requested $3.4 billion in the Defense Department's fiscal year 2017 budget for the effort. Funding will go toward increased presence, bilateral and multilateral exercises, enhanced prepositioning, improved infrastructure and partner capacity.
These measures "are a step in the right direction particularly in a constrained budget environment," Allyn said during a breakfast meeting with defense reporters in Washington, D.C. "It's a fairly significant resource investment in deterrence."
U.S. contribution to short-range air defense and artillery will be particularly helpful for NATO, he said. Army Gen. Curtis M. Scaparrotti, commander of U.S. European Command and NATO's supreme allied commander Europe, is currently reviewing what has been offered in the initiative, Allyn said.
"I expect that in the coming weeks we will probably hear from him on what isn't in there that he needs," he said.
Allyn said he was pleased with multinational collaboration he saw during recent exercises in Europe, such as Anakonda 2016. The exercise, which took place in Poland in June, was meant to "test the ability, readiness and interoperability of the Polish armed forces and allies and partners, while conducting a joint defensive operation on a large scale," according to a U.S. Army Europe press kit. It brought together more than 31,000 service members from 24 nations.
"That's pretty significant," Allyn said. "The idea here is to exercise those muscles from national to multi-national to identify the interoperability gaps that still exist and then to work toward a more realistic deterrent posture.
"Are we where we need to be? No. Are they working toward that aggressively? I believe they are," he said. "I think the results speak for themselves."
With the annexation of Crimea in 2014 and Russia's role in the war in Syria, countries in Eastern Europe are concerned. Russia was once expected "to be a teammate … not an aggressor," Allyn said. "That truth has changed."
Despite capability gaps, such as with maneuver forces, Allyn said he was confident that the United States and its allies could successfully deter Russia.
"Our belief is there are opportunities here for us to come together … so that in the near term we begin to close the gaps that exist and we provide a resilient and sustained deterrent presence that will prevent any further aggressive action," he said.
During the upcoming Warsaw Summit, which takes place in July, Allyn said he hoped to see more NATO allies agree to allocate 2 percent of their GDP toward defense spending.
In June, NATO leaders announced that they would deploy four multinational battalions to Estonia, Latvia, Lithuania and Poland on a rotational basis.
Photo: Defense Dept.
Topics: Defense Department, DOD Policy, War Planning