Sec'y Carter: U.S. to Maintain Military Superiority in Asia For 'Decades'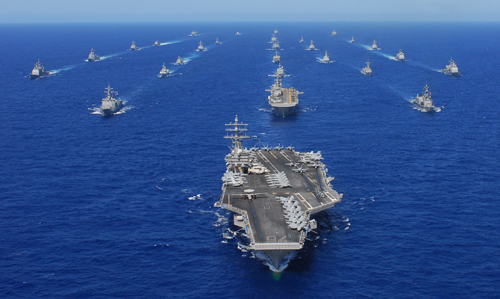 The aircraft carrier USS Ronald Reagan transits the Pacific Ocean with ships assigned to Rim of the Pacific (RIMPAC) 2010 combined task force.
Despite China's massive investments in military modernization, U.S. armed forces will retain superiority over potential adversaries for decades to come, Secretary of Defense Ashton Carter said June 20.
His remarks came at a time when defense officials and analysts are sounding the alarm that U.S. technological superiority is eroding as Beijing continues to beef up its military capabilities.
While not directly naming China as a potential challenger, the Pentagon chief made it clear that he doesn't foresee any rising powers overtaking Uncle Sam anytime soon.
"Thanks to the investments and planning we're undertaking as part of President Obama's rebalance to the Asia-Pacific, the United States will have the people, the platforms and the posture to remain the most powerful military and main underwriter of security in the region for decades," Carter said at a conference hosted by the Center for a New American Security in Washington, D.C.
The Pentagon's fiscal year 2017 budget request calls for $72 billion in research-and-development funding. The nation's top defense official highlighted plans to invest in a range of systems across multiple domains, including high-end ships, undersea drones, missile payloads, the B-21 long-range strike bomber, swarming microdrones, an "arsenal plane," advanced munitions, nuclear forces, cyber and electronic warfare capabilities, and preparations for conflict in space.
The United States has a big head start over potential adversaries who may be trying to catch up, Carter noted.
"The Defense Department maintains its world-leading capabilities because it has made incomparable investments in our military edge over the course of decades," Carter said. "As a result, it will take decades or more for anyone to build the kind of comprehensive military capability the United States possesses."
Simply writing large checks and buying new gear won't enable other powers to achieve parity, he said.
U.S military superiority "is not simply about current and cumulative dollar figures," he said. "Our military edge has been strengthened and honed in hard-earned operational experience over the last 15 years [of war]. No other military possesses this kind of skill and agility backed by this much experience."
The Pentagon is making additional improvements to how it approaches potential fights, Carter noted.
"To prepare ourselves for the future we're also updating our core contingency plans with innovative operational concepts," he said. "We've revised every one of our war plans. Now I can't tell you how exactly they've changed … but rest assured, they are up to date."
Another factor that gives the United States a leg up on rivals is its global network of alliances and partnerships, Carter said.
In the Asia-Pacific, Washington is attempting to weave together bilateral, trilateral, and multilateral relationships into a larger, region-wide security web, Carter said. He highlighted ongoing U.S. efforts to strengthen its relationships with Japan, India and Vietnam — all historical foes of China.
These moves come at a time when a number of countries in the region are locked in bitter territorial disputes with Beijing.
"The United States has all the friends around the world, and our antagonists have few or none," Carter said.
The head of the Pentagon said the U.S. effort to build and enhance a regional security network in Asia is "not aimed at any particular country" and "excludes no one." But he singled out China as a source of concern.
"Although we have disagreements with China, especially over its destabilizing behavior in the South China Sea, we're committed to working with them and to persuading them to avoid self-isolation," he said.
Defense officials will continue to pursue stronger bilateral military-to-military relationships with their Chinese counterparts, Carter said.
Chinese forces will participate in the Rim of the Pacific exercise this summer in and around the Hawaiian Islands and California, he noted. This year's version of the biennial exercise will involve about 25,000 personnel, 45 ships, five submarines and more than 200 aircraft from 27 nations, according to the U.S. Navy.
Photo: Navy
Topics: Defense Department, DOD Leadership, International, Procurement