Authors Argue for Diplomacy First When it Comes to Preventing Space Conflict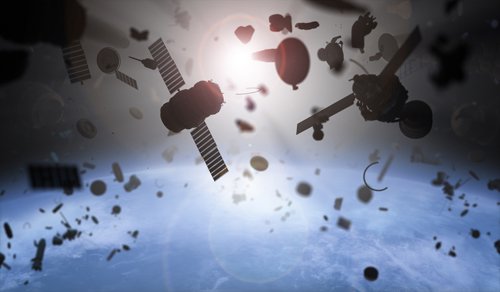 After recent advances in Chinese and Russian anti-satellite technology, the Defense Department has responded with increasingly war-like rhetoric and has backed it up with programs that are preparing for conflict in space.
An Atlantic Council report released June 17 argues for a more balanced approach to U.S. space policy that combines diplomacy with preparedness.
Authors Theresa Hitchens and Joan Johnson-Freese in the report, "Toward a New National Security Space Strategy: Time for Strategic Rebalancing," call their proposal "proactive prevention."
"If the current U.S. goals remain relevant and viable, as the authors believe they do, then a national security space strategy must be premised on prevention — both of space warfare in general, and of attacks on U.S. space assets — rather than on the concept that 'the best defense is a good offense,'" they wrote.
Hitchens is a senior research scholar at the University of Maryland's Center for International and Security Studies at Maryland and Johnson-Freese is a professor of national security affairs at the Naval War College.
U.S. national security policy during the first few years of the Obama administration was characterized as "strategic restraint." It called for boosting space situational awareness to know was happening in what is called "the ultimate high ground," but stay away from developing offensive capabilities. It would also rely on diplomacy to prevent rivals such as China and Russia from militarizing space.
The administration did an about-face in 2013 when China launched what has been perceived as a test for an anti-satellite weapon that could potentially reach geostationary orbit — some 25,000 miles above Earth — a region that was once believed safe for military and spy spacecraft. Russia, along with China, also demonstrated maneuverable satellites in low-Earth orbit, a capability the only the United States had previously achieved.
"Consequent to that exercise, changes in force posture, development programs. And budgets have been initiated to forge a more muscular national security space strategy," the report said.
The 'proactive prevention" strategy is defined as "aimed squarely at preventing a space conflict, while also preparing to win one if need be," the authors wrote. But diplomacy must come first.
"The need for the United States to engage in meaningful space security dialogue with Russia, and especially China, cannot be over stated," they said. Diplomacy should come first.
When Russian and U.S. relations are perhaps at their lowest point in years, cooperation between the two nations in civil space are going well, Hitchens said at a panel discussion at the Atlantic Council in Washington, D.C. The two countries are part of the international coalition operating the international space station. "Those channels of communication are still there," she noted. "And that's something we cannot forget when we sit down to create a strategy."
Johnson-Freese said if China is asked to behave responsibly in space, those terms are ill defined. "What is it that we want? We don't define that. We don't define our red lines. … There is a lot to be worked out. But it can't be worked out by the intelligence community and the military alone."
The United States sends mixed signals to allies and adversaries. There are a plethora of U.S. government organizations that have a stake in space, and each has different priorities, the report noted. The Defense Department, NASA, intelligence community, Federal Communications Commission and Federal Aviation Administration all have an impact on U.S. space policy. The Defense Department doesn't speak with one voice either as the services all have different goals. There is also a disconnect and "squabbling" between the so-called "black space" intelligence community and the non-classified Air Force programs, the authors added.
As far as anti-satellite weapons and small satellites that can maneuver in close proximity to other spacecraft, "this is nothing the United States hasn't already done or already deployed," Hitchens said. China and Russia are simply seeking parity with the United States, she said.
The number one threat to U.S. space systems currently, the authors argued, is not rival nations, but debris that can do great harm to spacecraft. The 2007 Chinese anti-satellite weapon test created a large debris field, but most of the so-called space junk has been the result of more than five decades of human activity in space.
The United States says it doesn't want any nation to use debris-creating weapons. "Is that in any of our formal documents? Is that pledged not to do that in any of our formal documents? It is not," she said.
As a new administration takes over in 2017, the question about the threats the U.S. faces in space will be "whether hegemonic means to address those challenges are likely to achieve U.S. goals. It is this paper's assertion that they are not."
The report recommended establishing norms and rules to stop activities and actions that would degrade the use of space.
"A proactive preventative strategy—that is, a strategy aimed squarely at preventing a space conflict, while also preparing to win one if need be — presupposes establishing strategic restraint by all, and must be based on a clear understanding of potential adversaries' goals in space, not simply their capabilities," the report said.

Photo: iStock
Topics: International, Space