Amazon's Cloud Business Hones In On Government Market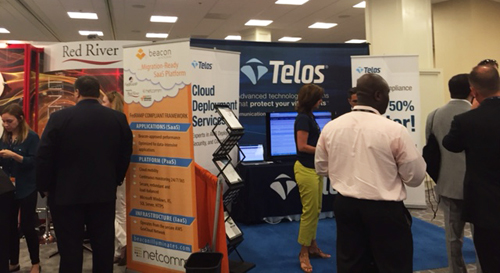 Tech vendors at an Amazon Web Services event in Washington, D.C.
Amazon Web Services and nearly a hundred tech vendors descended this week on Washington, D.C., hoping to seal new deals in the rapidly growing federal cloud market.
The company made a name in the federal sector by securing lucrative contracts with three-letter agencies for its commercial cloud computing services. Amazon Web Services, or AWS, shook up the federal IT world in 2013 when it beat incumbent contractor IBM to win a $600 million CIA award to build and maintain a secure cloud for 17 intelligence agencies.
The push to sign up new customers across the government continues, said Brandee Daly, CEO and founder of the C2S Consulting Group.
Until about a year ago, Daly was a top AWS executive who helped the company bring commercial cloud services into the intelligence community. She left Amazon to start her own company. "I'm now helping customers move into the cloud," she said June 20 at the AWS Public Sector Summit in Washington, D.C.
Daly advises government IT managers on how to "migrate" activities from traditional data centers to cloud-based operations. "First we start talking about how much money they are going to save. But we also focus on how the cloud will help them move to their technology future."
The big concern tends to be security, she said. "It comes up in every conversation." Agencies worry about compromising data but eventually learn how to increase security in the cloud in ways that would not be possible with traditional data centers, Daly said. "It's a culture shift." The cloud also changes the way government does business, she added. "From a technology perspective, they don't have to invest in their own innovation, they can take it from the marketplace." Also, agencies are using technology to become more efficient, Daly said.
Federal buyers are figuring out how to exploit the cloud in new ways, said Paul Wilkinson, president of cloud provider 1901 Group. Organizations that want to protect data like health records or law enforcement files — unclassified but still sensitive — are taking advantage of private clouds, he said. The government wants to take advantage of the economic benefits and agility of the public cloud while also maintaining control of data, said Wilkinson.
Companies such as 1901 are proliferating to fill a growing demand. "The agencies don't have to buy hardware, software or hire someone to do design and testing," he said. The firm was named 1901 after the year the first assembly line was built. "We're trying to do the same: An IT factory built around automation, tools and quality."
Like every company at the Amazon cloud computing trade show, 1901 is an AWS "partner." Being a partner does not mean a vendor can't work with other cloud providers but companies do see AWS as a ticket to entry into the tough federal market. "They are a giant freight train blazing the marketplace," said Wilkinson. "They have brand awareness, lots of solutions in their portfolio.
Within the cloud sector, there is a burgeoning submarket for companies that help monitor cloud usage and costs. Cloud services are marketed as cost savers but sometimes they can drive up expenditures if the usage is not managed properly, said J.R. Storment, co-founder and chief customer officer of Cloudability.
Cost management is a big deal in the cloud business, Storment told National Defense. Agencies that used traditional data centers and have shifted to cloud models may not realize that they have to adjust their business processes, or they could end up spending more money than they did in the past, he said. "Pre cloud, a few people would make decisions about what servers to buy once or twice a year. It was very controlled." With the cloud, managers or engineers can scale up or spin up computing power whenever they want, as much as they want, and may not be doing it in the most cost-effective way.
"That is the promise of cloud, that you don't have to buy servers. But decentralized control means spending is also decentralized. Instead of having a sign-off process, you have dozens or hundreds of engineers spinning up resources whenever they want," Storment said. In both the public and private sectors, "organizations want to have more control and more visibility into why costs go up."
Cloudability offers software tools to help manage usage and take advantage of AWS pricing deals. "It's very complicated to figure out the right amount," he said. One client, for instance, was planning to spend $20,000 the first month on cloud services and ended up spending $300,000. Server usage is paid by the hour. "It's very easy to get the servers you need, but you pay for everything you use.
Sometimes people turn on too many, or use servers that are too big, he said. "In order to make it cost effective, you need to identify what is the right size server. Or decide when you can turn things off on weekends so you only pay for what you use."
"Cloud can be cheaper but it's not by default," he said. "You need to manage it well."
What really saves money is changing the processes and cutting unneeded overhead, he said. Cloud services could save organizations millions of dollars in cases, for example, when they need to conduct tests that require massive computing power like sequencing genomes. "With the cloud, you spin up a thousand servers for two hours and you're done. It's that type of innovation that makes cloud cost effective."
Storment believes its relationship with AWS will help Cloudability get more government work as agencies seek to manage costs. "I think that's why we're all here."
Photo: Sandra Erwin
Topics: Infotech