Air Force Leader Wants 'Flying Coke Machine' to Replace A-10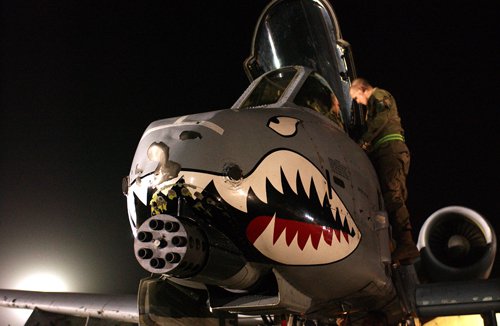 A-10
The Air Force's next-generation close-air-support platform should be able to provide instant firepower on demand, the service's top officer told reporters June 15.
Air Force Chief of Staff Gen. Mark Welsh compared the desired capability to the convenience and flexibility of a soda machine. "Imagine the … flying Coke machine and just having a Coke machine overhead, and you put your quarter in and you get whatever kind of firepower you want when you want it," he said at a Defense Writers Group breakfast in Washington, D.C. "In the perfect world, that's close-air support of the future."
For years, the Air Force has been trying to kill the A-10 Thunderbolt II, the service's close-air-support workhorse. Officials have cited budget constraints and the need to save money to invest in other platforms as reasons to get rid of it. Congress has kept the plane alive, but service leaders are already thinking about what comes next.
"The right close-air support replacement is something that's overhead the ground force all the time and is firepower on demand," Welsh said. "It's flying artillery" and "911 rockets."
The Air Force's top procurement programs have suffered from development problems and schedule delays in recent years. But Welsh doesn't envision major difficulties in acquiring a new close-air-support system.
"We don't think this would take that long to do and we don't think it's that complicated of a design problem," he said. "The technology is available to us. We can develop it."
To control requirements and keep costs down, the aircraft would need to be designed to operate in a low- to medium-threat environment similar to Iraq and Afghanistan, he said. In a challenging fiscal climate, the Air Force wants a platform that would save money on operations and maintenance, the service chief added.
"We need something to keep doing at much lower cost the types of things we're doing in the counterinsurgency fight today," Welsh said. The A-10 eats up about $20,000 per flying hour, he noted.
"Let's find something that's $4,000 or $5,000 a flying hour that brings more firepower, that is more responsive," he said.
There could be a number of options for a next-generation system, and the Air Force needs to think them through, he said.
"Is it manned, is it unmanned? … Is it a number of smaller things that arrive and deliver weapons [or] is it one big thing that orbits?... Is it fires from the rear that just get grabbed and retargeted by something forward?" Welsh said.
"I don't know what it is. But that's the concept — firepower now," he said.
Whether a future system would be designed and built from scratch or an existing platform modified to fit the service's needs is another issue that has yet to be decided.
"You could take either approach," Welsh said. "A lot of it would depend on how much resources you had [and] how much time you had."
For now, budget and manpower shortfalls are keeping the A-10 replacement from becoming a reality.
"I would love to build a new [close-air-support] airplane right now while we still have the A-10, [and then] transition the A-10 community into the new CAS airplane," Welsh said. "We just don't have the money to do it and we don't have the people to keep flying the A-10 and build a new airplane and bed it down."
The Air Force is trying to procure additional F-35 joint strike fighters, a new KC-46 tanker and a new B-21 long-range strike bomber. Finding an A-10 replacement is "not the highest priority," Welsh said.
Photo: Air Force
Topics: Aviation, Tactical Aircraft