Pentagon Beefing Up Innovation Board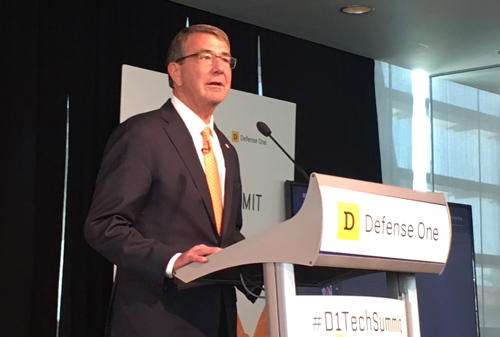 Secretary of Defense Ashton Carter speaks June 10 in Washington, D.C.
The Pentagon has appointed additional high-profile figures to a key advisory body as the department looks for better ways of doing business, Secretary of Defense Ashton Carter announced June 10.
The new members of the recently created Defense Innovation Advisory Board come from different backgrounds. Joining it will be: Reid Hoffman, the head of LinkedIn; Retired Adm. William McRaven, chancellor of the University of Texas System and the former commander of Special Operations Command; and innovation historian Walter Isaacson.
Carter plans to add more experts who can help the Pentagon think outside the box.
"We've got some additional amazing innovators lined up, so stay tuned there also for who else will be joining," he said at a technology forum hosted by Defense One, an online publication that focuses on national security issues.
Carter created the innovation board earlier this year to advise him and future defense secretaries on how to continue building bridges to the technology community in Silicon Valley and elsewhere, as well as help the Defense Department become more effective as an organization.
The group is being led by Eric Schmidt, the chairman of Alphabet, Google's parent company. It is slated to begin its work this summer. Carter said he expects their first recommendations this fall.
The Pentagon chief wants the board to help him "support those creative figures in the department who are willing to try new things, fail fast, and innovate [and] iterate … to stay ahead of potential adversaries," he said.
The secretary isn't looking to the board members for military advice, he noted.
"I'm not expecting them to know about defense," he said. "I know about defense. Our people know about defense. That's not my problem. I would like to know what's going on in the outside world that I might not know about that has proven successful [and] that might be applicable to us."
Carter cited the new "Hack the Pentagon" pilot program as an example of the kind of ideas that he's looking for from the advisory board. The Defense Department recently invited "white hat" hackers to probe its public, non-classified networks to find weaknesses. Those who were the most successful had a chance at winning cash prizes or "bug bounties."
"It's essentially free," Carter said. "You get all this talent and they're having a great time and you're getting a security audit for free. It's like, 'Wow, pretty good deal.'"
Companies and organizations in the private sector had been hosting these types of cybersecurity initiatives long before the Pentagon decided to give it a try, Carter noted.
"Why hadn't anybody in the federal government done that?" he said. "There's not a really good answer to that, right? It's a pretty successful thing."
Carter added: "We didn't think of that. If all we ever apply is things we've thought of … we're not going to remain the best."
Photo: Jon Harper
Topics: Cybersecurity, Defense Department, DOD Leadership, Science and Engineering Technology