ROBOTICS AND AUTONOMOUS SYSTEMS
Defense Department Official Sees Promise in DARPA's Unmanned Boat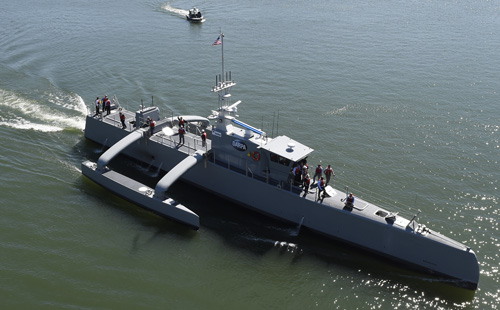 The Sea Hunter, DARPA's anti-submarine warfare continuous trail unmanned vessel
A senior Defense Department official sees the Defense Advanced Research Projects Agency's new unmanned boat as an example of how the department is working to maintain its scientific and technological edge through innovation.

Assistant Secretary for Research and Engineering Stephen Welby singled out the DARPA's anti-submarine warfare continuous trail unmanned vessel (ACTUV) — intended to track quiet diesel electric submarines without any need for human operation aboard — as an emerging technology that could have an impact in future operations.

Now that the ACTUV has been christened and is currently training with Navy fleets, it could open up a whole slew of new opportunities, Welby said June 2 at a National Defense Industrial Association sponsored executive breakfast in Washington, D.C.

"It allows us to think about what the future of unmanned shipping might look like … and what kind of capabilities it would offer," he said. Its "very capable sonar" makes it ideal for anti-surface warfare, Welby said, but the ACTUV could also be helpful in demining operations or as a picket for manned vessels. It could also influence commercial shipping operations.

"There's a whole range of options that this kind of system offers," he said. "And we're trying to get at the hardest parts of those operations with this vessel."

The watercraft was christened in Portland, Oregon, two weeks ago, and is now stationed in San Diego with the Navy fleet, Welby said. It will exercise with the fleet for the next 18 months, so officials can better understand the ways it might be able to operate with the fleet in the future. "We'll find new missions that we had not considered," he said.

Welby stressed the need for the department to bring innovation, both in new ideas and existing technology, to the services. Autonomy and robotics and electronic warfare capabilities were two he mentioned. In the biomedical sphere, technology such as Fitbits could help scientists monitor soldiers' alertness and levels of sleep deprivation in the field. Hypersonic technology and manufacturing are other major areas for innovative opportunities, he added.
Funding is nevertheless a factor, especially with the pressures of personnel costs and modernization. The nation's ability to remain competitive depends upon research investments, both within and outside of the department, Welby said.
"There's not a shortage of ideas, but a shortage of capital," he said.

The department is requesting $12.5 billion for science and technology in the 2017 defense budget, with the brunt going to advanced technology development and applied and basic research. The hope, Welby said, is to increase the speed of transitioning projects from the lab to the fleet or troops and get "more bang for the buck, [which] needs to be a key component in everything we do, including science and technology."

Welby also discussed the ongoing competition for talent in the science and technology sector. With nearly 113,800 personnel, the Defense Department is the largest employer of professional scientists and engineers in the country, he said.

But in order for the services to maintain their competitive edge, especially in the areas of biotechnology, autonomy and software, the best and brightest minds need to decide that they would rather serve their country than choose a higher-paying private sector job.

Welby wants to prove that "the department is able to recruit and retain those A-students who are going to make a difference," he said. That means working to change the way the department recruits new employees: perhaps with shorter commitments, where a worker could leave after only a few years to start his or her own company or move into the commercial sector, and hopefully return at a later date with new knowledge and experience.

The task at hand — making sure the services are ahead of the curve — has not changed. "Ensuring that we are able to disrupt others, not that they're disrupting us, that we can set potential opponents with surprising disruptive capabilities … is key to the American way of warfare," he said.
Photo: Navy
Topics: Defense Department, Civilian Workforce, Robotics, Science and Engineering Technology, DARPA, Undersea Warfare