Top Coast Guard Programs Receiving Cash Injection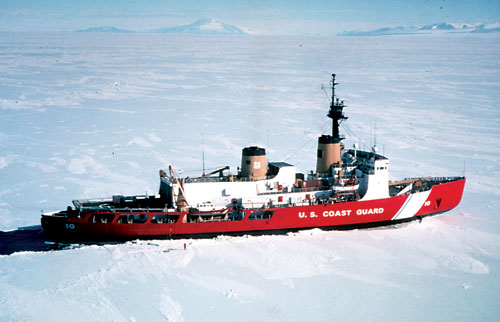 The Polar Star icebreaker
The Coast Guard's polar icebreaker and offshore patrol cutter programs are seeing a boost in funding as the service attempts to modernize its fleet in an era of budget constraints.
For fiscal year 2017, the Obama administration requested $847 million for the Coast Guard's acquisition, construction and improvement accounts. Although it is far less than the $1.5 billion per year Coast Guard officials have said they need for modernization, the money would increase funding for two key programs.
At the urging of President Barack Obama, "this year the big priority … from an acquisition perspective was for the next heavy polar icebreaker," said Brian Slattery, a Coast Guard expert at the Heritage Foundation.
The president requested $150 million for the vessel for fiscal year 2017 to support design activities required to begin production of the ship in fiscal year 2020. The project had previously received only $15 million in acquisition funding.
But the procurement effort could still face difficulties. The U.S. has not built a heavy polar icebreaker since the 1970s or a medium polar icebreaker since the 1990s, Slattery noted.
"This program is at least four or five years out and so there's a lot of time between now and then to see what challenges arise," he said.
The total acquisition cost of the new icebreaker could reach $1 billion, according to the Government Accountability Office.
"There are some unknowns with respect to this program and … because it is such a large cost relative to other Coast Guard vessels and acquisition priorities, the United States should be looking at the most cost-effective options possible to fulfill this requirement," Slattery said.
Foreign shipbuilders could potentially provide the vessel at a lower cost and less technical risk relative to U.S. suppliers, he noted.
For the offshore patrol cutter, which Coast Guard Commandant Adm. Paul Zukunft has identified as the service's top acquisition priority, the Obama administration requested $100 million in fiscal 2017. That is $11 million more than was enacted in 2016 and $80 million more than was enacted in 2015.
"It is important to get that higher level of funding so that they can move closer to an actual procurement" in fiscal year 2018, Slattery said.
The cutters are needed to replace vessels that are 50 years old in some cases, he noted. "We are looking at a major component of the Coast Guard's capacity that is replacing a lot of legacy craft. That [program] has already been delayed."
Unless Congress provides more money, it will be "pretty challenging" to fully fund the offshore patrol cutter along with the polar icebreaker and the service's other major acquisition programs, he added.
Photo: Coast Guard
Topics: Defense Contracting, Defense Department, DOD Budget, Procurement