Lockheed Seeking More International F-35 Sales To Reduce Cost of Fighter (UPDATED)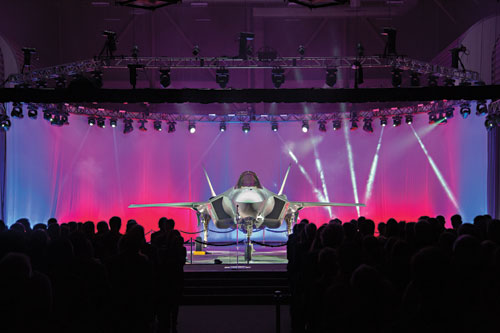 The first Norwegian F-35 revealed.
The first Norwegian F-35 revealed.
Lockheed Martin is looking to reduce the cost of the $400 billion joint strike fighter program by targeting sales abroad.
The biggest problem right now is that the price of the aircraft is too high for many countries involved, said Richard Aboulafia, vice president of analysis at the Teal Group. "But the good news is there are enough people that still want it that will allow the unit price to come down as production rates go up," he said.
In order for the cost to decline enough to appeal to a greater number of export customers, Lockheed needs its production rate to remain at its current level of at least 100 aircraft per year, Aboulafia said. "You just look at what's in the pipeline for Australia, for Italy, for Britain, for Japan and South Korea, you get most of the way there."
The F-35 has been characterized as the Defense Department's most costly acquisition program. Though the Pentagon's 2015 F-35 Selected Acquisition Report — which was delivered to Congress in March — reflected a reduction in overall program acquisition costs of $12.1 billion in then-year dollars, a government watchdog warned that the fighter continues to face affordability challenges.
"DoD plans to begin increasing production and expects to spend more than $14 billion annually for nearly a decade on procurement of F-35 aircraft," Michael Sullivan, director of acquisition and sourcing management at the Government Accountability Office, testified before the Senate Armed Services Committee in April. "Currently, the program has around 20 percent of development testing remaining, including complex mission systems software testing, which will be challenging."
At present, there are nine international customers outside of the United States that have decided to purchase the aircraft — six of the original nine partner countries and three foreign military sale customers. The partner customers are Australia, Italy, the Netherlands, Norway, Turkey and the United Kingdom, and the FMS customers are Israel, Japan and South Korea.
Gen. Frank Gorenc, commander of U.S. Air Forces in Europe, said the F-35's presence at European air shows should drum up greater international interest. The fighter is scheduled to fly at both the Farnborough International Air Show and the Royal International Air Tattoo in the United Kingdom this summer.
"I think what it's going to do for the European allies is reinforce the idea that we're talking about a real piece of equipment," Gorenc told reporters at a breakfast in April. "We talk about some of these platforms always in concept. To actually see it I think is an important step in the procurement of that airplane and a reinforcement that what we have is real."
Four F-35B short-takeoff and vertical landing variants were originally supposed to debut at the 2014 Farnborough air show. However, the Pentagon canceled the appearance after the engine in one of the Air Force's F-35As caught fire while preparing to take off at Eglin Air Force Base, Florida, in June of that year.
China's efforts to build its own fifth-generation stealth fighter could drive additional F-35 sales, Aboulafia said. "There is little doubt that China's air power efforts are the F-35 salesperson's best friend," he said in an email. "Australia already has a large F-35 order for 85; in the long run, China's efforts could make them buy a few more."
Other foreign customers that Lockheed is targeting in the near term are Canada and Denmark. Both countries continue to participate as partners on the F-35 program, manufacturing and supplying parts for all three variants of the aircraft, but neither has confirmed whether or not they will purchase the fighter.
The program received good news in May when Denmark tentatively chose the F-35 to replace the Royal Danish Air Force's fleet of F-16 Fighting Falcons. A nine-page analysis produced by the government had the joint strike fighter beating out the Eurofighter Typhoon and Boeing's F/A-18 Super Hornet in four different categories: strategic, military, economic and industrial.
The Danish Ministry of Defence's decision to purchase 27 aircraft, however, is pending a debate in the country's parliament, which should last approximately one month, according to a Lockheed Martin statement.
"Lockheed Martin is pleased that Denmark has reaffirmed its commitment to the F-35 program with the down select of the F-35 in this fair and open competition," the statement said. "The F-35 Lightning II will help ensure Denmark's national security, and also positions Danish industry to capture long-term work throughout the life of the program."
As far as the industrial impact for Denmark, the analysis found that choosing the joint strike fighter over its competitors will inject into the economy 26.5 billion Danish krone, or a little more than $4 billion, consisting of 26 initiatives. That is about $2 billion more than if the country had chosen either the Super Hornet or the Typhoon.
The price tag for the 27 F-35s will be about $3 billion, according to the Danish government.
Prior to the decision, the ministry's project office laid out several options including procurement numbers of 24, 30 and 36 fighters. The original requirement in 2005 — when the replacement program began — was for 48 fighters but that figure was amended in 2010 to reflect a shift in operational goals and requirements, as well as dwindling resources, wrote Dan Darling, international military markets analyst at Forecast International, in an April blog.
"I very much expect there to be heated debate and plenty of scrutiny involving the proposed 27-aircraft purchase," Darling said. "There is a worry that funding the F-35 buy through the base defense budget will seriously undermine the effectiveness of other military service branches and crowd-out funding for other projects. So there will be some politicians arguing for a larger overall defense budget in order to balance out the military's costs, others who will argue the planned procurement is in fact too small and push for more jets, and still others arguing for a smaller unit purchase."
A wooden mockup of the F-35 at the Canada Aviation and Space Museum.
In Canada, the question remains whether or not the Liberal Party will make good on its campaign promise to scrap the F-35 program and opt for a less expensive fighter. Prime Minister Justin Trudeau vowed to redirect the savings to the country's navy.
Since winning the election in October, Trudeau has been less vocal about opposing an F-35 buy, resulting in confusion regarding the country's future fighter replacement program. In December, Harjit Sajjan, Canada's minister of national defence, said the competition would be an "open process," indicating that the F-35 would not be excluded.
David Perry, a senior analyst at the Canadian Global Affairs Institute, said it is not clear when Canada would launch such a competition and the government so far has kept most of those details under wraps.
In the meantime, "I think there has definitely been a change and shift in tone from the government," he said. "They — during the campaign and after the campaign — had quite strongly said that they would not be buying that aircraft, but subsequently and over time they haven't been nearly as categorical."
The Canadian government announced that it planned on purchasing the F-35 in 2010, but since then issues centering around the government's perceived lack of transparency on the real cost of the program and negative press stemming from the aircraft's developmental issues, have soured public opinion of the platform, Perry said. Those issues, in addition to the new government's shifting focus away from high-end offensive capabilities toward a more defensive posture, have shaped Trudeau's stance, he noted.
"There is sort of a question about whether or not we should be flying an aircraft that's perceived to be built towards working in that kind of air-to-ground context and high-threat environment rather than a more widely considered continental defense / defense of Canada kind of mission set," Perry said.
Even though the minister of national defence has stated that the fighter competition will be open to anyone, there are other ways that Trudeau could ensure his campaign promise remains intact, he said.
One tactic is to change policy directives so that the F-35 doesn't align with the Royal Canadian Air Force's requirements, Perry said. An example would be "deciding that our international contributions would no longer be able to do air-to-ground missions at the same level," he said.
"Or saying that there was less money available on that project to buy aircraft in the hopes that that would eliminate certain competitors."
Another likely scenario is that the government decides to defer making a decision or delays the decision until after the next election, he said.
However, if Canada doesn't purchase the F-35, there could be negative consequences, experts said.
Canadian aerospace firms that develop and build F-35 components have won more than $637 million worth of contracts with estimates that the country's defense industry could garner somewhere around $10 billion worth of work on the F-35 over the next several decades.
Over said Canada continues to remain a partner in good standing on the program and that its government has assured the United States that it will continue to make its partner payments.
While Canada can still compete for F-35 work, Aboulafia said there is an implicit threat that other countries that have purchased the aircraft would be given priority.
"No one really knows the actual fallout from a decision to leave the program," he said. "Most likely, you'll just see [Lockheed saying], 'Oh yeah, you still can do work. It's just that it's not you, it's us. We also want to see other people.' And you start seeing some of that work being gradually transferred to other companies in customer countries."
Shaun McDougall, a North America market analyst at Forecast International, said Canada canceling the F-35 program could result in industry losses in the long term. 
The country's defense firms would still benefit from work on a platform like the Super Hornet if Canada chose that aircraft, but "it's possible that they might lose out on future F-35 sustainment work … because you figure 10, 20 years down the road when nobody is flying Super Hornets anymore, everyone's going to be flying F-35s," he said.
Other countries that Lockheed is targeting for F-35 sales include Belgium and Finland, Over said. Both are expected to hold competitions to replace their current fighter fleets, he said. Belgium currently flies F-16s and Finland operates F-18s.
"We're happy to get out there and compete against other fourth-generation airplanes, and are very optimistic at the conclusion of those competitions that discriminating customers will see … [that] they can have a unique fifth-generation capability at less than or equal to the price of any competing fourth-generation airplane," Over said. The company's goal is to have the cost of the aircraft under $85 million per jet in then-year dollars by 2019 through improved manufacturing processes and larger orders.
Over said Lockheed isn't getting too caught up in individual annual orders, noting that as long as the company offers the best capability while reducing the fighter's cost, the orders should roll in. He likened the F-35 to the F-16. "Our view is colored by our history with the F-16 program," he said.
"In the late 1970s when the F-16 was first launched, it was a program for the United States Air Force and four participating European air forces. And the total planned buy of F-16s at the time was less than 1,000 airplanes," he said. "Here we sit 42 years later, and 28 nations or services have purchased the airplane, and we've either delivered or have under contract roughly 4,600 aircraft."
Gorenc also drew a comparison between the F-35 and F-16. "I think that the F-35 is going to do for NATO what the F-16 did in the sense that many of the partners and many of the allies were flying it and so we're going to share common tactics, techniques, procedures, concepts of operations," he said. "I think that's going to go a long way to provide interoperability that we strive for in the NATO concept."
Aboulafia, however, refrained from comparing the two airframes.
"The F-16 was never expensive. It was always a lightweight, moderately-priced fighter," he said.
"The first thing that happened in 1976 was they very competitively and very aggressively swept in and won a pan-European fighter competition among basically the four EPG [European participating governments] countries, which were Belgium, Denmark, Netherlands and Norway," Aboulafia said. "You just don't see that kind of commercial aggression at Lockheed these days," and the F-35's high price tag could be precluding that type of aggression, he said.
While he expects the joint strike fighter program to be successful, he noted that the airplane's high cost puts it at risk of staying trapped in a high-end market niche. There are dozens of countries in the mid-priced global fighter market such as Portugal and Morocco that were able to purchase the F-16 but would not consider a plane in the F-35 price class, he said.
"Beyond that, one of the fundamental problems is that the bulk of the export market for high-end fighters outside of these F-35 partner countries is the Middle East. And other than Israel, they simply can't do much there right now," he said. "We won't do anything that threatens Israel's military qualitative edge," which prevents selling to countries like Qatar and the United Arab Emirates until at least the next decade, Aboulafia said.
Correction: A previous version of this story incorrectly stated the type of fighter Finland flies.
Photos: Lockheed Martin/Ahunt
Topics: Aviation, Joint Strike Fighter, Defense Contracting, Defense Department, International