Northrop Grumman Looks Overseas for Innovation and Growth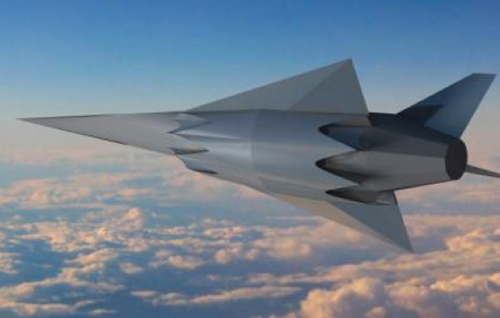 An artist's illustration of the University of Queensland's SPARTAN vehicle, a reusable satellite launching system that uses hypersonic technology
Art: The University of Queensland
Northrop Grumman Corp., one of the Pentagon's largest contractors, plans to deepen its presence in countries where it wants to do business but also tap into a wealth of technical and academic talent.
The company calls this "global positioning."
Northrop officials said international outreach efforts partly are about finding innovators outside the United States who will help the company develop technologies for the U.S. military and its allies. But they are also about trying to expand its presence in countries like Australia, Japan, South Korea and others where there are growing business opportunities, and a reservoir of scientific and engineering talent.
At its campus in Los Angeles this month, Northrop and G'DAY USA — an organization that promotes U.S.-Australia joint ventures — hosted the inaugural "Emerging Innovators Xchange" conference. This was not a defense-focused event but a broader gathering of entrepreneurs and innovators emceed by Gray Bright, anchor of "The Tomorrow Show." They covered topics like how to use technology to increase global supplies of clean water and provide better health care.
The thinking in the company is that "technology and innovation can come from anywhere," Edmund Cataldo, director of global positioning at Northrop Grumman Aerospace Systems, said in an interview. "It is about making connections that could lead to ideas for the future. It is also about connecting Australian and American businesses."
In the long term, the idea is to increase Northrop's footprint and sources of cutting-edge technology outside the United States. "We continue to grow globally," he said. In Australia, Northrop teams with local companies, helps them gain a foothold in the United States and taps into the skills base that the government there is spending money to create.
Next week in Washington, D.C., the company is one of the sponsors of the U.S.-Australian "Dialogue on Defense Industries 2016." The Australian government is "committed to developing a highly skilled and capable Australian defense industry," noted the event's website. "To that end, the government is investing more than 215 million dollars over 10 years to grow the skills base of Australian defense industries. Many of Australia's large-scale and complex projects, such as the future submarine program, will require advanced skills and capabilities."
Many companies in Australia don't know how to work with the U.S. government, said Cataldo. Northrop believes that partnering with them will eventually help cement ties with suppliers there. Australia also is home to centers of advanced research in areas the company wants to advance. Northrop engineers are working with the University of Queensland's center for hypersonics, for instance. "They have a great knowledge and technical base on that," Cataldo said. "We want to just do basic research. So why do we need to do it in the United States? Let's go where the experts are. Let's build our base."
Northrop Grumman's Australian headquarters is located in Canberra. The company employs more than 400 people across the country in defense and civilian programs. One of the largest is for the planned acquisition of the U.S. Navy's MQ-4C Triton unmanned aerial system by the Royal Australian Air Force. One of the concerns is securing enough engineering talent to keep up with new demands, said Cataldo. "How do we keep that pipeline going in Australia and the United States?" There are outreach programs with universities and colleges, sponsorships for engineers and internships that lead to full-time jobs.
The company recently started a program to send its U.S.-based engineers on two-year rotations to work in Australia, Japan, South Korea and the United Kingdom. "This expands their global perspective which in turn will feed back into the organization when they come back," said Cataldo. When they go overseas, engineers work as "technical leads" and get to interact directly with government buyers. "They will gain new perspective on how business is done over there."
Typically, U.S. defense companies fly executives in and out of countries where they do business a few times per year. "That's not a good way to build a relationship with the customer base," Cataldo said. To be truly a global company, there has to be a deeper commitment, he noted.
Technology exchanges and events like the innovator's conference in Los Angeles are indicative of a change in how Northrop Grumman wants to do business in the international arena, said company spokesman Bryce McDevitt. "It's more focused on being that strong corporate citizen in areas where we hope to operate in the future. From a strategic standpoint, it is about recognizing potential gaps we may have in technology and how to fill those gaps," he added. "We are capturing ideas from places where we may not have thought of before. All of this with the hopes of growing our capabilities, and obviously, as a defense technology company, developing capabilities to help protect the United States and our allies." McDevitt said in some ways the company is doing public diplomacy. "We focus on investing and representing the company and the nation as positively as possible in places where we're operating, and grow the network as much as possible."
Sponsorships of international technology events will continue, said Cataldo. It started with Australia and Japan, and the goal is to work with more countries in Europe and Asia. "Australia is a big focus," he said. Japan is next. The company hosted a robotics competition there in 2014, and another is upcoming later this year, as well as an innovation symposium in the fall.
When defense executives and engineers go outside the United States, they benefit from learning how others approach problems, which can be very different than what they're used to. Robotics technology is one example, Cataldo said. "We are trying to understand how to use technologies like autonomy in innovative ways," not just for military systems but also in areas like climate change and disaster relief. "Knock down borders inspires our performance. They have different ways of doing things in other countries. They look at problems from a different perspective, and find different ways to solve it. We're trying to tap into that."
Topics: International, Manufacturing, Procurement