Boeing's Tanker Troubles: Issues 'More Complex' Than Realized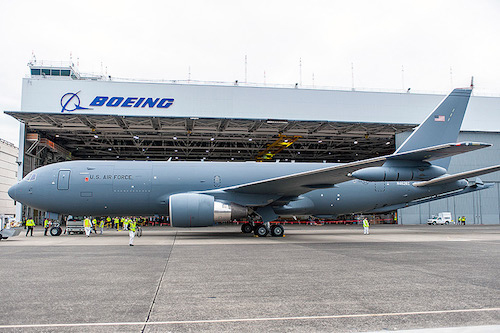 Copyright © 2015 Boeing. All Rights Reserved.
The latest setback for Boeing's KC-46 tanker signals the difficulties the company continues to face with a program that was supposed to be relatively painless.
Boeing has experienced a number of hiccups with the tanker's refueling system thus far, and they all were chalked up to development issues that are not unusual in military programs. The new hitch announced May 27 could lead to further delays, and comesjust a few weeks after senior Boeing executives assured investors and industry analysts that the refueling system problems were under control and the company was on track to deliver 18 tankers and support equipment by August 2017.
The word from the Air Force now is that tanker deliveries will be delayed by a year or longer because of "technical challenges." Brig. Gen. Duke Richardson, program executive officer for tankers, blamed the setback on "boom design, and issues with certification of the centerline drogue system and wing air refueling pods."
The result will be delays to low rate production approval and initial aircraft deliveries, Richardson said in a statement.
Boeing asserts there is "no new issue" with the boom refueling system. The boom is a rigid, telescoping tube that an operator on the tanker aircraft extends and inserts into a receptacle on the receiving aircraft. It transfers fuel much faster than other refueling systems like probe-and-drogue. The KC-46 boom was designed to transfer 1,200 gallons per minute.
Problems first surfaced during refuelings of a C-17 cargo aircraft in January. Tests revealed load issues with the boom telescope control loop, which impeded the transfer of fuel from the tanker to the C-17. Boeing has been working to fix the higher-than-expected boom axial loads recorded during C-17 air refueling demonstration flights.
Boeing spokesman Chick Ramey said company executives never stated the problem had been fixed, although they do believe that a solution is forthcoming. "There is no new issue, it's simply that the issue has been more complex than we initially realized," Ramey said in a statement to National Defense. "We are continuing work to resolve it."
The Air Force has postponed a planned milestone C decision — that would clear the program for low-rate production — from June to August. The extra time would allow Boeing to fix the loads issue and accomplish the remaining aerial refueling demonstrations with the required C-17 and A-10 aircraft. After milestone C is cleared, the Air Force would award a contract for the first two production lots, followed by a third lot in January 2017.
The delivery of the first 18 aircraft is being put off because of the "complexities associated with qualification and certification of the hose and drogue refueling systems," Ramey said. The wing aerial refueling pods and centerline drogue system have "performed as planned during milestone C testing," he added. "The delay is not a functionality issue — it's just that the certification is taking longer than anticipated.
Richardson said KC-46 arrivals at designated bases will be in late summer or early fall 2017. The initial plan was for the first tanker to land in spring 2017 at Altus Air Force Base, Oklahoma, the first formal training unit location; and McConnell Air Force Base, Kansas, the first active duty-led KC-46 main operating base.
"After a schedule risk assessment, Air Force officials determined the fielding timeline needed to be extended," Richardson said.
The Air Force until about a year ago did not consider its new aerial refueling tanker to be at risk of major delays. The KC-46 Pegasus— based on a 767 commercial airliner — is being developed by Boeing under a fixed-price contract, so the Air Force is not financially responsible for cost overruns. The tanker, though, is considered one of the service's top modernization efforts and officials would like to see it take to the skies and show it can refuel airplanes sooner, rather than later.
Boeing had to delay the tanker's first flight — originally scheduled for spring 2015 — until September due to a malfunction in the fueling system after an incorrect chemical was poured in. Previously, there had been problems with the wiring. The company so far has absorbed about $1.5 billion in costs overruns.
"We understand that no major procurement program is without challenges and the Air Force remains committed to ensuring all aircraft are delivered as technically required," Richardson said. "The multi-year tanker procurement program remains one of the service's top priorities and the Air Force will continue to work with Boeing to find ways to mitigate delays," he added. "It's important to take the time necessary to get it right. There is no increased cost to the government as a result of these changes."
The latest glitch came to light after Boeing and the Air Force completed the annual KC-46 schedule risk assessment — a comprehensive review of all remaining work. Boeing now projects delivery of the first KC-46 in August 2017 and the 18th in January 2018, each equipped with all required capabilities except the wing aerial refueling pods. Air Force spokesman Maj. Robert Leese said a longer certification timeline for the refueling pods means Boeing would have to push deliveries to October 2018.
The Air Force signed a fixed-price development contract with Boeing in February 2011, and intends to acquire 179 KC-46As. Boeing was awarded a fixed-price incentive contract with a ceiling price of $4.9 billion to develop the first four aircraft, which will be used for testing.
Topics: Aviation, Tactical Aircraft, Transport Aircraft