Special Operations Command to Buy New Uniforms, Wearable Gear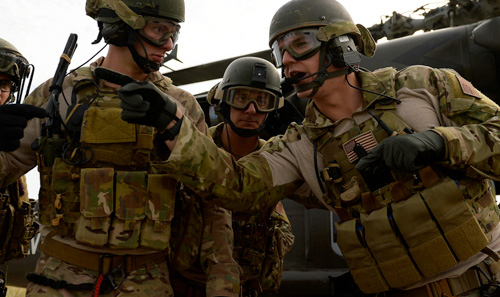 Photo: U.S. Air Force combat controllers with the Special Tactics Training Squadron at Hurlburt Field, Fla.
TAMPA, Fla. – Special Operations Command plans to acquire new uniforms and a suite of wearable technologies for its warfighters, a program official said May 25.
After years of fighting in the desert climates of the Middle East, U.S. commandos need to be prepared to operate in the Arctic and the jungle, said Adam Fields, SOCOM's program manager for survival, support and equipment systems.
"We haven't been fighting in those areas," he said in an interview following a briefing on his portfolio at the National Defense Industrial Association's Special Operations Forces Industry Conference. "It's going to be different things that we need."
Operators in the Arctic must be able to tolerate temperatures 50 degrees below zero, he said. "We want to reduce bulk as much as possible so the guys aren't simply surviving in the Arctic but they're actually able to do their job," he said "It's mostly about reducing weight and bulk."
In the jungle, uniforms need to counteract heavy rainfall and high humidity, Fields said. "We want to be able to get the moisture off of the operator [and] we also don't want the uniforms to get soaked after five minutes," he said.
The uniform needs to be durable in heavy brush, which can tear materials when troops are on the move. "You need to make it strong but absorb water but quickly dry and protect them from that sort of thing," he said.
The command is looking for gloves that provide similar advanced protection, Fields noted.
A single company doesn't need to produce the entire uniform, which will consist of multiple layers, Fields said during his briefing to members of industry.
Oftentimes, "the layers are all made by different manufacturers," he said. "We tie them all together with multiple contracts. If you have got a piece [of technology] that may apply to one layer, that's great."
SOCOM could hold an industry competition for new uniforms as early as fiscal year 2017, he said.
The command is also seeking a range of other types of advanced wearable gear. Although the command is in the middle of a multi-year contract for backpacks, officials are still looking for superior components.
"You might have a buckle that's the greatest buckle in the world," Fields told members of industry. If "it's smaller and lighter than what we're using right now, I want to hear about it."
SOCOM will have a "big recompete" for a ballistic plate contract in fiscal year 2019, he said. The command is looking for lighter body armor for its warfighters.
"Typically you have in the pocket of your vest … the hard armor and the soft armor," he said. "We're moving away to the soft armor to a one-point solution so we can be smaller, lighter and tighter to the body."
Officials are conducting market research to seek what types of protection technologies are available.
For headgear, the command is looking for new helmets that offer ballistic and impact protection. There is a new requirement for maritime operations: the helmet must provide a stable and comfortable platform to mount night vision goggles during high-sea state and high-speed maneuvering missions.
A solicitation for a new helmet is expected to go out to industry in the first quarter of fiscal year 2017, with a contract award anticipated in the third quarter.
The command is also recompeting contracts for modular communications headsets. The recompete for the maritime version is ongoing. The competition for the land version is slated for fiscal years 2017 and 2018, Fields said.
SOCOM also wants superior eye protection for its troops, and officials plan to initiate a new round of market research in fiscal year 2017.
"What I'm really looking for here is one of the ones that does it all – day, night, laser protection, perhaps something that does some active transitioning," Fields said. "It has to do it really fast. … We need to go from inside to outside, outside from inside, [and] the operators need to be able to not wait for their glasses to catch up with them."
Topics: Land Forces, Special Operations-Low Intensity Conflict, SOF Weapons Systems