SOCOM Expediting Tech Transfer to Foreign Partners (UPDATED)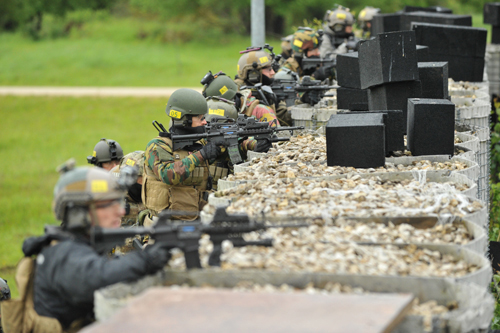 Multinational students attend the International Special Training Center's Advanced Close Quarter Battle Course at the Hohenfels Training Area, Germany.
TAMPA, Fla. – United States Special Operations Command is pushing the delivery of new technology to foreign partners, as it seeks to strengthen an international web of elite commandos.
The effort is being spearheaded by James "Hondo" Geurts, SOCOM's top acquisition, technology and logistics executive, who sees the command as the leader of a "global AT&L network."
Special operations forces around the world often have unique requirements and seek special equipment to fulfill their needs.
"We're starting to see lot of foreign military sales and direct commercial sales of SOF-unique gear, which traditionally has not been an area where we spent much time," Geurts said during the 2016 Special Operations Forces Industry Conference sponsored by the National Defense Industrial Association.
SOCOM and its partners are taking advantage of the coalition warfare program and foreign comparative test program, which enable cooperative research, development, test and evaluation of technologies, Geurts said.
Geurts and Tony Davis, SOCOM's science and technology director, are promoting SOFWERX, an initiative that began in 2015 to facilitate interaction between the command and industry. The SOFWERX facility, located in Tampa's Ybor City neighborhood, is designed to enable rapid prototyping in an open, unclassified venue.?Technology developed there can be transferred to international partners. One example is a 3D-printed robot that can fly and drive. Since there are no export restrictions, the multi-use drone can be shared with foreign forces.
"We network with those … international providers and …. speed change into their system," Geurts said. "We've spent a lot of time in the last year getting those relationships together, and hopefully on the industry side they're seeing the same thing where you can see us moving acquisition programs across the different fences."
There is a memorandum of understanding between SOCOM and special ops organizations of several-English speaking countries designed to facilitate technology procurement, retired Australian Maj. Gen. Timothy McOwan told National Defense at SOFIC.
"Those requirements definitions are shown to or shared with other members of the communities so that they understand … what one another is looking to procure in the future," said McOwan, a military trade specialist at the Australian embassy in Washington, D.C., and the former head of Australia's special operations command.
Robotics, nanotechnologies, sensor systems, soldier systems and lightweight power sources are just some of the technologies that special ops organizations are looking for, he said.
Geurts said SOCOM wants to help its friends acquire a variety of tools to meet their requirements. "It's quite a broad range depending on the partner and their need and their capacity and all those different things," he said, citing interoperable communications equipment as a key technology gap.
"One area we're starting to focus more on quite frankly is how do we take advantage of technology to speed our ability to partner with folks," he said. "Now technology is getting to the point where you can use that to simplify activities [and] enhance interoperability instead of causing bigger gaps. And those are the areas I'm really looking at."
Gen. Raymond Thomas, commander of SOCOM, praised Geurts' "progressive approach" to sharing technology and tools with partner forces.
They "know what our toys are," he said. "Then you get to breech the question: 'Can I get some of that, can I have some of that, what's it going to cost?'"
"[Geurts] is pushing it to the point of making it as rapidly available as possible, as opposed to some of the more archaic systems we have for providing equipment to partners," he added.
Guerts noted that technology sharing is not a "one-way street." At SOFIC, international firms and trade organizations swooped in to promote the products. McOwan was there representing Team Defence Australia, which brought 14 small- to medium-size enterprises to the exposition.
"Each … has some unique attributes and skillsets and products which they are seeking to introduce into the U.S. SOF-related security market," he said.
"Some already have contracts … but they come … here to explore opportunities for themselves unilaterally, to look at the innovation and to try and understand from the user's point of view — special operations forces — what they require so that they can meet those requirements," he added.
Nils Johansson, a senior adviser for defense industry cooperation at the Swedish Embassy in Washington, D.C., said Swedish companies have already made inroads to SOCOM, selling it a variety of products including anti-tank weapons, satellite equipment, ammunition, rifle sights and uniforms.
A popular Swedish-made item among foreign special operations organizations is shoulder-fired weapons, he said, although SOCOM has yet to buy them.
Newcon Optik, a Canadian firm that makes thermal imagers, night vision systems, laser rangefinders and tactical day optics, has sold its products to governments and commercial customers in more than 70 countries. Having already sold its gear to U.S. law enforcement agencies, the company is trying to establish a foothold with the U.S. special operations community, said Alex Rudiy, the firm's executive vice president and chief operating officer.
"People [from other organizations] are lining up to have a supply of those products," he said. "That's the reason we are here to show them [SOCOM officials] that this equipment is available. As far as the U.S. military, the sales are not as high as we would like."
Bombardier Recreational Products, another Canadian firm, has teamed with U.S.-owned RP Advanced Mobile Systems to supply militaries and other government agencies with the Strike family of all-terrain vehicles. The platforms have been sold to U.S. special operations components as well as those of partner nations, said Terry Wilmeth, co-owner and chief technology officer at RP Advanced Mobile Systems.
Sales of the Strike-C Commander vehicle, which was on display at the show, have gone up since the rise of the Islamic State group. "It has been a substantial increase in the past year," he said.
McOwan said special ops is a strong niche market.
"If it is a good product, it is very quickly known about in the U.S. SOF community or in the international SOF communities, and most special operations forces have their own innovation funds," he said. "They are looking for emerging capabilities, things of practical use, and they are able to devote resources to it. We're not talking about multi-billion dollar programs necessarily, but it's a lucrative area for small business, particularly those that are innovative."
Yasmin Tadjdeh contributed to this story.
Correction: The name of Newcon Optik's executive vice president and chief operating officer Alex Rudiy was previously misspelled.
Topics: International, Special Operations-Low Intensity Conflict