Social Media, Electronic Warfare Tools Among SOCOM's Technology Gaps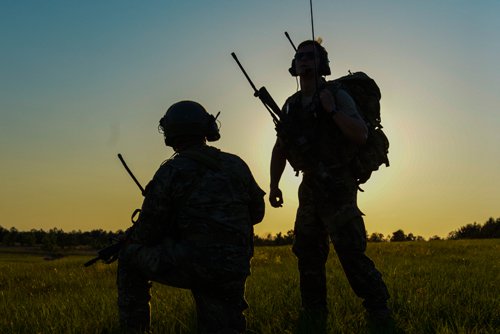 A U.S. Air Force special tactics Airman assigned to the 24th Special Operations Wing pulls security while another special tactics Airman communicates using a radio to talk to an incoming aircraft during Exercise Emerald Warrior 16 at Camp Shelby Joint Forces Training Center, Miss., May 7, 2016.
Public Domain
TAMPA, Fla. – Special Operations Command is looking for a few good ideas to help it fight the Islamic State and other adversaries, a top acquisition official said on May 25.
It has niche requirements for tools that will help it defend against drone and electronic warfare attacks, and to navigate the world of social media, said Tony Davis, the command's science and technology director.
While special operators may be best known for their commando skills, psychological operations, known today as military information support operations, is also part of its purview. And much of that takes place on the Internet.
"How do we step up our game in social media influence [and] understanding public sentiment?" he asked at the Special Operations Forces Industry Conference, which is hosted by the National Defense Industrial Association.
"There's been a lot of press about how successful … ISIS has been in recruiting and other things and how limited the government's capability is to counteract those," he said. "We're also trying to increase the SOF ability to understand our environment and interacting with those social media tools as successfully as we can."
The command has also been looking at technologies that near-peer competitors are developing which could threaten U.S. commandos' ability to fight effectively. To thwart advanced adversaries, SOCOM needs defensive capabilities to operate on battlefields where cyber and electronic warfare tools are part of the enemy's arsenal, Davis said.
A range of cyber capabilities are "a huge area of growth" for the Defense Department writ large, he said. But SOCOM has more niche requirements.
"We're looking at how we protect small teams rather than how we protect an entire service or an entire network," he said. "It's a little bit more of a tactical cyber requirement."
The science and technology chief noted that Russia has been engaging in electronic warfare against Ukrainian forces.
"That's something that maybe we should have anticipated. We should have been able to tailor our systems better," Davis said "It's that kind of gap that we're trying" to close.
"We do have similar needs to the services, but at the more tactical level for how we protect the small team against that kind of capability," he added.
Small drones present opportunities and challenges, he said, noting that the command is looking for swarming and autonomous capabilities for unmanned systems. "There's a lot of interest in that space and … how do we grow that capability," he said.
Special operators also need to be able to defend against swarming attacks, he noted. "Some of our potential adversaries are quickly adopting those commercial technologies just about as fast as we can," he said.
The command is pushing forward with several initiatives to bring new technology into the force and learn more about what industry and academia have to offer, Davis noted.
SOCOM launched the SOFWERX initiative a few months ago to facilitate interaction between the command and industry. The SOFWERX facility, located in Tampa's Ybor City neighborhood, is designed to enable rapid prototyping.
"It's an open, unclassified collaboration venue," Davis said. "A lot of stuff is going on in there."
Once a month SOFWERX hosts "capability collaboration events," and each focuses on a specific technology area and program executive office. A calendar of events is available on the organization's website at sofwerx.org.
SOCOM also has a technical experimentation program that selects venues tailored for evaluating specific types of technologies. Companies can bring in technologies they are developing to receive input from the command.
"Let us provide feedback to you early and directly from the SOF operator on what you can do to make it better, how it can better fit our needs, and how we can collaborate together to get that product so that it's more likely for us to procure," Davis said.
There will be two more technical experimentation events this year. One, scheduled for July in Camp Atterbury, Indiana, will be focused on urban/unconventional warfare. The other, scheduled for September in Little Creek, Virginia, will be focused on maritime surface platforms.
The command is starting to do semiannual rotation of experiments centered on maritime systems, Davis noted. Next year the experiments will have an underwater platform focus. "You don't necessarily have to build underwater platforms," he said. "If you build something that enables it in terms of sensors or communications or [other] capabilities, then that's great area for you to come to and show it to us."
Topics: Infotech, Robotics, Unmanned Air Vehicles, Special Operations-Low Intensity Conflict, PsyOps