FBI Director: U.S. Needs Dialogue on Encryption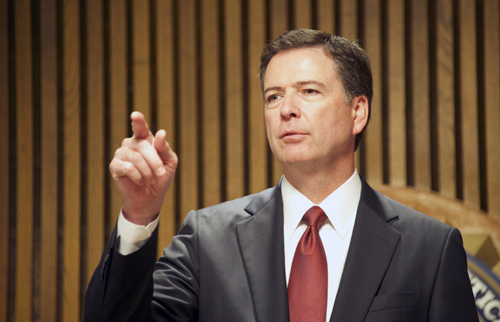 Director of the FBI James Comey
TAMPA, Fla. — Following a high profile dispute with Apple earlier this year, the director of the FBI said there needs to be greater dialogue in the United States about the balance between public safety and privacy.
"I love strong encryption," said James Comey. "Encryption is a very, very good thing. I also love pubic safety."
Currently, the two ideas are "crashing into each other," he said May 25 during keynote remarks at the annual Special Operations Forces Industry Conference here.
There needs to be thoughtful debate across the country about how to balance the two, he said. "How can we optimize both those values? These are things that we all care about."
The FBI made headlines earlier this year after the agency and Apple became engaged in a high profile dispute over encryption. Following a deadly shooting rampage in San Bernardino, California, last year the FBI acquired an iPhone 5C that was used by one of the shooters, Syed Farook. The phone — which was owned by Farook's employer — was encrypted and after 10 wrong attempts at inputting the passcode, would clear the smartphone of its contents. In February, a federal judge ordered Apple to help the FBI get around this feature, but the company refused, claiming that could set a dangerous precedent. In the end, the FBI was able to break into the phone on its own.
"The litigation in San Bernardino was not about trying to send a message or demonize Apple. I don't think anybody should be demonized in this conversation," he said. "It was about trying to confidently investigate a terrorist attack that slaughtered innocent people at an office gathering. That's all it was about."
The FBI had consent from the owner of the phone, a search warrant and, according to a Justice Department lawyer, a valid basis for asking the court to force Apple to help the FBI gain access to the phone, he said.
Encryption also became a major issue following the revelation that the National Security Agency collected enormous amounts of information about U.S. citizens via its bulk phone metadata collection program. Since then, there has been a major push for encryption on mobile phones, Comey said.
This has had major ramifications on the FBI, he said. Even with court orders, many times agents are not able to access data on encrypted phones, he said.
"We are increasingly finding devices … that we can't open," he said. During the first six months of fiscal year 2016, FBI agents received about 4,000 or so devices it wanted to investigate. Five hundred of them couldn't be opened. That number will only grow, Comey said.
Encryption has made it harder for the FBI to track Islamic State supporters, he said. ISIL uses social media platforms, such as Twitter, to reach out to potential sympathizers around the globe. "[For] 24 hours a day that terrorist is in your pocket," he said.
Once ISIL finds a potential supporter through a social media platform like Twitter, they quickly move them to a mobile messaging app that is end-to-end encrypted, he said.
"In that moment that needle that we found … went invisible," he said. "When the needles get most dangerous they go invisible."
This model breaks the old one that the FBI used for years with al-Qaida supporters, he said. "Our task in those days was to find those watering holes on the internet where people would go to consume the poison of al-Qaida and talk to each other," he said. "If we found that watering hole everybody drinking out of it was of interest to us."
Meanwhile, Comey said there had been some positive trends in the fight against the Islamic State. Since August 2015, the number of recruits attempting to travel to ISIL-controlled territory from the United States has dropped from six to 10 a month to one per month, he said.
"I don't want to fall in love with a trend, but it could be that the brand … has lost its attraction," he said. "It could be that the great work of our special forces colleagues and coalition nations has hampered their operations in such a way that they are no longer so effective in attracting people. That trend is very positive."
At the same time, however, the number of people in the United States who are consuming ISIL's propaganda has remained steady, he said. The FBI is currently tracking 900 cases around the country, he said.
Topics: C4ISR, Cybersecurity, Homeland Security, Infotech