AFSOC Moves Forward on Plans to Equip AC-130J with Laser Weapon by 2020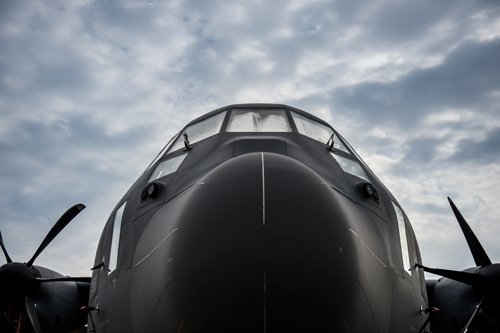 An AC-130J Ghostrider
Public Domain
TAMPA, Fla. — Air Force Special Operations Command is on track to equip an AC-130J Ghostrider gunship with a laser weapon by the end of the decade, officials said May 25.
Working alongside Naval Surface Warfare Center Dahlgren in Virginia, the service has wrapped up the first phase of a two-part study that will give the command greater clarity on the maturity of commercially available systems and potential design concepts, said Lt. Col. John DiSebastian, director of fixed-wing tech insertion at Special Operations Command.
"We have identified our partners that have responded to our [request for] information [and] we are in the process of evaluating that," he said at Special Operations Forces International Conference, sponsored by the National Defense Industrial Association. "We have not downselected away from any, or chosen any. We are still, as part of this architecture, looking at what is the best operational capability and determining which vendors can support that."
AFSOC plans to use commercially available technology to develop the laser but it will be the lead integrator of the system, he said during a panel discussion at the annual Special Operations Forces Industry Conference.
"We're not looking for a single company to come in and take the lead. We're looking for individual components where the government will control the interfaces," he said.
"We believe that … taking the existing capabilities that industry can provide, that we can pull those pieces together and provide a system that is operationally useful to the warfighter," he said. "It may not be the final configuration that they are looking for, but similar [to] our previous gunships, we would put one capability on and then grow it and then add another and build upon it."
The goal is to start the program in fiscal year 2017, with a flight test in 2020, he said. The demonstration will focus less on research and development and more on what the command can obtain from the system operationally, he said.
AFSOC is still determining how powerful it wants the laser to be, he said. The system will range from 60 killowatts to 150 killowatts and will be outfitted in the Ghostrider's 30mm gunport, he said.
The command is currently waiting for the results of phase two of the Dahlgreen study, which is slated for completion in August, he said. That will give officials more information on cost, schedule and capability.
While the program hasn't had any hiccups, the biggest hurdle will be drafting an appropriate funding strategy, he said.
"We feel like it has gone smoothly. Dahlgreen has been doing excellent work for us. We've been able to present at various levels within the Department of Defense," he said.
"We're on a path. It's just whether or not the department agrees that we are at the proper maturity. So we don't want to get ahead of ourselves and try to push too far beyond the bounds of what is currently available, and so that's what we're waiting for later this summer — just to get the final assessment of phase two and then we'll get the senior leadership's decision," he said.
Following the release of an official acquisition strategy, AFSOC will solicit a request for proposals from industry, he said.
Topics: Aviation, Tactical Aircraft, Special Operations-Low Intensity Conflict, SOF Weapons Systems