Special Operators Helping U.S. Law Enforcement Root Out Homegrown Terrorists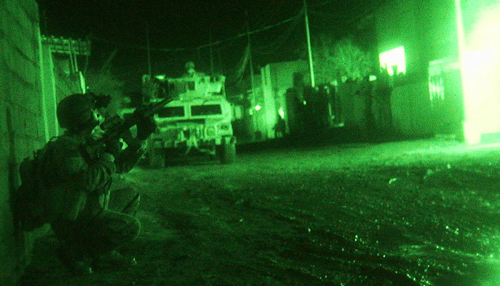 A U.S. special operator provides security during a counter-terrorism operation.
Public Domain
TAMPA, Fla. — U.S special operators are uncovering intelligence overseas that is helping U.S. law enforcement root out homegrown terrorist cells, the White House's top counterterrorism advisor said May 24.
"Building on relationships with the law enforcement community, special operators are sharing information to help identify terrorists who are recruited and radicalizing Americans here in the United States," Lisa Monaco, assistant to the president for homeland security and counterterrorism.
Special operators are making multi-faceted contributions to U.S. counterterrorism efforts. "The value of SOF goes far beyond removing terrorists from the battlefield," Monaco said.
Special operations forces will continue to play a leading role in the United States' efforts to combat violent extremists, she said. They form "the backbone" of the U.S. approach to defeating militant groups like the Islamic State and thwarting homegrown terrorists, she said during a speech at an Special Operations Industry Conference sponsored by the National Defense Industrial Association.
SOCOM is also trying to undermine terrorist groups in the digital realm, which the Islamic State has exploited to recruit and to motivate likeminded individuals to carry out attacks at home.

"For the last several years, our SOF community has supported cutting-edge research and programs designed to more fully understand the ideological roots that drive extremism and terrorism," Monaco said. "Since [the Islamic State] is using the internet and social media to recruit. We've got to counter them online."

But more needs to be done to combat the group's digital presence, she emphasized.

"These challenges cross borders and agency boundaries. They demand that we partner even more closely together. And your global SOF network will be central to confronting all of these threats," she said.
In addition to taking out enemy fighters with raids and airstrikes, U.S. commandos are heavily involved in training, equipping and advising foreign partners who are battling militants, including in hotspots like Iraq and Syria.

"With a unique set of capabilities, even a small number of special operators working across countries and agencies can bring the full might of their partners' power to bear against these threats," Monaco said.

Unconventional troops have played a critical role in intelligence gathering, she said, noting that information found during a raid against the Islamic State's oil chief in Syria provided significant insight into the group's finances. The information helped disrupt the flow of money to the terrorist organization and its fighters.
Terrorist threats are transregional and diffuse, Monaco noted. The Islamic State now has eight different branches across the world. And al-Qaida's offshoots have become more dangerous than the core element in Afghanistan and Pakistan, which has been severely degraded, she said.

"Whenever [and] wherever the next ISIL branch or al-Qaida affiliate gains momentum, it will likely be SOF ready to take them on," she said.
Topics: Homeland Security, International, Special Operations-Low Intensity Conflict, PsyOps