SOCOM Looking For Technology From Foreign Firms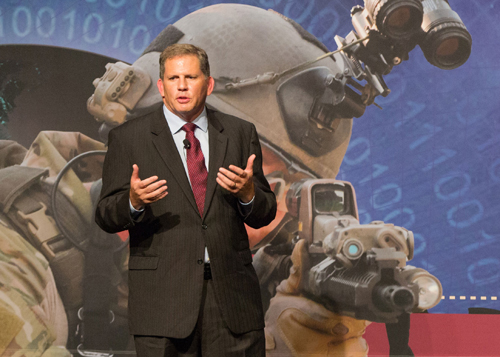 James Geurts, Special Operations Command acquisition executive.
TAMPA, Fla. – U.S. Special Operations Command is looking overseas for technology solutions, a top acquisition official said May 24.
"We look for the best product wherever it is around the world," said James Geurts, SOCOM's acquisition executive, at the 2016 Special Operations Forces Industry Conference.
The meeting, hosted by the National Defense Industrial Association, brought together more than 11,000 members of the industry and the special operations community from the United States and other countries.
SOCOM has a number of different tools that it can use to buy equipment such as the forward area test program and the coalition partner program, Geurts noted.
"We are a global [acquisitions, technology and logistics] network," he said. "If you're an international partner or an international industry partner and you've got a piece of kit, our goal is to get that into our system, test it, and if we like it, immediately go to procurement of that equipment."
The command has a range of technology needs. "Literally everything from submarines to satellites and everything in between," Geurts said.
The acquisition chief said the fiscal year 2017 budget request bodes well for SOCOM because it provides "a steady R&D stream" across the entire future years defense program, enabling the command to better plan for longer term research-and-development projects such as directed energy weapons.
Meanwhile, procurement remains "pretty steady," he added. For 2017, the Defense Department has requested for SOCOM approximately $1.6 billion for procurement and about $500 million in research, development, test and evaluation funding. Those budget levels would remain roughly the same through fiscal year 2021, according to the latest five-year budget plan.
After more than a decade of being bogged down in counterinsurgency wars in the greater Middle East, the U.S. military is reorienting itself to fight high-tech adversaries. SOCOM is trying to prepare for different types of operating environments than what special operators have become accustomed to in recent years. That could require new types of gear, Geurts suggested.
When it comes to research-and-development and acquisition, "we are focused not just on hyper incrementalism," he said. "How do we deal with near peer threats again? How do we shape what we've done before but doing it in different operating locations?"
When operating in unfamiliar environments, special operators need to know that their equipment is going to work, the acquisition chief noted.
"My challenges are a little bit more of, how do we ensure we are effective in any parts of the environment right now, not just in a cold dark desert night," Geurts said.
Learning from international partners could be a way to address that problem, he said. By "working with countries that are operating in the jungle every day or operating in the Arctic every day … we know ahead of time if we have to operate in a tough environment [and] what that means to our equipment and our capabilities," he said. "We aren't surprised by that when we land and we figure out something doesn't work the way we thought it did."
Topics: International, Procurement, Science and Engineering Technology, Special Operations-Low Intensity Conflict