Changing Landscape Overseas Creates Headwinds for U.S. Defense Companies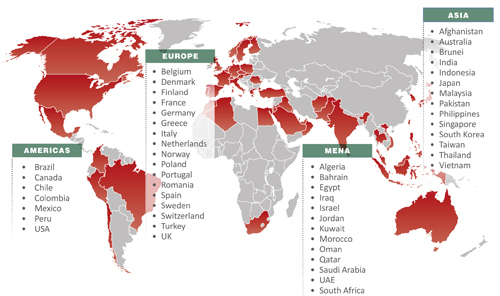 Avascent Analytics covers 55 countries.
U.S. defense contractors are becoming increasingly anxious about the overseas arms market as they see changing political winds and shifting attitudes from countries that have long been reliable buyers.
This is the main takeaway fromnewly analyzed data on foreign military sales by the Washington, D.C., consulting firm Avascent.
"We have absolutely had clients come to us and ask us to help understand what's going on in the international market," said Avascent Managing Director Doug Berenson.
Since U.S. defense spending peaked in 2010, many American defense companies pursued an explicit strategy of growing foreign sales. Non-U.S. sales have partially offset the decline in domestic demand since 2010, when only 17 percent of defense equipment manufactured in the United States was exported, Avascent estimated. By 2015, that number jumped dramatically to 34 percent.
Foreign sales of American-manufactured defense equipment rose from $24.2 billion in 2010 to $45.1 billion in 2015 — an average rate of 13 percent per year — while domestic sales declined from $112.8 billion in 2010 to $84.7 billion in 2015.
The traditional advantages enjoyed by U.S. companies in foreign arms deals, however, are eroding and contractors need to rethink their strategies, Berenson said. One red flag out there is the rise of nontraditional competitors. "Our clients particularly ask about Russian and Chinese players," he said.
Another frequent question is what to do about working with countries that are long-time U.S. allies but are looking to source their defense equipment domestically. "One of the more practical suggestions I would offer to American companies is that they need to get better at partnering, at finding ways of satisfying local industry and vision."
The larger concern for American industry is how to maintain the competitive advantage it has and what steps companies must take to improve it, Berenson said.
The United States has policies that restrict sales where there are concerns that the buyer might share sensitive technology with third parties. That has opened up the market to other competitors that are stepping in to fill the demand, especially in the Middle East, said Berenson. "There are U.S. export control policies that I think have become counterproductive." American executives, he said, "need to keep up the pressure on the U.S. government to make reforms to export control policy."
A telling example of what is happening in the market is seen in Saudi Arabia. A frequent buyer of U.S. weapons, the kingdom has opted to buy Chinese unmanned aircraft as many governments, including the United States, restrict sales due to concerns about indiscriminate use of armed drones. In this case, the ability of the U.S. government to influence other countries' military actions through arms sales is diminished, noted Berenson. "Saudi Arabia is buying Chinese UAVs and there's nothing we can do about that."
Members of Congress pay attention to arms sales for foreign policy reasons but also because of the economic impact of big-ticket deals. Unease about the possibility that the U.S. could lose a multibillion-dollar fighter sale in the Middle East was in full display this month during a House Armed Services subcommittee on oversight and investigations hearing. Subcommittee chair Rep. Vicky Hartzler, R-Mo. pressed defense officials to explain why a sale of Boeing-made fighter aircraft to Qatar and Kuwait had been held up for two years. Boeing is one of the largest employers in Hartzler's district. The company has warned that thousands of jobs could be at stake over this pending fighter deal.
"Our subcommittee has learned through various avenues about lengthy policy reviews that occur regarding some FMS cases," she said. "FMS cases for fighter aircraft that began well over two years ago have been delayed due to opaque and bureaucratic deliberations at the national security council."
Defense officials pushed back on Hartzler's suggestion that red tape is undermining U.S. industry's competitiveness. "The system is performing very well and the United States remains the provider of choice," said Navy Vice Adm. Joseph Rixey, director of the Defense Security Cooperation Agency. He oversees a foreign military sales portfolio estimated at more than $47 billion.
Criticism of slow approval timelines is "misplaced," said Rixey. "These delays are the natural outcomes of the required validations, rather than negative reflection of the performance of the FMS system itself. The FMS system is burdened, but it's not broken." Only a few high-profile cases are "hung up in policy review," said Rixey. "For the most part, most of what we have goes through the system relatively quickly."
But Berenson said the data show that U.S. and some European companies indeed are losing ground in part because of export controls. "In an environment of increasingly capable defense industrial bases around the world, a decision by Western countries to avoid selling certain kinds of technology risks ceding the competitive field to new players." Stringent export control policies are driven often by political rather than industrial considerations, "but what is new and different today is the availability of suitable alternatives from unconstrained global competitors."
There was a time when the United States was the source of first resort. Buyers didn't particularly care how inefficient or slow the process was. "That I think is no longer necessarily the case," Berenson said.
In a new Avascent white paper, analysts painted a cautionary picture. Political-military relationships are reshaping the market. A case in point is Turkey's decision two years ago to buy a Chinese missile defense system. Ultimately, heavy political pressure led Ankara to cancel the deal in November. "But the episode challenged presumptions about the importance of traditional military industrial and political ties in defense transactions," the paper noted. "Traditional alliances and historical bilateral ties no longer guarantee the outcome of international military competitions."
The conclusions were drawn by crunching defense spending data from 55 countries, covering approximately 95 percent of international military equipment spending that is accessible to Western suppliers. Russia, China and Iran are not accessible markets, but the database did track Chinese and Russian suppliers whenever they provide defense equipment to any one of the 55 countries of interest.
Over the next 10 years, Avascent forecasts, "Western defense suppliers will face increased competition in international markets historically considered to be the near exclusive preserve of American and European firms."
Emerging players from countries like Israel, South Korea, Singapore and Turkey bring "particular sets of technical competencies, political advantages, and competitive tendencies," the white paper said. To counter these headwinds, U.S. companies will need "more diverse global supply chains than what Western defense manufacturers traditionally worked with. The degree of technology sharing and work share split will increasingly be weighted toward helping the buyer's domestic industry."
Saudi Arabia announced in April that it intends to source as much as half of the kingdom's defense procurement needs from domestic suppliers as it seeks to cope with a post-petroleum economy.
But even countries with less stark demographic and economic challenges frequently aim for economic benefits from defense investments, Avascent noted. Saudi Arabia, the United Arab Emirates, Iraq and Egypt – all traditional buyers of U.S. and European defense hardware – have acquired China's Caihong family of medium-altitude, long-endurance drones. "China's willingness to sell them abroad further illustrates the reality of an expanding market that will be eagerly filled by non-U.S. competitors," the white paper said.
An accumulation of technical expertise and intellectual property is allowing many countries to serve their own defense requirements and also compete for global export opportunities, analysts concluded. "The maturation and proliferation of these industries in the global defense marketplace will inevitably squeeze Western defense manufacturers."
U.S. companies worry about China and Russia as these nations increasingly serve markets that Western suppliers regarded as fenced off by Cold War era political relationships. U.S. defense sales are far from threatened by Chinese and Russian products, but things could change if their products improve and a perceived loss of international influence by the United States worsens.
Chinese defense manufacturers may not become a regular fixture in competitions for high-end platforms, noted Avascent. "But they will certainly evolve into a much greater presence in markets that require lower-cost, 'good enough' solutions."
Moscow and Beijing so far have lagged their Western counterparts in technical sophistication but are capitalizing on global pressures for technology transfer. India's state-owned Hindustan Aeronautics, for example, owes much of its capabilities to partnerships with Russian aircraft suppliers, the white paper said. Similarly, Pakistan Aeronautical Complex has longstanding ties to Chinese aviation enterprises.
New "Make in India" policies have led to a steady increase in the volume of Indian acquisitions sourced from local suppliers, rising to over 50 percent of annual defense spending over the past five years, Avascent estimated. Likewise, South Korea's armed forces increased the proportion of locally sourced acquisitions from under 40 percent in 2010 to more than 50 percent in 2015. The Japanese Self-Defense Forces, already heavily reliant on domestic industry, boosted the volume of equipment purchased from local suppliers from 60 percent in 2010 to over 70 percent in 2015.
Indonesia and Singapore launched strong initiatives in the past five years to indigenize defense manufacturing.
Analysts said they expect the defense industries of South Korea, Israel and Brazil will emerge as more significant exporters over the next 10 years.
This trend will be especially noticeable in sectors that U.S. firms long sat out such as shipbuilding. U.S. shipyards specialize in the construction of larger surface combatants but the majority of international fleets seek smaller multi-purpose frigates and corvettes.
Avascent projects that demand for maritime capabilities will grow sharply in the coming decade. "In the Middle East, this represents a cyclical shift from an aviation-led modernization phase to one focused on naval systems," the company noted, and U.S. suppliers are likely to lose out. In the area of diesel-electric submarines, which Avascent projects will grow to a $10.7 billion per year market by 2025, U.S. shipyards lack exportable designs. South Korea's shipbuilding sector, meanwhile, is poised for a big breakout in the global defense maritime market.
Topics: International, Logistics, Manufacturing