Moment of Truth Looms for U.S. Air Force Tanker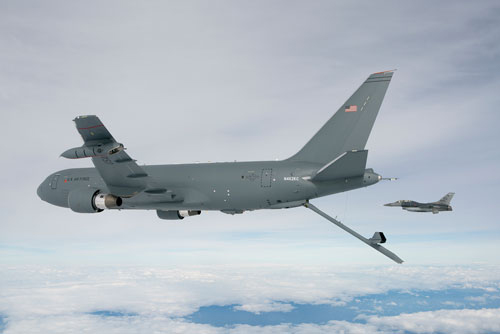 The KC-46A Pegasus deploys the centerline boom for the first time Oct. 9, 2015.
In preparation for a critical program review of the KC-46A Pegasus tanker, Boeing officials are rushing to complete software fixes and refueling tests.
The program is approaching a decisive "milestone C" review that is scheduled for June. This is regarded as a pivotal event for the tanker after experiencing a series of setbacks that have cost Boeing $1.5 billion in losses so far.
A favorable milestone C review would clear the way for low-rate initial production of the tanker and get the program on a steady footing. The Air Force said a June review is contingent on the successful completion of flight tests to verify that past problems with the boom axial load were fixed.
"Boeing has identified a software fix," Air Force spokesman Maj. Robert Leese told National Defense. "Flight testing of the boom axial loads fix began in mid-April and is ongoing."
Problems first surfaced during refuelings of a C-17 cargo aircraft in January. Tests revealed load issues with the boom telescope control loop, which impeded the transfer of fuel from the tanker to the C-17. The boom telescope control loop manages the extension and retraction of the boom length while the receiver aircraft is in contact with the tanker, Leese explained. "This control loop must maintain enough contact pressure to keep the refueling nozzle connected, but not so much pressure as to place excessive force on the tanker or receiver aircraft structure."
Boeing has since been working to fix how quickly the boom responds to changing loads between the tanker and receiver aircraft during flight. "We expect to find items like this in development tests," Leese said.
The boom is a rigid, telescoping tube with movable flight control surfaces that an operator on the tanker aircraft extends and inserts into a receptacle on the receiving aircraft. All boom-equipped tankers like the KC-135 and KC-10 have a single boom and can refuel one aircraft at a time with this mechanism. This has been the Air Force standard for in-flight refueling since the 1950s. The boom transfers fuel much faster than other refueling systems like probe-and-drogue. The KC-46 boom transfers 1,200 gallons per minute.
The Air Force signed a fixed-price development contract with Boeing in February 2011, and intends to acquire 179 KC-46As. After milestone C, the next hurdle for Boeing is to deliver 18 tankers and support equipment by August 2017.
Before milestone C, Boeing has to demonstrate it can refuel C-17 and A-10 aircraft, company spokesman Chick Ramey said. That is expected to happen in the coming weeks. "To date we've refueled F-16, F/A-18 and AV-8B aircraft and have been refueled by a KC-10," he said. Boeing's four developmental test planes have completed more than 600 flight hours to date. "As with any development program, it is normal to find and then have to fix issues," Ramey said. "It's much better to find them now." On the boom fixes, he said, "We haven't uncovered anything that the team hasn't been able to resolve."
Leanne Caret, president and CEO of Boeing Defense, Space & Security, assured investors in a May 11 conference that the tanker is back on track.
"We had the secretary of defense and the secretary of the Air Force here in the last 60 days. We toured them through," she said. "And once they got on the aircraft, they truly understood the capability that they're getting as a combat tanker versus simply a tanker that pumps gas."
Industry analyst Byron Callan, of Capital Alpha Partners, estimated the tanker program has taken a total of $1.5 billion "non-recurring" pretax charges since 2014. Of concern to Boeing are ripple effects in the international market. Although it managed to beat archrival Airbus in the Air Force competition, Boeing's tanker has not done well against Airbus in non-U.S. tanker campaigns. Japan intends to buy three KC-46s, and Poland has been mentioned as a potential customer, Callan noted. "This was supposed to be a relatively low-risk program. It should be a source of steady sales over this decade and well into next."
Unlike most big-ticket weapon procurements, the tanker program presents minimum risk to the government because Boeing must correct deficiencies at its own expense under the terms of the deal.
Boeing was awarded a fixed-price incentive contract with a ceiling price of $4.9 billion to develop the first four aircraft, which will be used for testing. Boeing is obligated to deliver the four development aircraft between April and May 2016, and a total of 18 aircraft by August 2017.
Aerospace analyst Richard Aboulafia, vice president of the Teal Group, said the financial hit Boeing is taking is the price it has to pay to "keep this franchise to themselves. They did what they had to do, whatever it costs, they'll make out in the long run."
The Air Force structured the contract in a "fairly clever way, putting all the risk on Boeing," said Aboulafia. The bad news for Boeing, though, is that Airbus is cornering the export market.
Airbus officials celebrated when an Australian KC-30A multirole tanker transport was certified in March to refuel U.S. Air Force C-17s.
"Yes, we can indeed refuel via boom," said Airbus spokesman James Darcy. "Of note, our boom refuels at 1,200 gallons per minute, which was a requirement of the U.S. Air Force tanker competition.
It was this requirement in part that drove Boeing to design a new boom, as the previous boom system on their Japanese 767 tanker was limited to 900 gallons per minute." The Airbus tanker also has been certified to boom refuel the F-35 joint strike fighter.
Airbus has so far secured orders for 49 A330 MRTT tankers, and delivered 27. It has sold four to South Korea, six to Singapore, seven to Australia, 14 to the United Kingdom, nine to France, six to Saudi Arabia, and three to the United Arab Emirates. In addition to the confirmed 49 orders, the Airbus tanker has been selected by India (expected to buy six), Qatar (two), Spain (three), and the
European armaments partnership OCCAR representing Netherlands, Norway and Poland (four).
Ramey said Japan has committed to buying the KC-46, although it has not yet signed a contract. "They're working through their process," he said. "Japan will be the first international customer. We are also talking to other countries."
Topics: Aviation, Transport Aircraft, Procurement