Air Force Chief Scientist: No Date Set for Hypersonic Vehicle Tests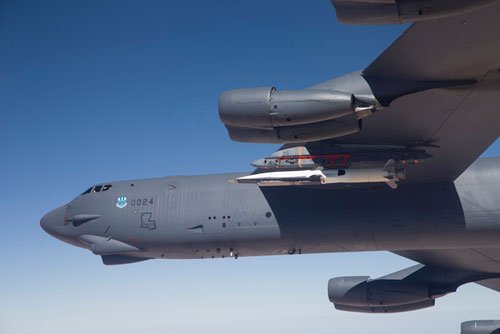 A U.S. Air Force B-52H Stratofortress from Edwards Air Force Base, Calif., prepares to release the Boeing X-51A in 2013.
The U.S. Air Force has no immediate plans to conduct hypersonic vehicle flight tests, the service's chief scientist said May 17.
Greg Zacharias said he "was not aware" of any set dates for a U.S. hypersonic flight test.
Russia and China both conducted hypersonic missile flight tests in April, according to the Washington Free Beacon.There were at least five Chinese flights between 2014 and 2015, according to a 2016 Mitchell Institute report, Hypersonic Weapons and U.S. National Security.
"Obviously, the testing that's going on is a concern for everyone in the community. ... And we're trying to address it," he said at a Mitchell Institute talk in Arlington, Virginia.
Hypersonics is defined as speeds over Mach 5. Retired Lt. Gen. David Deptula, president of the Mitchell Institute, called it, "a game-changing technology." Zacharias said it would serve as a means of rapid global mobility, and said it was an area of priority in the future Air Force Core mission.
The United States last performed a hypersonic test mission more than three years ago May 1, 2013, with the Boeing X-51A Waverider. The report estimates that it will be four to five years before the next air-breathing hypersonic vehicle, the Hypersonic Air Breathing Weapon Concept, takes flight.
Zacharias cited priorities and budget constraints as a reason why there are no immediate test flights. "And infrastructure: We need more hypersonic wind tunnels, for instance," he said, adding that the Air Force is currently working with NASA to improve test facilities.
The Mitchell Institute report said that hypersonic technologies and weapons are "both vitally important and inevitable – for those who prioritize their development."
It warned of severe costs for the losing side of the hypersonics race, including the loss of "decades worth of investment, test, research, and experimentation in this arena", and said that "the United States' investment in hypersonic research and development is now at risk due to indecision and vacillation."
The report suggested that the Air Force take the lead on all hypersonic research, development, testing and evaluation, and proposed a series of strategies for acquisition, assessment, maturation efforts and test facilities, among other recommendations.
Along with hypersonics, Zacharias cited autonomous technology as a key aerospace game changer. There are applications for autonomous technology across a spectrum of Air Force missions, including space, manned cockpits, and remotely piloted vehicles, he said.
The benefits of autonomous systems are vast, he said. They extend human reach; assist with delegation of functions; allow for new types of operations and synchronization of platforms, software and operators. But he emphasized that humans need to stay in the loop in case they are needed to intervene in "truly novel situations."
Challenges to achieving those benefits included a loss of situational awareness, and the possibility that an operator could become more complacent or slow to detect, diagnose or fix problems, he said.
Having trust in autonomy is another key challenge: Human-to-human trust depends on a variety of factors that autonomous systems may not possess, Zacharias said. "They're not self aware of their own limitations," and that can be a problem, he added.
Researchers in the fields of artificial intelligence, robotics, cybernetics, cognitive psychology and neuroscience can work together to solve these issues, as "multiple streams that lead to a common framework," he said.
The second volume in a three volume report Zacharias is producing on autonomy is expected to be released later this year. It will include a framework for system autonomy, identify key technologies, lay out challenge problems and focus on critical implementations. The third volume is expected to be released in 2017. The first volume was published in June 2015.