Boeing Turns Focus to Military Aircraft Upgrades, Support Services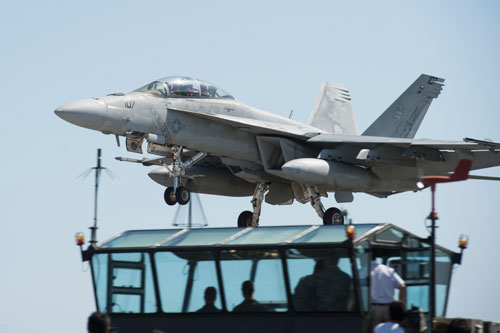 An F/A-18E Super Hornet, attached to the Diamondbacks of Strike Fighter Squadron (VFA) 102, practices a touch-and-go landing during field carrier landing practice at Iwo To, Japan.
Amid concerns about future sales of combat aircraft, Boeing is working to secure long-term work upgrading and maintaining military hardware.
The company already does significant work supporting military aircraft fleets, and believes this is one area where it can expand its business as it faces a slowdown in new combat aircraft production.
The next immediate target is a life-extension program for the Navy's primary tactical fighter, the F/A-18 Super Hornet. Boeing executives expect to soon lock up a potentially multibillion-dollar deal to overhaul the entire fleet of more than 580 Super Hornets over the next several years.
The details of the Super Hornet service life extension program, or SLEP, are still being negotiated, said Dan Gillian, Boeing vice president and program manager for F/A-18 programs.
The company received a Navy contract to provide a "service life assessment" of the Super Hornet. "We're finalizing contracting activities related to SLEP," Gillian told National Defense. "The number of Super Hornets that go through this program per year will depend on a lot of factors but based on information today, we expect to extend the life of 40 to 60 Super Hornets per year once we ramp up."
Boeing is still building two new Super Hornets per month to fill existing Navy orders — for both fighters and electronic-warfare Growlers — and anticipated foreign military sales. New aircraft manufacturing will continue into the 2020s, Gillian said, but the Navy needs the fleet to last until the 2040s.
Naval aviation chief Vice Adm. Mike Shoemaker has said the Super Hornet would require a life extension program because of the domino effect of delays in the next-generation fighter, the F-35C, coupled with growing demands on current carrier air wings. Chief of Naval Operations Adm. John Richardson told lawmakers that the Super Hornet fleet is short by two to three squadrons, which amounts to 24 to 36 aircraft.
Boeing's congressional delegation is pressing the Navy to buy more Super Hornets, and is pushing the White House to approve pending orders placed by Kuwait and Qatar. The company also is competing for upcoming procurements by Belgium and Canada. Gillian said the company has recommended the Navy buy another 100 new aircraft, a mix of Super Hornets and Growlers. To meet the demands of the fleet in the years before the F-35C enters service, the Navy will also need to overhaul existing fighters once they reach 6,000 hours of service so they can fly an additional 3,000 hours, he said. Boeing is prepared to expand its capacity if needed. "The size and scale of the Super Hornet program is one of our biggest challenges."
The Navy is in the midst of updating its older fleet of 150 Hornet fighters. The Super Hornet SLEP, however, "is a whole other animal," Gillian said. "It's a challenge to build the capacity to move that many airplanes through the system as they reach 6,000 hours," he added. "We think we're well positioned working with the Navy to build that program."
In the Super Hornet overhaul, Boeing wants to avoid the problems encountered in the legacy Hornet SLEP, a program to extend the aging fighters' service life to 10,000 flight hours. The Navy found it had insufficient engineering and manufacturing capacity to overhaul badly outdated aircraft.
Boeing took two Super Hornets to its engineering lab in St. Louis, Missouri, to "tear them apart to understand the material condition," said Gillian. "Every airplane you open up has different challenges." These two aircraft are referred to as "learning aircraft," he said. "The purpose is to identify and resolve unknowns related to corrosion, fatigue and any other unexpected issues."
Gillian said Boeing also will raise the possibility of adding more expensive upgrades for each Super Hornet as they go through the SLEP, including more advanced sensors and conformal fuel tanks.
The argument is that it would cost less to do these upgrades when the aircraft are already in the depot, compared to doing them later. "We are still in discussions with the Navy but it would make sense to insert upgraded capabilities while we are extending the life of them from an efficiency and affordability perspective."
Boeing is hoping to seal a long-term Super Hornet upgrade deal soon so the work can begin in 2017. This would follow another significant services contract the company signed with the Air Force in January to maintain the T-38 trainer for another 10 years. The $855 million program would cover avionics, cockpit displays, control panels and communications systems for 456 aircraft and 37 training devices.
Executives are telling investors that Boeing is focused on building up the services business. "It's something that we have talked about for some time," Dennis Muilenburg, Boeing's chairman, president and CEO told analysts in a conference call last month. "I can tell you that we are very serious about growing our services business. So as we've laid in our strategy for the next planning cycle and more broadly for the next decade, that is one of our focused growth areas."
The plan is to tackle the services market as a "One Boeing" unified approach across the commercial and defense sectors, said Muilenburg. "The market is large, about $4 trillion over the next 20 years." The strategy is to "leverage the OEM [original equipment manufacturer] knowledge that we have, and traditional parts business, and mods and upgrades businesses."
Industry analysts said Boeing executives are wise to pursue lucrative services contracts, but that work is unlikely to fill the void left by dwindling new aircraft orders.
"SLEP and aftermarket work is profitable business, no question," said aerospace analyst Richard Aboulafia, vice president of the Teal Group. In terms of preserving an industrial base, however, it's not enough, he said. "Creating new products, designing integrating and manufacturing new combat aircraft is a different skill set. It's profitable but different from an industrial capability standpoint."
Boeing has a large infrastructure, and "they should take advantage of that to grow services," Aboulafia said. "It's really profitable and feels really good but it's not the same. … In the world of combat aircraft it's not the same as cranking out 48 Super Hornets a year, that's for sure."
Byron Callan, defense industry analyst at Capital Alpha Partners, projected that Boeing's defense sales will be mostly flat in the 2017-2020 timeframe based on the funding outlook for major aircraft programs. Executives are playing down the impact of losing the Air Force B-21 bomber contract, and are predicting future wins in Air Force procurements like the T-X trainer and the JSTARS surveillance aircraft, but those are relatively small programs. Absent big foreign military sales deals for F/A-18s and F-15s, Callan said, Boeing faces "potentially large sales holes to plug as legacy fighter programs end." One of Boeing's most successful Navy aviation programs, the P-8 surveillance plane, is scheduled to wind down in fiscal year 2019, "so that program too will rely on international orders to keep the line open."
Aviation support and services, said Callan, "remains a valuable franchise segment for Boeing as it's a mix of spares and support for in-production aircraft and helicopters, performance-based logistics and simulation and training."
Topics: Aviation, Logistics, Manufacturing