New Joint Operations Center Gearing Up For Space Warfare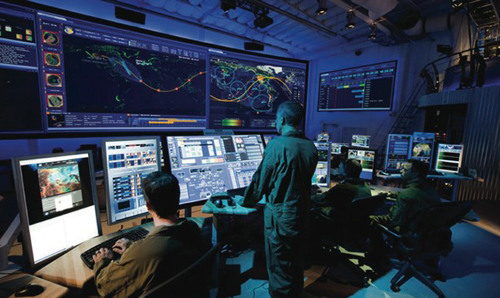 SCHRIEVER AIR FORCE BASE, Colorado – At a new joint operations center in the mountains of Colorado, the U.S. military and the intelligence community are preparing to fight wars that extend beyond the Earth's atmosphere.
The Joint Interagency Combined Space Operations Center, or JICSpOC, was the brainchild of Secretary of Defense Ashton Carter. The outfit, located at Schriever Air Force Base, became operational in October.
The purpose of JICSpOC is to more closely integrate space operations with other U.S. military operations, Carter told reporters May 12 after touring the facility and receiving briefings from officials.
"It is now clear from the behavior of many actual and potential antagonists and enemies of the United States that space isn't a sanctuary and … accordingly it has to be the province of warfighters and not just engineers," he said.
Col. DeAnna Burt, commander of the Air Force's 50th Space Wing, said China's successful test of an anti-satellite weapon in 2007 was "a defining moment" in the push to prepare for a contested space environment.
Her unit operates and supports about 175 spacecraft including critical systems such as GPS and the advanced extremely high frequency communications satellites. They support a range of military activities including remote sensing, command-and-control and communications.
The new joint operations center is positioned to play an important role in helping the U.S. national security community coordinate and deal with threats and disruptions to satellite operations, Burt told reporters. The event marked the first time that media had been invited to the base to discuss JICSpOC, according to a military official.
The space group is tasked with finding new tactics, techniques and procedures for operations. Reporters accompanying Carter on his trip were given a tour of the GPS operations center at Schriever, which controls all of the U.S military's precision timing and navigation satellites.
"What the JICSpOC is doing is asking itself, how would we change the way that operated if the GPS constellation came under threat or … electromagnetic or physical attack?" Carter said. "This is something that we need to do, and I was extremely pleased with the progress made there."
The joint operations center has been conducting wargames and simulations to test new concepts. But officials there have not been relegated to the practice field, the head of the Pentagon noted.
"They are doing real-world, minute-by-minute, no-kidding operations," he said without providing details. "I can't go into what they are."
Carter also suggested that the U.S. military's space components could soon be engaged in offensive operations against the Islamic State.
"I have instructed our space community to join the fight, to figure out what we can do to contribute," he said. "I can't explain what they can do but they can do some things."
Topics: Space