DARPA Shows Off Technology at Demo Day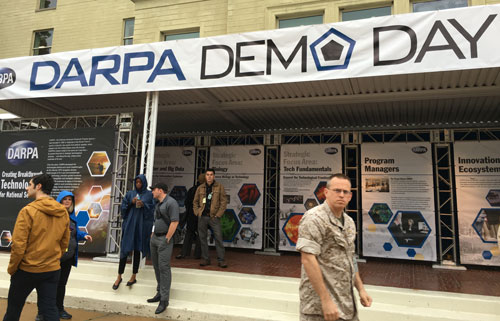 Dozens of Defense Advanced Research Projects Agency program managers, researchers and engineers descended upon the Pentagon May 11 to show off new technology.
DARPA Director Arati Prabhakar said the goal of the agency's demo day is to get the agency's breakthrough technology in front of the right people.
"Today is the day that we bring some of those crazy technologies out here into the Pentagon so that we can get them in front of our customers and our partners, people across all the military services and across DoD," she told reporters.
With 60 program managers at the event, Prabhakar said they would be engaging with Defense Department officials to set up links and work on accelerating the transition of the programs into formal acquisitions.
One important area of research is in biological technologies, Prabhakar said. DARPA's newest office — the biological technologies office — was stood up two years ago and does work in infectious diseases, synthetic biology and neurotechnologies.
"DARPA has been working in biological technologies for now close to two decades but we felt it was an important time to put a special focus there," she said. "This is one of the areas of research where the pot is bubbling and when you see the pace of research and the pace of the underlying technologies that affect biology that tells us that surprise is going to come from this year and we want to make sure that we understand that and help drive it."
The recent Zika and Ebola crises are pointed reminders of the challenges that infectious diseases pose to national security, she said.
"We also worry about the possibility of engineered biological threats," Prabhakar said. "All of those argue for a future where we have a much faster way to nip disease in the bud."
One piece of technology under the biological technologies office is the dialysis-like therapeutics program. Using a lightweight, affordable and portable system, DARPA wants to filter the blood of a sick patient and remove pathogens, toxins and harmful bacteria, said the system's program manager Army Col. Matthew Hepburn.
"The point is [to] make dialysis portable but then also make filters so that you canremove bacteria or viruses from the blood so that if you're sick with an infection, especially infections that don't have antibiotics that work, then you would be able to hook up to a dialysis machine and they would remove that bacteria," he said.
Instead of designing a slew of filters to remove specific pathogens, researchers are developing a single filter that can remove any type of bacteria by finding markers that are common to all bacteria, he said. Ideally, it would be used in a battalion aid station, he added.
The program has been in the works for four years and is undergoing animal testing through fiscal year 2017. The following year, it will begin clinical trials for humans and will have transitioned out of DARPA by that time, Hepburn said.
"The program ends before the human clinical trials because we would sort of consider that we've done our part and then we're going to have transition partners … in military medical research," he said.
The system is between 50 and 100 pounds. It is still in prototype stage, so the final form factor has not yet been determined.
Another piece of technology that goes hand in hand with the dialysis-like therapeutics program is the prophecy – mobile analysis platform.
The small, portable system can diagnosis infectious diseases in blood, Hepburn said. It can deliver results in under an hour and can then transmit them via a wireless data transmission.
"When we make an identification of the pathogen … or the infection that is causing you to be sick, that involves taking a sample from a patient [and then] sending it somewhere," he said. "You have to send that to a laboratory, especially in an operational environment. You may have to send that on a plane all the way back to the United States to get a very accurate diagnosis. This platform is very disruptive."
It is designed to be simple enough to use without any training, he added. The program is currently in its third year of development and DARPA is actively working on transitioning it into the commercial world for production, Hepburn said.
Another piece of technology on display at demo day was "Z-Man" paddles. Developed under DARPA's defense sciences office, its goal is to give soldiers climbing aids while carrying a full combat load. The paddles are inspired by the toes of geckos, said John Main, Z-Man program manager.
"We're trying to duplicate the climbing abilities that geckos have and give it to humans," he said. "The way the gecko accomplishes this is they have these hair-like structures on the end of their toes."
These structures are very fine and short and are about the thickness of a human hair. "They're very compliant and what it allows you to do is press against the wall and take advantage of what is called van der Waals forces, which are just contact forces," he said.
DARPA, working alongside Draper Labs, developed a synthetic form of the gecko hair that it spread over paddles that a soldier can hold. The material creates an adhesion between the surface and the paddle allowing a user to climb a glass wall or other smooth surfaces. The paddles weigh about six pounds each.
DARPA has also designed another version — known as "the Hybrid" — that combines suction cup technology with the synthetic gecko material to create a more robust paddle, he said.
"This is probably the ultimate embodiment of the gecko technology. The gecko stuff is great if you're sliding, but not so great if you're pulling. The suction cups are great if you're pulling but not so much if you're sliding. So if you put them together you get something that's great for pulling and sliding," he said.
Topics: Defense Department, Science and Engineering Technology, DARPA