DIUx 2.0: Carter to Shake Up Silicon Valley Outpost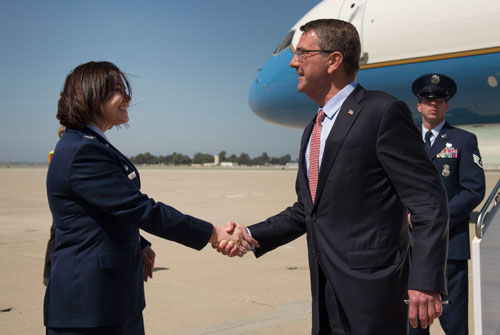 Secretary Ashton Carter arrives at Moffett Field, Calif., May 10 2016.
Public Domain
PALO ALTO, Calif. – Defense Secretary Ashton Carter will announce a major restructuring of the Pentagon's high-profile Silicon Valley outpost, the Defense Innovation Unit-Experimental.
DIUx was created in April 2015 to serve as a bridge between the Pentagon procurement bureaucracy and entrepreneurs in the nation's leading tech hub. It was intended to help bring cutting-edge technologies into the Defense Department by building relationships with non-traditional suppliers.
Just over a year later, after some early successes and difficulties, the Pentagon is ready to launch "DIUx 2.0," according to senior defense officials who spoke to reporters traveling with Carter to Palo Alto, where he was scheduled to unveil the initiative.
The officials, who asked to not be quoted by name, briefed reporters about the plan ahead of Carter's May 11 announcement.

DIUx 2.0 "will be a test-bed for new kinds of contracting with startup firms," according to Carter's prepared remarks. "They'll work quickly to execute time-sensitive acquisition programs. And they'll move at the speed of business. We know how fast companies run here and in other tech hubs around the country, and we expect DIUx 2.0 to run alongside them."
There will be key differences between the original DIUx template and the new version, the senior officials told reporters.
"There will be some structural changes to how DIUx does business and interacts with the tech community and how it operates overall," said a senior defense official. "This is going to allow us to take it to the next level. … It's a bigger project now and that requires more people involved, and that's one of the reasons you're going to see some of the changes."
Under the new arrangement, the unit will report directly to Carter's office.
The plan is to "give it more direct ties to the secretary so we can … make sure that it's empowered to do things in a way that gives it more traction [so that it can] act more quickly and have a little bit more success," said another senior official.
DIUx will also undergo a major change in leadership. Some of the old guard will be replaced by those who have both a military and high tech business background. The new bosses were handpicked by Carter and his staff, the officials said.
"There are individuals that have in most cases either military experience or have been a little bit involved with the department but have then gone on to be very successful entrepreneurs in Silicon Valley themselves," said a senior official. "We were mostly looking for people that could bridge the gap because they've been in both worlds and were very successful in both worlds."
While praising the current leadership for getting DIUx off the ground, a senior official acknowledged that there have been bumps along the way. Silicon Valley CEOs continue to complain that the Pentagon's acquisition process remains a major headache for tech firms that want to do business with the military. The hope is that bringing in leaders who have more tech industry experience will enable the outreach effort to proceed more smoothly.
At DIUx "there will be people in positions of leadership now who have …. had to deal with these issues themselves and will be able to talk the talk and understand where you're coming from," said a senior official.
Special innovation units won't necessarily make contracting problems go away for Silicon Valley firms and tech startups, Pentagon leaders acknowledge.
"We are still the federal government and we're going to have hurdles that not every institution has," said a senior defense official. "But that doesn't mean we can't work to make it better. And DIUx is a perfect example of trying to approach these issues in a more user friendly way."
The Pentagon wants to expand the DIUx model across the country. Carter is expected to announce plans to set up a similar office in Boston, another major tech hub, according to officials.
A key purpose of the restructuring plan is to give the DIUx initiative durability as the clock winds down on the Obama administration. Carter "wanted to look at a way to ensure and almost incubate the model so that it's something that would last longer than just the time he's secretary," said a senior defense official familiar with his thinking.
Topics: Defense Department, DOD Leadership, DOD Policy, Infotech