Army Ground Mobility Vehicle Program Stalled Until Congress Passes Budget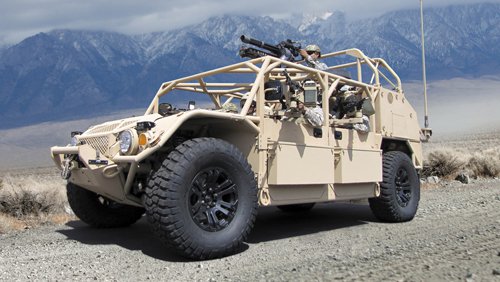 Flyer 72
The Army is nearly ready to move forward with a new ground mobility vehicle and a fleet of new logistics watercraft, but both programs depend on Congress passing a 2017 budget, a senior Defense Department official said May 10. However, the prospects for that happening look bleak, he added.
"The Army has a very real chance of doing something quick and effective and innovative if we are careful in both defining our requirements and not putting too many processes in the way," James MacStravic, principal deputy secretary of defense for acquisition, said of the GMV program. The best thing the DoD can do for the program is to stand out of the way and let the Army proceed with as little involvement from his office as possible, he said.
The Army is completing an analysis of alternatives and there is funding in the 2017 budget if Congress allocates it, he said at the National Defense Industrial Association's Tactical Wheeled Vehicles conference in Reston, Virginia. There should be a full and open competition for the GMV in 2017.
However, he predicted that Congress will pass a continuing resolution in place for the fiscal year 2017 budget, which means those funds would be put on hold. "I strongly expect that we are going to get a continuing resolution for FY 2017, more than the traditional three months. We could have a year-long CR based on the results of this election," he added. "That program could be ready to run with no fuel in the tank."
The GMV is envisioned for light infantry airborne forces and would sacrifice protection for speed and mobility and could seat five to nine soldiers. The Army is requesting $5 million to buy 10 GMVs in 2017 with an eye toward eventually buying 250 vehicles.
A panel of congressional staffers at the conference also sounded a pessimistic note on the prospects of a budget being passed by the end of the fiscal year. While none mentioned a continuing resolution lasting as long as a year, two out of three said the impasse may last until April. The staffers declined to be named.
The Army is also ready to proceed with a new boat to replace two Vietnam War-era watercraft that are now obsolete, MacStravic said.
The Army uses the watercraft for logistics to move supplies in theaters of operations. It is preparing a request for proposals for a maneuver support vehicle (light) that would replace the logistics support vehicle and the landing craft utility. The RFP is expected this summer.
"As we think about the fact that we plan on going to places where people don't want us to be ... we are going to need a different mix of capabilities for those watercraft if we are going to make them relevant in the war fights of the future," he said.
As for other new start tactical wheeled vehicle programs, MacStravic saw little else on the horizon other than GMV. The other fleets will be refurbished with some added capabilities, he said.
"Tactical wheeled vehicle investments will focus primarily on incremental modernization opportunities basically to improve flexibility and maneuverability, but no fundamental change in the capabilities of those assets," he said.
Meanwhile, the joint light tactical wheeled vehicle program so far is a remarkable success, in his estimation. The program had a "laser like focus" on stable requirements, proven technologies and affordability. Conducting a competition all the way up to production was also "remarkable," he said. The program will serve as a model for future acquisition programs, he said.
"Understanding what the warfighter is willing to pay for a set of capabilities and sharing it with industry on how we value that, and how it will be valued in source selection, has taken a lot of fuzz off the ball when it comes down to what something is worth," he said. The Army and Marine Corps will be very happy with the results, he added.
The concern has been whether the Marines will be able to afford the JLTV and the new amphibious combat vehicle. That program too relied on robust competition, proven technologies and a careful consideration of value versus performance, he said.
"The fact that both of those came in at very, very good prices means that the Marine Corps is able to recapitalize both ACV and JLTV at the same time," MacStravic said. "A year or two years ago I would have told you that that was freaking impossible."
Topics: Combat Vehicles, Land Forces