X-Plane May Impact Future Vertical Lift Program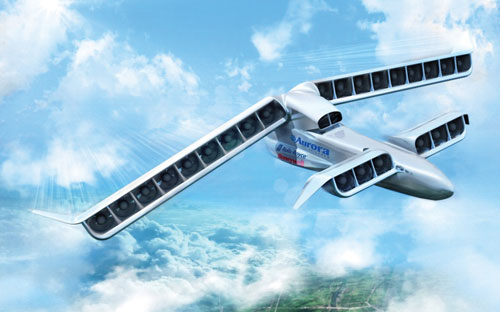 Artist's concept of Aurora's LightningStrike offering
An aviation program within a top Defense Department laboratory could result in the development of new technologies and techniques that could be applied to the Army's future vertical lift program.
In March, the Defense Advanced Research Projects Agency announced that it had awarded a phase two contract for its vertical takeoff and landing experimental plane program to Aurora Flight Sciences.
The X-Plane, as it has been called, must have a top sustained flight speed of 300 to 400 knots. Additionally, it has to improve aircraft hover efficiency from 60 percent to 75 percent.
"The goals of the DARPA VTOL X-Plane program are to really explore technology advances that enable a balanced design between vertical takeoff and landing and high speed," said Tom Clancy, Aurora Flight Sciences' chief technology officer and the head of its unmanned division. "The basic paradigm that has been true for a long time in aviation is that helicopters hover really well and fixed-wing airplanes are good efficient cruise and high-speed flight [platforms]."
The X-Plane is meant to combine efficient hover with high-speed flight, he said. Aurora's offering, which it calls LightningStrike, is unmanned and features an electric distributed propulsion system that consists of "integrated, distributed ducted fans that, combined with the synchronous electric drive system, would enable the design's potentially revolutionary hover efficiency and high-speed forward flight," a company statement said. The first flight test is slated for 2018.
Technology developed by Aurora and DARPA could be used in the Army's forthcoming future vertical lift program, said Leslie Hyatt, product director for FVL at the Army's program executive office for aviation.
The Army intends to replace thousands of its aging helicopters in the 2030s with a new family of vertical takeoff and landing aircraft that could include light, medium, heavy and ultra-sized variants. Preceding the program is the joint multi-role technology demonstrator, which will help refine requirements for FVL. In 2014, the Army downselected the vendors from four to two — a Boeing-Sikorsky team offering the SB-1 Defiant and Bell Helicopter offering the V-280 Valor.
The JMR demonstrator will be required to fly at least 230 knots and is to be designed as the medium-variant of the FVL aircraft. Flight tests are slated for 2017.
"The Army is monitoring work being done in the DARPA X-Plane program," Hyatt said in a statement to National Defense. "The DARPA program is looking for ways to expand the speed, range and lift efficiency of VTOL aircraft. Technology advances that support increased capability in those areas is of great interest to the FVL program.
"As FVL requirements are refined and the DARPA project technology progresses, the Army will evaluate any potential technology that can be implemented in future VTOL designs," Hyatt said.
For now, Clancy said, it's too early to say which elements of the program could influence FVL. When a formal competition begins, Aurora might consider bidding its LightningStrike aircraft, he said.
"It depends on what the requirements are and how closely our solution could meet the requirements and how competitive it would be," he said. "Certainly we would look at it really, really hard. And we're very focused on opportunities to transition the technology and … leverage the performance that it provides."
Much of that decision will be based on the timing of the program, he said. "What we've got to offer for … FVL in the future will have something to do with when that time comes. If that time came today, this technology wouldn't be mature enough to be competitive. If that time comes in 10 years, it may well be the exact right answer."
Topics: Aviation, Science and Engineering Technology, DARPA