Special Ops' 'Iron Man' Suit on Track for 2018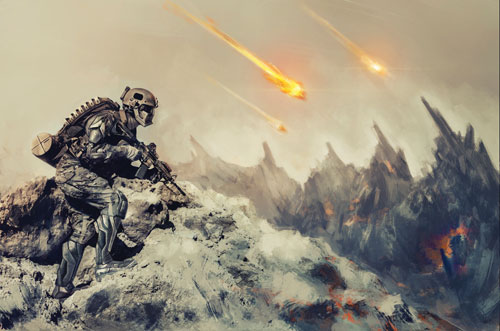 TAMPA, Fla. — One of Special Operations Command's highest profile technology development programs — the tactical assault light operator suit — is on track to debut in late 2018, a senior SOCOM official said.
The TALOS program began in 2013 at the behest of then SOCOM Commander Adm. William H. McRaven, who wanted more protection for commandos entering potentially dangerous buildings. He set a late 2018 deadline for the command's science and technology community to develop a working suit that could ward off bullets and bomb blasts.
Special operators who kicked down doors searching for terrorists were too vulnerable to small arms and bombs and lives had been lost, he said.
The press dubbed the project the Iron Man suit, and SOCOM's artist's renderings backed up the idea of a special operator covered from head to toe in thick armor.
Tony Davis, science and technology director at SOCOM, said the project is progressing and the 2018 deadline will be met.
"One of the big things in TALOS is how we do acquisitions faster," he said in an interview at the SOFWERX outreach center in Tampa's Ybor City neighborhood.
Part of that is putting all the right people in the room together to work on specific projects in what he called "technology sprints" that take weeks, rather than months, to solve a problem.
"A lot of what slows the services down — and what slowed us down — is that I can design a great product but then I have to ask a guy who works in another command or another state: 'What do you think of it?'"
Several blocks away in an annex called DirtyWerx, where SOCOM is doing rapid prototyping, a team including engineers, an active duty special operator and a seamstress were working on one such problem, a cooling system that will go between the suit and skin to ensure the suit wearer doesn't overheat. This involved a box-shaped pump and a series of tubes that will circulate cool water around the torso.
Such systems are used by racecar drivers and helicopter pilots, but they are sitting and can connect to a power source. TALOS users will be walking, bending down, doing a variety of movements and will have to carry an independent energy source, said the special operator team member working on the project, who could not reveal his name for security purposes.
Davis said there have been six technologies spun out of the TALOS program so far that are being used in other programs, and the cooling system could be a seventh. Chemical-biological protective suits are a potential application outside of the program, he noted.
Much of the first year of the program was spent understanding how and where to make tradeoffs, he said.
Power, for example, has been one of the major technological hurdles. The suit was first conceived as needing 5 kilowatts for a 12-hour mission and to run the entire time. After some trade analysis, one kilowatt for two hours was deemed more realistic.
"We have a pretty good backpack with one-kilowatt capability right now. It's a little bigger than we want. It's a little heavier than we want, but in two more years, both of those things are going to come down some. It's not going to be a huge issue," Davis said.
Another example is armor.
Armor weighs about six pounds per square foot, so covering a special operator from head to toe will require 600 pounds. Currently, special operators go into combat with 19 percent of their body covered.
"In between 19 percent and 100 percent, you have significant trade space," he said. For example, few lower arm wounds are life threatening. That area can be lightened up for fragmentation protection instead of the heavy duty armor put over the core or over the head that needs to ward off bullets.
"There are a lot more ways to make him survivable than just armor," he added.
TALOS operators will be assisted by an exoskeleton that will reduce the armor burden. Controlling that system is currently the "long pole" in the tent, Davis said. A powered exoskeleton has to run and jump and do the same motions as any commando.
"The control and actuation for that suit doesn't exist today. It's really immature compared to a lot of the other technologies, so we are investing a lot of time and effort into that right now," Davis said.
Topics: Science and Engineering Technology, Special Operations-Low Intensity Conflict