Special Operations Gunships to Be Equipped With Improved Sensors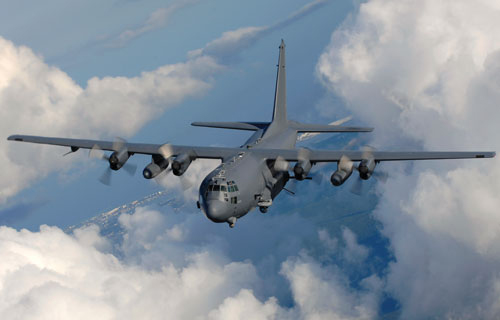 Air Force Special Operations Command plans to fly small, tactical off-board drones from its AC-130 gunships in combat for the first time later this year, which will give crews better views of the battlefield.
Tactical off-board sensing, or TOBS, is intended to improve AFSOC's targeting capabilities in poor weather or other challenging conditions.
Gunship crews spend a lot of time "looking at tops of clouds … [thinking], 'I wish the weather would clear. Damn, I'd like to shoot what's down there but damn I can't see it,'" said Lt. Gen. Bradley Heithold, commander of AFSOC, at a Special Operations/Low-Intensity Conflict conference hosted by the National Defense Industrial Association.
To solve the problem, commandos want to deploy unmanned aerial vehicles out of AC-130 gunships to provide critical intelligence, surveillance and reconnaissance support.
"The concept is to launch a UAV, get it below the weather and it functions … almost like a sensor on the airplane," Bill Lane, AFSOC's chief of strike and ISR requirements, said in a recent interview. "The crew puts a UAV in an orbit around a place over the target area and it flies itself. … It's more or less autonomous in an area that you tell it to go [to], and then you operate a sensor on the UAV just like you're operating your sensor on the airplane to identify targets."
AFSOC has tested TOBS technologies at training ranges, but the command is about to put them in the field. AFSOC plans to train AC-130 crews to use the technology and then deploy about four to six systems in the coming months, Lane said.
"We would like to send it downrange with the crews … to use on combat missions when the circumstances are right," he said.
The crews will help the command develop tactics, techniques and procedures and understand the technology better, he added.
U.S. commandos have been active in a number of warzones in the greater Middle East and elsewhere. Officials have not yet determined in which areas of operations the technology will be employed, Lane said.
Initially, AFSOC will utilize Raytheon's Coyote small UAV for the tactical off-board sensing mission.
"It's a system off-the-shelf that's already been developed," Lane said. "Contractors have already demonstrated it out of a common launch tube [like those on the AC-130]. It's something that we could very quickly integrate on the airplane, train crews and try to learn from."
But the Coyote is not the long-term solution that the Defense Department is seeking because it doesn't meet key performance requirements, said Jason Bowman, tactical off-board sensing program manager at the Air Force Research Laboratory, which is developing TOBS capabilities for special operators.
The Coyote has one-hour endurance, but AFSOC wants a UAV that can stay airborne for up to four hours.
Developing a higher-endurance system that can deploy from a common launch tube that's only six inches in diameter and 48 inches long is a complex technical challenge. To make it work, AFRL must overcome a formidable size, weight and power problem as it integrates technologies, Bowman said.
"It's a small tube for the capabilities that need to fit into it," he said. "I've got a … radio that needs to talk a long distance and send video, and it has all got to kind of fit in this tube and integrate with the gunship.
"Because that tube is so tiny, I can only fit a tiny wing in there. So I have much less wing area than a UAV of a similar size class, and so that creates an endurance challenge on top of the battery challenge."
The drone's radio needs to have extended range without sucking up too much battery power.
"If I put a big enough radio in there to get the distance I need, I'm going to lose my endurance. And if don't do that then I may not get the distance I need with the radio. So there's a lot of intertwined challenges that need to be solved," Bowman said.
Area I Inc., based in Kennesaw, Georgia, is building a drone that AFRL expects to meet the endurance requirements. Sensing technology is also improving, he noted.
Until recently, sensors that could be purchased for small UAVs were not up to snuff, he said.
"We are starting to see some really good improvement in the sensors. Are they ready for prime time yet? No, but they're getting there," he said.
The drones launched from the AC-130 need to be able to operate with some level of autonomy to minimize the burden on crew members.
"We're not trying to turn our crews into UAV pilots," said Maj. Trey Olman, chief of the unmanned ISR branch at AFSOC and a trained MQ-9 Reaper operator. "We want them to just be gunship crew members like they always are and have this just be another system that operates off their platform."
AFSOC believes the autonomy technology already exists to handle the types of flight profiles that tactical off-board sensing would require, he said.
Lane said the command is looking for "basically a software-driven autopilot" capability. "You tell it where you want it go and where you want it to orbit, and hit the button and then it goes to it."
AFSOC would like to be able to recover the drones after they perform their mission. During close-air support operations, "we may try to land them close to the friendly positions so they could be recovered only because we expect that this is … not going to be an insignificant cost," Lane said.
The UAVs could end up costing as much as $50,000 per copy. Therefore, the command hopes to be able to recover them in all training situations and in combat scenarios whenever possible, he said.
That might not always be feasible, he noted.
"In a combat situation where you have no friendlies on the ground, let's say it's an interdiction mission … you would launch this UAV, do your target identification and target strikes, and then it would be disposable. You would crash the UAV, basically," he said.
AFRL intends to push ahead as special operators learn from the upcoming employment of tactical off-board sensing capabilities in combat.
"We don't quite understand how to utilize this capability yet," Bowman said. "We need to build [concepts of operations] and [tactics, techniques and procedures] around it, which is going to influence some of my technology development and integration."
The lab is planning additional technology demonstrations. Officials are aiming to demo basic capabilities and integration toward the end of this calendar year. From there, they hope start a second increment in fiscal year 2017 that would support the eventual transition to operational capability later in the decade.
Lane anticipates the program transitioning to U.S. Special Operations Command's program executive office fixed wing at the beginning of fiscal year 2018. Requests for proposals from industry would come after that, he said.
"We'll know a lot more at that point — what our real requirements are and what we're looking for out of this system as we use the demonstrator," he said.
AFSOC hopes to have a "full-up production system" in the field for its gunships in the 2019 to 2020 timeframe.
Heithold noted that tactical off-board sensing could contribute to aircraft survivability in areas with significant air defenses.
"It's awful hard to mask a C-130 gunship that's out there operating," he said. "You've got to be able to give the crew a fighting chance. … Give me an off-board sensor and let me throw it out there first. I've got standoff capabilities … with small diameter bombs. So I can penetrate, I can get to the threat with things like this."
Lane said off-board sensors could reduce the likelihood of civilian casualties or friendly fire incidents. And Heithold sees opportunities for them to contribute to airborne assaults.
There have been "scenarios that we've had to play out where we got all the way to the airfield to do an air land, and there's something on the airfield," he said. "Wouldn't it be nice to drop something out of one of my special ops airplanes that would give you … a picture of what you're about to approach and feed it back to our airplanes?"
AFSOC is interested in potentially employing the capability on other aircraft besides the AC-130, to include drones.
"Our remotely piloted aircraft — they have the same issues with weather," Lane said.
Reapers are not currently equipped with common launch tubes, but that doesn't mean they won't be able to utilize TOBS, he noted. Common launch tubes could potentially be integrated on the aircraft, or other launch methods might be used. The MQ-9 might also employ a different type of drone for tactical off-board sensing purposes than the one utilized by the AC-130. AFSOC is considering these possibilities, but the main focus now is on equipping the gunships, he said.
The off-board sensing technology could be applicable to any organization that conducts ISR with visual or infrared sensors in obscured conditions, according to Lane.
"If the weather has low ceilings and they don't want to fly their very expensive UAV that close to the ground, this kind of technology where you could launch a UAV from the mother ship would be very useful," he said. It could also be valuable for other strike aircraft, he added.
Bowman has been approached by Army and Navy program officials who are interested in TOBS.
"The technology, the way we've architected it, you can move it around between missions and platforms," he said.
Modularity is a key aim of the development effort, he noted. Certain pieces of the system will be platform or mission "agnostic," while others will be more tailored.
"I've got agnostic pieces coming to the gunship and I attach them to the gunship through gunship-specific interfaces," Bowman explained. "If you take it to an RPA, I would then not have to redo the whole system. I just have to redo interfaces to the mother ship, and that way it's a lot more flexible."
The lab is currently developing an interface control document for industry.
"We're going to make [that] available to any UAV vendor, and as long as they can match that interface it plugs right into the TOBS system," Bowman said. "If requirements change over time, AFSOC or another customer can hand that document to industry and say, 'Hey, I need a UAV that can do this now. By the way, here's the recipe for how to plug it into TOBS.'"
Topics: C4ISR, Sensors, Robotics, Special Operations-Low Intensity Conflict