SOFWERX: Newest Acquisition Tool for Special Operators
SOFWERX is located in Tampa's historic Ybor City neighborhood.
TAMPA, Fla. — While its doors have only been open a few short months, SOFWERX, an institute designed to facilitate communication between the technology community and U.S. Special Operations Command, is already having a positive impact, its leaders said.
SOFWERX is located in the second oldest brick building in Tampa's historic Ybor City neighborhood. Once a hotel, its guests included a young war correspondent Winston Churchill and Col. Teddy Roosevelt, both on their way to wars in Cuba. Only last summer, the front of the building was a tattoo parlor, and the back a telemarketing company.
Today, the building houses rooms where outsiders can meet with SOCOM officials, workstations for those who want to collaborate on projects, and space set aside for rapid prototyping.
It's miles away from SOCOM headquarters at MacDill Air Force Base — both literally and figuratively, said its director, who was not permitted by SOCOM to use his name.
"People who are behind four strands of barb wire and security guards are tough to talk to," he said.
Once buzzed in through the front door, visitors are asked to sign into an iPad with their name and email. That's the only formality.
Inside, vendors, researchers, academics and citizens with good ideas can participate in a number of events designed to ease communication between the command and the public. If a technology is given a preliminary green light, there are 3D printers and other machines available for the prototypes.
That serves in stark contrast to the alternative means to contact the command — the technology and industry liaison office website — where ideas are submitted by email, then are passed around the acquisition enterprise. If it grabs a program manager's interest, the party is contacted for a meeting, said Tony Davis, SOCOM S&T director. The lucky ones then have to make an appointment and arrangements to pass through the heavy security at MacDill. The whole process can take three months.
"We are kind of trying to break down that model a little bit," said Davis.
"Sign in and get a badge. That's about it. It's really a nonthreatening environment. You didn't go through layers and layers of security to get to us," said the director.
The head of the technology and industry liaison office carves out one day per week to hold half-hour meetings with potential vendors at SOFWERX, as does the director of the small business liaison office. It has on occasion had walk-ins ring the buzzer and sit down with the staff to pitch ideas, the director said.
It is administered by the Doolittle Institute, which set up SOFWERX under a Partnership Intermediary Agreement (PIA). Congress created PIAs in order to facilitate communication in a neutral space between government agencies, the private sector, academia and the general public.
Davis said such agreements have not been used often despite being on the books for a decade. It took a lot of consultations with SOCOM's acquisition officers and attorneys to make SOFWERX a reality since they could find few precedents of agencies using the authority.
The idea was the brainchild of James "Hondo" Geurts, SOCOM's acquisition executive, and it follows a larger trend of the Defense Department pursing nontraditional vendors. Secretary of Defense Ashton Carter's outreach to Silicon Valley is a notable example.
"U.S. SOCOM doesn't need help with a lot of folks that they deal with in industry. They already have good partnerships. What we really want to look at is where we can try to influence with divergent thought and nontraditional players," the director said.
The idea — to borrow a term from the founder of Zappos Tony Hsieh — is to have a space where there is not necessarily a high return on investments, but a "high return on collision," the director said. In other words, people who don't normally meet, find each other in a common space and interact.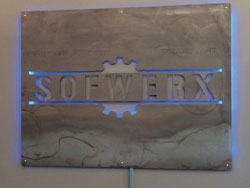 This has happened several times, he said. One company there to display its virtual reality goggles ran into researchers working on SOCOM's tactical assault light operator suit, and exchanged ideas about how the so-called Iron Man suit's helmet could be improved.
"It's not enough in my mind to have a guy in the room say, 'Did you think about this a different way?' I would like to have a guy in the room that is also going, 'You guys shouldn't even be thinking about any of that at all. Look at this over here. This is going to completely bring you guys to your knees in four or five years. And you need to know about it now.'"
There are no cubicles, but standing workstations. SOCOM employees and industry members have come to use the space to get away from their offices.
A couple of times a week, there might be up to 75 people in the building for different projects and events, the director said. "Those people are talking to each other and creating collisions, coming up with ideas and thoughts on how to do things or how to do things differently."
Warfighter Council Wednesdays bring in active duty special operators, who come in to talk about some of their technology needs. They make lists of their priorities and they are "racked and stacked" so SOFWERX can go out and start looking for companies that may have solutions, Davis said.
"A lot of what special operations forces does is take something that is commercially available, kind of tweak it a little bit and field it as fast as they can. That's what keeps them fast and agile," the director said. SOFWERX is building an "eco-system" of experts it can call upon when needed, he added.
"Whenever SOCOM is looking for something … we will use our eco-system to reach out. I do believe, that not all, but some of what SOCOM needs are just one or two steps removed from us. Somebody knows somebody who knows somebody who can help solve some of the problems," the director said.
If the staff finds a technology that has potential, some basic prototyping can be done on site. The SOFWERX staff is small, but it has an engineer, information technology expert and other technicians there to help.
One such technology SOFWERX discovered was on a table in the workshop — an open source, 3D-printed robot that can fly and drive.
The Army Materiel Command's Communications-Electronics Research, Development and Engineering Center is taking one year to develop a 3D printed drone, the director said.
"This is an open source, 3D printed modular [system] that can be a rotary-wing, fixed-wing or ground robot. So with the same brain box I can get an airplane, a quadcopter or a rover." And since it is open source there are no export restrictions, meaning the three-in-one robot can be shared with SOCOM's international partners.
If a gadget being developed needs work beyond what SOFWERX can provide, local defense contractors or labs can be called in to help, he said.
Once the technology reaches a certain stage, it is "tossed back over the wire" to SOCOM, where it becomes a traditional acquisition program, he said.
The facility has space to do mini-industry days when program managers want to bring in a small crowd. For larger events, SOFWERX has an agreement with nearby Hillsborough Community College, which has auditoriums available, he said.
Much of the tooling machines for rapid prototyping will be moving to an annex called "DirtyWerx," which is located about five blocks away in a former autobody shop.
Not all of the expertise needed will be found in the places where SOCOM normally looks for help, Davis said. The hackathons SOFWERX has sponsored has brought in a few such participants.
A member of the last winning team, who came up with an algorithm needed to solve one of the contests, works for a local medical records company and has a decidedly negative view of the U.S. government. He "is an interesting person that we would have never had a relationship with before," Davis said.
Thunderdome Thursday brings in local businesspeople to share ideas.
Tampa is a hotbed of manufacturing and innovation, although it is mostly known for the medical industry. "When you think of technology, you think of Silicon Valley or Boston or other places. You really don't think of Tampa. But we really have a robust technology center and a robust manufacturing center," said the director.
"I think the value we give to the people from the community is we have interesting problems they haven't thought of before and it's challenging to them," Davis said.
The director added: "As we're partnering up with everybody, we are finding the ability to pull folks in here. Everybody seems to be willing to come in on an ad hoc basis whenever we need it."
Topics: Business Trends, Doing Business with the Government, Special Operations-Low Intensity Conflict