Raytheon to Assist in Upcoming Army Exercise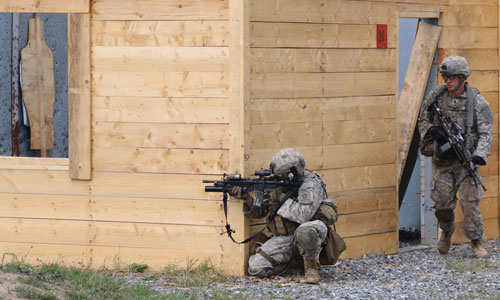 U.S. soldiers participate in Exercise Swift Response 15.
An advanced Raytheon training system will help facilitate a multinational training exercise led by U.S. Army Europe this summer.
Exercise Swift Response 16 — which takes place in Poland and runs from May through June — will be supported by Raytheon's joint multinational training center-instrumentation system (JMRC-IS).
"We can conduct live training events in one country, and we can virtually train other units physically separated by thousands of miles in the same virtual training environment," said Sandy Brown, director of program management at Raytheon's combat training centers and support mission division.
JMRC-IS is considered a "system of systems," she said. It includes mobile sensors, cameras, communication devices and computers that can track vehicles and soldiers during training scenarios. It is based in Hohenfels, Germany, and can be extended across borders to create expansive simulated battlefields, she said.
For Exercise Swift Response 16, a multinational airborne joint forcible entry training operation, Raytheon is preparing to fine-tune the system for the U.S. Army's specific needs.
"There are certain elements of the training exercise that we haven't performed before — multiple communications and setting up multiple joint operations centers. Instead of just having one we will do multiples and we can change those throughout the training rotation," she said.
Allied and coalition partner brigades can use JMRC-IS alongside the United States, a Raytheon spokesperson said.
In the past, the system has been used for exercises with Italy, Germany, Romania and Bulgaria. Raytheon is still waiting for a list of participating countries for Swift Response, Brown said.
The system was recently used during the Saber Junction 16 exercise that was held at the 7th Army Joint Multinational Training Command's Grafenwoehr training area in Germany in April. According to the Army, it was "designed to evaluate and certify the readiness of the 173rd [Airborne Brigade] to conduct unified land operations." The exercise included participants from more than a dozen NATO and European partner nations.
Topics: International