Industry to Increase Output of Smart Munitions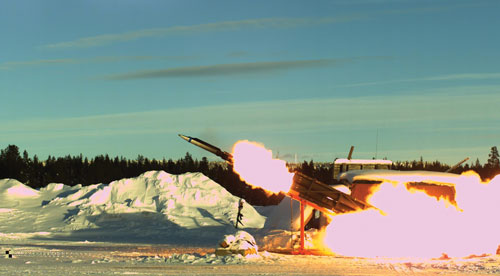 Munitions manufacturers are ramping up production of precision-guided weapons as the Air Force continues to deplete its stock in the fight against the Islamic State.
"If you look at the weapons that we're using in theater, almost 100 percent of the weapons that we use are precision-guided, … either laser-guided or GPS-guided," said Lt. Gen. Jay Raymond, Air Force deputy chief of staff for operations.
As the service continues to employ those weapons against ISIL, there is some concern regarding shortages down the road, he said. "We clearly have what we need to accomplish the near-term efforts, but we're looking … to expand the procurement of those weapons for future needs."
Compounding the problem is the Air Force's practice of supplying allies, in addition to U.S. troops, with such munitions. "They are using those weapons as well, and … it's something that we're managing very closely," Raymond noted.
To meet the demand for more munitions, the service has spoken with manufacturers about increasing their capacity, he said.
The Air Force expects that Lockheed Martin will increase production of the Hellfire by roughly 30 percent and Boeing will double the production of the joint direct attack munition and nearly double the production of the small diameter bomb, service spokesperson Maj. Melissa Milner said in an email to National Defense.
As of late March, the Air Force had flown over half of the coalition's 87,000 sorties and conducted nearly 67 percent of almost 11,000 airstrikes against ISIL in Iraq and Syria, Raymond said. On average, the service conducts about 25 strikes a day.
"Airstrikes have destroyed more than $500 million in cash used by ISIL to pay their fighters and to fund their operations, reducing the salary of those fighters by about 50 percent," he said. "Additionally, our attacks on the fuel infrastructure have reduced their fuel revenue by approximately 30 percent."
Raymond's comments came about a month after Secretary of Defense Ashton Carter addressed the need for greater investments in precision-guided munitions. "We've recently been hitting ISIL with so many GPS-guided smart bombs and laser-guided rockets that we're starting to run low on the ones that we use against terrorists the most," he said during his remarks previewing the fiscal year 2017 defense budget request. "So we're investing $1.8 billion in FY17, to buy over 45,000 more of them."
Topics: Armaments, Ballistics