GAO Warns About Next Phase of F-35 Program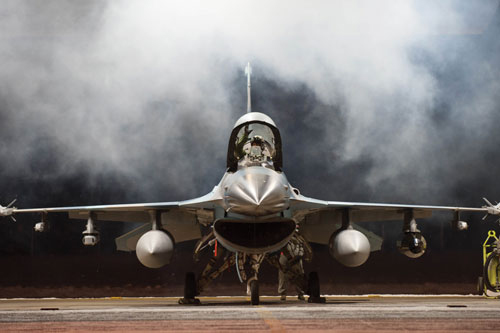 Public Domain
A government watchdog warned Congress that lawmakers could have difficulty holding the Air Force accountable for controlling costs during follow-on modernization of the F-35.
The current joint strike fighter development effort is projected to end in 2017 when Block 3F developmental flight testing is completed, for a total development cost of $55 billion.
The first increment of follow-on modernization, Block 4, is expected to add new capabilities and correct deficiencies. But the Government Accountability Office said the Pentagon's plans could be problematic.
"Without setting up the modernization as a separate program with its own baseline and regular reporting as best practices recommend, it will be difficult for Congress to hold DoD accountable for achieving F-35 Block 4 cost, schedule and performance goals," Michael J. Sullivan, GAO's director of acquisition and sourcing management, told lawmakers recently.
"Although the requirements are not yet final and no official cost estimate has been developed for Block 4, DoD's fiscal year 2017 budget request indicates that the department expects to spend nearly $3 billion on these development efforts over the next six years," he testified before the House Armed Services subcommittee on tactical air and land forces.
As of March, the Pentagon's estimated total acquisition cost for the F-35 program is $379 billion, about $12 billion less than anticipated two years ago.
But the aircraft continues to face affordability challenges, Sullivan noted.
The program is expected to reach peak production rates in 2022, at which point the Defense Department expects to spend more than $14 billion a year, on average, over a 10-year period on the jets.
"When acquisition and sustainment funds are combined, annual funding requirements could easily approach $30 billion in some years," Sullivan said.
Budget constraints have compelled the Air Force to defer F-35 aircraft buys in recent years, a trend that could continue, he noted.
"The cost of extending the lives of current fighter aircraft and acquiring other major weapon systems, while continuing to produce and field new F-35 aircraft, poses significant affordability risks in a period of austere defense budgets," he said.
Todd Harrison, a defense budget expert at the Center for Strategic and International Studies, said the F-35 program could take a major hit in the next decade.
"I think the F-35 will be a big target for reductions in the early 2020s simply because it is a big program that is crowding out funding for other priorities," he said. "I would bet it does not reach the full level of production currently planned."
Lt. Gen. Christopher Bogdan, program executive officer for the F-35, presented an optimistic outlook.
"The program is making solid progress across the board," he told the subcommittee. "We are confident the F-35 team can … deliver on our commitments."
Bogdan anticipates the Joint Requirements Oversight Council will approve the follow-on modernization/Block 4 capabilities development document this summer.
"Work continues with the U.S. services and international partners to ensure the modernization program will be 'right-sized' for affordability and sustainability," he said.
Bogdan's office will ensure that separate cost, schedule, performance and earned-value data will be available to provide detailed insight into program execution, he said.
Topics: Aviation, Joint Strike Fighter, Defense Department, DOD Budget