Former SOCOM Chief McRaven Aims to Put Texas on the Pentagon's Radar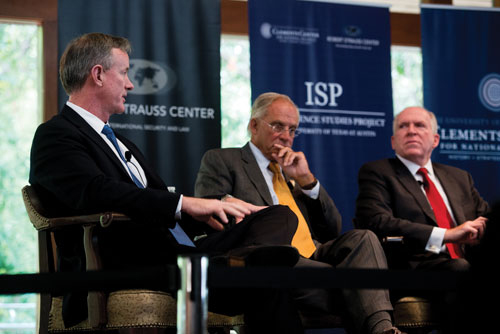 University of Texas System Chancellor William H. McRaven (left) speaks with former CIA Director Porter Goss (middle) and current CIA Director John O. Brennan at the Clements Center for National Security.
Sasha Haagensen 2015
Even the brightest minds at the Pentagon need all the help they can get as they grapple with increasingly baffling national security dilemmas. The U.S. military for the first time in decades faces the prospect of losing its technological edge vis-à-vis emerging powers. The U.S. government at large also is hobbled by a widening trust gap between its leaders and the younger generation.
These looming, complex challenges require fresh thinking and bold leadership, and that puts the burden on the nation's academic institutions to step up their game, says retired Adm. William H. McRaven, a former Navy SEAL and commander of U.S. Special Operations Command, now in his second year as chancellor of the University of Texas System.
While Silicon Valley gets all the attention from Washington these days as a beacon of innovation for a government that keeps falling behind the technology curve, institutions in the heartland often are overlooked. McRaven has set a goal to put the university's high-tech capabilities on the map, and in the process elevate the profile of academia as a fount of knowledge that should be tapped to solve national and global security problems.
"It is evident to me that Washington and all who address national security can benefit from multiple perspectives," McRaven told National Defense in a statement.
"Having spent a lifetime in the world of national security, I stay tuned in to the chaos in the world," he said. "The national security threats confronting us now are so varied, so complex and so serious, that they call for the brightest available minds to convene and collaborate in search of solutions."
UT officials who spoke with National Defense about McRaven's transition from the top echelons of the military's command structure to the head of a major university said he has been careful to avoid the perception that he would "militarize" the school. The sprawling UT System of 14 semi-autonomous institutions is best known for its medical knowhow. And it does have a strong track record of scoring government research contracts, including military projects — some of which date back to World War II. McRaven now wants to elevate the profile of UT in emerging defense-related disciplines like cybersecurity, biodefense and advanced manufacturing.
"The chancellor has been through an interesting journey," said retired Maj. Gen. Tony Cucolo, a former commander of the Army's Third Infantry Division who is now McRaven's top aide. Along the way, Cucolo said in an interview, the chancellor decided that his role would be much larger than that of caretaker of the university system. He wants to help the state — which provides most of UT's funding — gain recognition as a hotbed of innovation.
Can Texas compete with Silicon Valley? Why not? pondered Cucolo. "There's incredible talent down here. We could make a national contribution."
Besides Cucolo, there are several other former political appointees, retired general officers and flag officers on the staff. Texas doesn't want to appear to be a military school but its leaders want to stay close to the pulse of government. The university has a large office of federal relations in Washington, D.C.
As it seeks to draw attention for its technology chops, Texas is benefiting from a surge of startup money and tech firms that are drawn to the state's academic resources. The challenge for leaders like McRaven is to tap his Washington network to direct the spotlight down south.
Defense Department funding accounted for $183.7 million of the University of Texas System's combined $2.7 billion in research expenditures in 2014, the most recent numbers available.
"Some of the most valuable defense-related technologies began at an academic research lab," said McRaven. "The UT System is a wise investment for the DoD." National security related research includes bioterrorism, military health, border security, shockwave injury, additive manufacturing, prosthetics, biosecurity, brain health and infection genomics.
"With more than 217,000 students and 20,000 faculty members, the UT System is the one of the largest public university systems in the nation. We have remarkable resources that will help bolster DoD's mission to keep America safe," he added. "I look forward to further collaboration with the DoD in the future on an array of projects."
McRaven sees UT's influence reaching international scale. "That's why we are establishing the UT Network for National Security, a system-wide alliance that will address the most vexing national security problems and raise them to national prominence," he said. "This alliance will convene world forums and write, discuss, debate and present solutions. It will be a network with much stronger ties to leaders and organizations in Washington and across the international community."
Today's problems require leadership beyond the Beltway, said McRaven. "Our security environment is changing at a rapid rate that's no longer linear." Higher education — with all its resources and intellectual capital — should play a prominent role as the nation seeks to solve complex national security issues, he added. "At the University of Texas, we are taking this challenge head on."
There are two global affairs research and foreign policy hubs at UT Austin: the Robert S. Strauss Center for International Security and Law, and the Clements Center for National Security. Both are collaborating with the U.S. intelligence community on the "intelligence studies project." The Clements Center sponsors a national security fellows program.
UT San Antonio is home to the Institute for Cyber Security, which conducts basic and applied research with academia, government and industry. McRaven points out that the university is one of only 44 institutions in the United States designated as a National Center of Academic Excellence in information assurance and cyber defense by the National Security Agency and Department of Homeland Security.
Texas also wants to take a lead role in border security, McRaven said. The National Center for Border Security and Immigration at UT-El Paso studies areas such as protecting the nation's borders from terrorists and criminals, easing international trade and travel, and understanding the forces that lead foreigners to try to immigrate.
McRaven noted that the Galveston National Laboratory at the UT Medical Branch in Galveston, Texas, is the nation's only biosafety "level 4" research laboratory on an academic campus. UT Medical Branch hosts the National Biocontainment Training Center, which supports infectious disease scientists who need to work safely in high-containment research laboratories. The UTMB's Center for Biodefense and Emerging Infectious Diseases does work that could see a higher demand as bioterrorism becomes a bigger homeland security threat, said McRaven.
Texas is stepping up its outreach to the Defense Department at a time when the military laboratories are looking for an innovation boost and lack the funding to award research contracts to private-sector firms. The school is one of the nation's most active in a new Army Research Laboratory program called "open campus." The Adelphi, Maryland-based lab started the project in 2014 as an experiment to encourage collaboration with visiting researchers.
ARL Director Thomas Russell conceived the program soon after he took office and realized there was a chilly relationship between the lab and universities. "He challenged us to engage more," said Thomas Mulkern, who works at ARL's technology transfer office. The lab since 2013 has signed more than 200 "cooperative research and development agreements" with nearly 100 universities. In a single CRADA with the University of Texas, "We engage 16 of their campuses," Mulkern said. "They're getting insight and exposing their workforce to new opportunities."
UT officials said they are now involved in discussions with Department of Energy labs in hopes of signing more CRADAs.
Topics: Business Trends, Doing Business with the Government, Science and Engineering Technology, Research and Development