DARPA Pursuing Technologies to Help Troops ID Enemies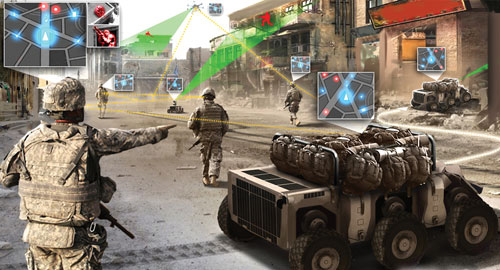 Squad X Core Technologies concept art
As night falls, a small group of dismounted soldiers prowl a deserted city street. Small unmanned aerial vehicles buzz around them scanning for enemies. Robots follow them on the ground. Sensors attached to the troops' boots track their movements.
The Defense Advanced Research Projects Agency hopes this scene comes to fruition some day.
In December, DARPA kicked off its Squad X Core Technologies program as a way to provide dismounted soldiers and Marines with better situational awareness in treacherous and degraded environments.
The agency wants to "extend" and "enhance" a rifle squad's field of view, said Maj. Christopher Orlowski, DARPA program manager for Squad X. That could include augmenting their physical senses through acoustic or visual sensors.
Another part of the concept is to provide small unit leaders with increased time and space to make decisions, which will in turn help them shape and dominate their battle space, he told National Defense.
DARPA awarded nine phase-one contracts to industry including: Helios Remote Sensing Systems, Kitware, Leidos, Lockheed Martin, Raytheon, Scientific Systems Company Inc., Six3 Systems Inc., SoarTech and SRI International.
The companies will work in one of four research areas: precision engagement, non-kinetic engagement, squad sensing and squad autonomy.
For precision engagement, "what we're looking for there is actually guided munitions capabilities that could be fired from current weapons platforms," Orlowski said.
That includes the M2, M3 and M320 grenade launcher, he said. Companies may also propose a solution "where they would leverage the Picatinny rail systems that are on all M4s and M16s."
Under non-kinetic engagement the agency wants technology that can "disrupt enemy command and control, communications and use of unmanned assets at a squad-relevant operational pace," a DARPA press release said.
For squad sensing, the agency wants industry to produce systems that can detect potential threats out to 0.6 miles away.
"Squad sensing was focused on primarily detecting humans and unmanned systems within the environment and then determining whether or not those were threats," Orlowski said. Technology in this area could include multi-source data fusion.
For squad autonomy, the agency wants members to have "real-time knowledge of their own and teammates' locations to less than 20 feet (6 meters) in GPS-denied environments through collaboration with embedded unmanned air and ground systems," a DARPA press release said.
Military leaders have for years stressed the importance of hardening systems that could be affected by anti-access/area denial technology. Such weapons can knock out critical communication nodes leaving troops vulnerable.
Even if an enemy isn't tampering with network connections, soldiers can still face challenging conditions in many city environments in "urban canyons," where buildings degrade GPS-signals.
"In those environments with an urban canyon you just won't have line-of-sight to a GPS satellite. So we have to look at ways of operating potentially without it," Orlowski said. "If you've ever taken a run in … New York City, your GPS run app doesn't do really well."
Phase one will last for 12 months, he said. Following technology demonstrations, DARPA will then downselect to an unspecified number of companies based on "performance and potential contribution to the DARPA mission."
Final demonstrations are slated for the August to October timeframe, he said. The agency has already evaluated the majority of the company's preliminary design reviews. Additionally, "some of the performers have demonstrated some subsystem capabilities either live or through simulation," he said.
During the final presentation, "the minimum goal is to demonstrate their capability relevant to about four soldiers and Marines in open, relatively not too complex terrain like in a city," he said.
Raytheon will be developing technology under the squad autonomy research area, said Dave Bossert, the company's Squad X program director.
The company is tasked with creating a system that can track the position of each squad member and hostile target less than 6 meters away in a GPS-denied environment, he said. "You have to do this with a [kit] … that's very similar to Nett Warrior," he said. Nett Warrior is an Army program that equips soldiers with technologies such as radios and wearable devices that give them digital processing and communications capability, he said.
Raytheon is able to add a device that weighs less than 350 grams, and is less than 200 cubic centimeters, to that array of wearables, he said. That system will then connect with unmanned air and ground vehicles to give soldiers better situational awareness in GPS-denied environments.
"This is not a platform development program. All we're doing is using surrogate UGVs and UAVs. What's really the innovation here is how do you utilize the autonomy of these devices," he said.
The company is working alongside two partner companies to develop its technology. Draper Labs and Torc Robotics are working on squad autonomy and Raytheon is developing the GPS-denied localization — which is knowing where soldiers and assets are — and acting as the overall integrator.
The robots are meant to act as junior squad members, Bossert said. "For example, if you had a private out on his first mission and [you] say, 'Go down that alleyway. Don't get shot. Don't get lost and tell me what you see when you get to the end.' … They want the robot to be able to do that."
DARPA awarded Raytheon $2.5 million for the phase one contract.
Kitware, an open-source software company based in Clifton Park, New York, was awarded a squad sensing contract.
Using information collected from off-the-shelf imagery and acoustic sensors, the company is developing software that will be able to rapidly analyze data, said Anthony Hoogs, senior director of computer vision at Kitware.
"In our vision, we are giving the soldiers a number of extra sets of eyes and ears that will be looking everywhere and listening everywhere around the squad all the time," he said.
Collecting intelligence, surveillance and reconnaissance information is important, but it provides no benefit to a soldier if it creates a cognitive overload for them, he said.
"If we put a bunch of video cameras in and around the squad then we would easily [and] immediately overwhelm the squad with data that they would not be able to use," he said. "You would have a squad member watching literally the TV on his wrist instead of actually defending himself and participating in the fire fight.
"It's only viable to have these video and audio sensors around if we can automatically process the data streams and boil those raw sensor feeds into actionable and salient information that the warfighter could use," he said.
Kitware is using GoPro cameras and commercial off-the-shelf acoustic sensors that can be fastened onto soldiers and onto any robotic elements in the squad, he said.
The company plans to pare down that information by using computer technology known as deep learning, which consists of advanced algorithms that can enable human-level accuracy in data analysis, he said.
Hoogs said he was pleased with the progress his company had made so far in the program, but noted that testing with unmanned air vehicles was being delayed because of Federal Aviation Administration red tape.
Kitware has applied for a certificate to conduct tests but has not yet had it approved, he said.
"The way the FAA has it set up even now, it's quite prohibitive for doing research in this paradigm. They don't allow significant modification of airframes or the payload or things like that before you have to get certified again," he said. "It adds a fair amount of schedule risk just because it's unpredictable and we're dependent on the FAA."
Hoogs said he was confident that Kitware would still be able to make its program milestones despite delays.
SoarTech, an Ann Arbor, Michigan-based artificial intelligence company, was also awarded a Squad X contract in the squad autonomy section.
SoarTech's work in the program includes two parts, localization and behaviors, said Jacob Crossman, chief engineer on SoarTech's Squad X project.
"Localization is just about being able to figure out where all the squad members are in time and where the robots are in time," he said. "We're working on some cool technology. It involves a boot-worn device that a soldier would wear and some sophisticated algorithms."
The company is partnering with the University of Michigan at Ann Arbor and a Maryland-based company called Robotic Research.
For the second part, SoarTech is teaming with a Pennsylvania-based company called Neya Systems to take a commercial off-the-shelf robot and equip it with autonomy software that can make it respond and react like a junior squad member based on where other members of the squad are, what information sensors are telling it and what the overarching mission is, he said.
Neya is building driving algorithms that would prevent an unmanned ground vehicle from crashing and ensure that it was driving effectively. SoarTech is developing technology that would allow the robot to make decisions, Crossman said.
In March, DARPA announced a new program known as Squad X Experimentation that would run concurrently with Squad X Core Technologies.
"The goal is to do system prototyping in the first phase, with system development in the second phase to develop an integrated squad system that allows a squad to conduct combined arms [operations] in multiple domains," Orlowski said. "We're defining those domains as the physical world, the electromagnetic spectrum and potentially cyberspace."
It is possible that Squad X Core Technologies participants could be part of Squad X Experimentation, he said.
Topics: C4ISR, Sensors, Science and Engineering Technology, DARPA