Battle Over Space Launch Heating Up (UPDATED)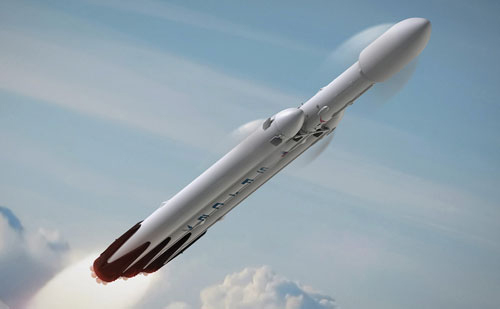 Falcon Heavy concept art
The fight over who will provide space launch services to the Air Force — and which rocket engine will be used to put payloads into orbit — is in full burn, pitting the Pentagon, Congress and members of industry against one another. The stakes are high, as the outcome will shape the Defense Department's acquisition path and the future of the launch market.
As tensions between Washington and Moscow continue to simmer, U.S. lawmakers have directed the Air Force to move away from using the Russian-made RD-180 engine in its evolved expendable launch vehicle (EELV) program.
"We are working diligently towards that objective … [but] there's a lot of work to be done by industry," said Maj. Gen. Roger Teague, director of space programs in the office of the assistant secretary for acquisition, during a budget briefing with reporters at the Pentagon. "To get off of that [RD-180] engine it's important that first our U.S. technical industrial base build itself back up."
Blue Origin — owned by Amazon.com founder Jeff Bezos — and Aerojet Rocketdyne are both developing engines that could compete to replace the RD-180 on United Launch Alliance's Atlas V rocket. ULA, a joint venture between Lockheed Martin and Boeing, has been the sole provider of space launch services for the Air Force's EELV program.
In March, Aerojet Rocketdyne was awarded a $115 million contract for development of its AR1 engine. Options for additional work could increase the total U.S. government investment to as much as $536 million.
The company is on track for certification and delivery in 2019, said Eileen Drake, president and CEO of Aerojet Rocketdyne. The AR1 will be less expensive than the RD-180, she told National Defense.
"Our ability to use past proven technologies along with additive manufacturing and a lot of the low-cost solutions that we've come up with has enabled us to … [offer] the lowest risk and the lowest cost to the taxpayer," she said.
Some analysts are skeptical that U.S. engines will match the RD-180 when it comes to cost and performance.
"I don't know that you're going to be able to do that cheaper than the Russians do," said Marco Caceres, director of space studies at the Teal Group, a defense and aerospace consultancy based in Fairfax, Virginia. "I don't think we're going to come up with an RD-180 equivalent."
It may not be feasible for U.S. industry to develop something with capabilities or cost points that are close to the RD-180 within the next five years, as the Air Force desires, he said.
United Launch Alliance is responsible for doing interface work for the AR1 and Blue Origin's BE-4. Brett Tobey, while recently serving as ULA's vice president of engineering, said the company favors Blue Origin when it comes to engine development.
"We're sitting here as a groom with two possible brides," he said. Blue Origin is "the super rich girl. And then we've got this poor girl over here — Aerojet Rocketdyne," he said during remarks at the University of Colorado Boulder in March.
"We're doing all this work for both of them, and the chances of Aerojet Rocketdyne coming in and beating the billionaire is pretty low," he said. "Politically we can't take, in advance, one of those paths … but basically we're putting a whole lot more energy into BE-4."
Blue Origin officials declined to be interviewed for this story.
The BE-4 is a new type of technology, whereas the AR1 represents a much more traditional engine design, Caceres noted. While Blue Origin's engine may ultimately be superior, it could present a greater risk of technical and program delays, he said.
In addition to funding engine development, the Air Force wants to make launch service investments via innovative public-private partnerships. The Air Force has requested money for this purpose in fiscal year 2017. Once new launch systems have been developed, estimated in the 2022 to 2023 timeframe, the Defense Department will transition to a strategy of sustained competition between domestic launch providers, said Lt. Gen. Samuel Greaves, commander of the Air Force's Space and Missile Systems Center, at a meeting in Washington, D.C.
But pursuing that strategy would require the approval of lawmakers. Air Force officials have complained about congressional restrictions that limit their ability to invest in launch system development.
"Assured access to space requires end-to-end space launch capability, not just the rocket engine," Greaves said. "It requires the engine and the rocket to work together.
"Simply put, just replacing the RD-180 engine will not deliver the same performance in the current design of any rocket. In fact, it may result in a system that delivers less payload to orbit at a higher cost."
Significant launch system development is needed to incorporate a new engine, he said, making a case that a public-private partnership in this effort would save money and reduce technical risk.
"We've got eight reference orbits that we need launch systems to service, and commercial providers don't normally service all eight of those reference orbits," he said. The Air Force needs to influence those designs early enough to ensure those systems deliver payloads to all of the desired orbits, he said.
But some officials are questioning the commercial viability of maintaining more than one launch service provider for national security space missions. Past failures to create competition for EELV launches have sowed doubt about the Air Force's plan.
In the 2000s, the Air Force hoped that Lockheed Martin and Boeing would compete for EELV launch service contracts. But after arguing that there wasn't enough work to go around, the two companies joined hands and formed ULA, essentially creating a monopoly.
"The EELV problem that we had over a decade ago is happening all over again," said Rep. Mike Rogers, chairman of the House Armed Services subcommittee on strategic forces.
"History and current analysis are indicating that there is not likely enough market here for two providers to be commercially viable in the EELV class," the Alabama Republican said at a recent space budget forum. "This does not give me a lot of confidence in the Air Force's plan to underwrite the creation of a new commercially viable set of systems."
Rogers doesn't believe the risk of investing in the Pentagon's plan is worth the reward.
"I love the budding and innovative commercial space market as much as anybody does, but I'm not going to risk hundreds of millions or even billions of dollars of the taxpayers' money, and even more importantly, our assured access to space," he said. "I just don't want to take my foot off the pedal on getting American-made engines. Anything that diverts money away from that I'm against."
While the commercial market is growing, the U.S. military has unique satellite launch requirements, said Brian Weeden, a technical advisor at the Secure World Foundation, a Broomfield, Colorado-based research group that focuses on space issues.
They want to launch "really heavy and/or large things," he said. "If you solely rely on what the market demand is, probably you're going to get commercial launch companies that are flying cheaper, smaller rockets more often that ... can't service the national security customers."
Meanwhile, ULA is feeling pressure to compete with SpaceX, which is owned by Elon Musk, the technology visionary who also founded Tesla, a leading developer of electric self-driving cars.
"All of a sudden you have SpaceX come along and they kind of ruined the business — the monopoly for ULA," Caceres said. "They came up with … a viable rocket, the Falcon 9. And what's worse for ULA is the rocket is not only reliable, but it's extremely cheap from a cost standpoint."
United Launch Alliance has been under fire for not bidding on a GPS-3 satellite launch contract last year, declining an opportunity to compete with SpaceX. ULA has said that the decision was due to a shortage of RD-180 engines. The move upset lawmakers and Air Force officials who are trying to foster industry competition.
"The government was not happy with us not bidding that contract because they had felt that they'd bent over backwards to lean the field in our advantage," Tobey said, adding that ULA wanted to avoid "a cost shootout between us and SpaceX."
His remarks prompted a Defense Department Inspector General investigation and his resignation.
Tobey's "ill-advised statements do not reflect ULA's views or our relationship with our valuable suppliers. We welcome competition," ULA president and CEO Tory Bruno tweeted.
The U.S. government could potentially punish ULA for not bidding by taking away sole-sourced launches and competing them, Weeden said. But the Air Force has indicated that it is not inclined to cut launches from existing contracts.
"If you had a mortgage with a bank and … you say, 'Well, I need to take out a student loan to send my kid to college.' And you put it out for bid and your bank decided not to bid on that student loan, would you cancel your mortgage?" said deputy under secretary of the Air Force for space Winston Beauchamp during a recent discussion with reporters.
The Air Force inadvertently put ULA in a difficult position to compete on price because early in the EELV program the company was told to maximize reliability at the expense of minimizing costs, Weeden said. SpaceX wasn't under the same constraints when it designed the Falcon 9.
"We at SpaceX had the luxury … of starting with a vehicle design from scratch, a clean sheet of paper," said Gwynne Shotwell, president and chief operating officer of SpaceX, at the Satellite 2016 industry conference. "We could actually look at low-cost methods for rockets that also enhance reliability."
Analysts anticipate that costs will continue to come down as more launches occur in the years ahead. The company's development of reusable rockets could also enhance affordability, Shotwell said.
SpaceX's Falcon 9 is about half the price of anything that ULA is offering, Caceres said. "It will put pressure on ULA to come up with a much less expensive launch vehicle [but] they will probably never be able to match SpaceX — not in the near future — on price."
SpaceX plans to launch its Falcon Heavy variant later this year.
United Launch Alliance is working to develop a Vulcan rocket, which is expected to be less expensive than its Atlas V and Delta IV, but it won't be ready for many years, he noted.
Still, ULA won't be left for dead, analysts said. Air Force concerns about rocket reliability and availability are key factors that could help ULA's business case, Caceres noted. The company has a long track record of providing successful launch services for the EELV program, whereas SpaceX is the new kid on the block.
Reliability is a major worry because rocket failure could be disastrous in some cases due to the high cost of Air Force space systems. Unit costs for Defense Department satellites can range from $500 million to over $3 billion, according to the Government Accountability Office.
"If it took 10 years to build the satellite and a few billion dollars, it has got to work," Weeden said. "You can't just go to Home Depot and buy another one. … It's all you got."
Moreover, the Air Force doesn't want SpaceX to have a monopoly, analysts noted. If ULA struggles, the Pentagon could be forced to come to the rescue.
"If within a few years they're having problems then they would probably have to provide some sort of support," Caceres said. "The Air Force almost at any cost wants to maintain at least two separate launch vehicle lines. … I would expect that if that was in danger that the Air Force would do what it had to do."
SpaceX and ULA did not respond to interview requests.
The Pentagon is thinking about how to divvy up contracts between potential launch service providers to ensure that at least two will remain commercially viable.
"We're still evolving the strategy for that," said John C. McNellis, deputy assistant secretary of defense for space, strategic and intelligence systems, at a recent space talk hosted by the Air Force Association. "We are obviously having discussions with a variety of potential providers and what their unique business arrangements with us will be. And how that all integrates together is yet a subject to be fully decided."
Correction: A previous version of this story misidentified Gwynne Shotwell's title. She is president and chief operating officer of SpaceX. This story has been updated to reflect this.
Topics: Space