Analyst: Expect 'Big Spike' in Space Program Spending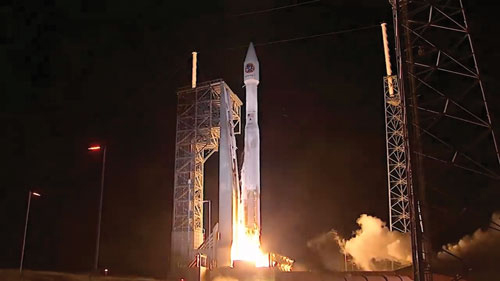 United Launch Alliance's Atlas V rocket
The U.S. military's space acquisition budget could see a major increase in the coming years, said Michael Tierney, vice president of Jacques and Associates, a government consulting firm that represents clients in the national security space field.
Defense Department spending on space has dropped since 2011, he noted at a recent conference hosted by FiscalTrak and the Mitchell Institute for Aerospace Studies. Acquisition funding for space was $9.1 billion in 2011 but fell below $7 billion after the onset of sequestration. The Pentagon is requesting about $6.7 billion for space programs in fiscal year 2017, he said.
"This fiscal '17 number … is actually the low water mark of this period," he said. "We all know that the space budget is essentially cyclical and the replenishment decisions on major platforms are what drive the budget. By necessity, both strategic and just practically, I anticipate that we're going to see a spike in funding." The Air Force's 2017 budget request for space investment is about $5.5 billion, an increase of approximately $250 million relative to the 2016 budget.
Tierney said future space spending will be driven by several major platforms: the evolved expendable launch vehicle; advanced extremely high frequency communications satellites; wideband global Satcom; GPS; and the space-based infrared system.
"As the department looks at injecting things like resiliency into its architectures … I think a growing narrative that's coming out of the department and industry is that resiliency is going to be done at the major platform level," Tierney said.
This effort to combat threats in space is going to demand significant investments for each one of the major platforms, he said.
"The funding will necessarily need to spike," he said. "That's about tens and tens and tens of billions" of dollars in the coming years.
David Hardy, assistant deputy under secretary of the Air Force for space, said the Pentagon would have to make tough resourcing decisions when it comes to modernizing its capabilities.
"In terms of recapitalization over the long term … I've seen no indication that space is being lined up as a bill payer for some of that," he said. "But it's clearly understood … that we have to maintain our capability in all our domains, and it will just require hard decisions to be made unless we get a lot more relief than I think people expect to the topline budget."
Topics: Defense Department, DOD Budget, Space