Nature of Conflict Informs Operational Energy Strategy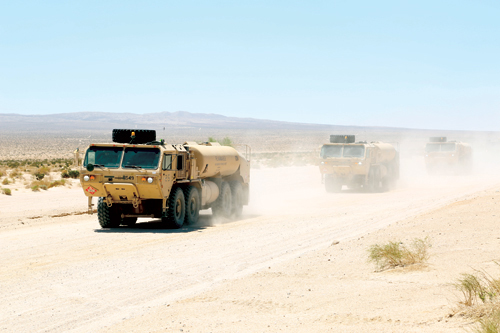 A convoy of fuel tankers during a training exercise
Public Domain
The Defense Department can find little comfort with low prices at U.S. gas pumps. It must fill most of its fuel requirements overseas, and a strategic shift to the Asia-Pacific region will make securing supply lines even more complicated, the Pentagon's 2016 Operational Energy Strategy report said.
While the effects of the strategic shift on the services' energy consumption have yet to truly manifest themselves, there will be long-term implications as aircraft and ships must cover longer distances, said Amanda Simpson, deputy assistant secretary of defense for operational energy, whose office is responsible for producing a new strategy every five years.
This isn't about being "green," she told National Defense.
"We're not worrying about conservation other than worrying about whether we have energy available where we need it, when we need it and in the form we need it so we can conduct operations in an overmatch situation," she said.
The Asia-Pacific's "tyranny of distance," as the report calls it, will force combatant commanders to consider their fuel sources when conducting operations.
One of the strategy's goals is to identify and minimize vulnerabilities in the military's supply lines. History is rife with examples of armies that were stopped dead in their tracks because they didn't receive the fuel they needed at the right place and time, she noted.
"It is part of what we do and how we project our military power, so let's be serious about it. ... This is something we rely upon. And with reliance comes dependence and with dependence comes … risk," Simpson said.
The strategy warned of a future where energy on the battlefield is not guaranteed. Anti-access/area denial weapons such as mines, ballistic and cruise missiles, and advanced air defenses "threaten the assured delivery of energy across air, land and sea," it said.
New platforms designed to counter these weapon systems will require more energy. "The ability of these new systems to meet their performance parameters frequently assumes an assured supply of energy, despite larger operating areas, flat or declining fuel logistics capacity, and increasing threats to energy infrastructure," the report said.
Simpson added that the shift to the Asia-Pacific brings up other complications. "We have designed a lot of weapon systems to work in an arid environment and now we're putting them in a humid environment. What happens to air conditioning systems and generators and tents?" she asked.
With that in mind, a second objective spelled out in the report is to "include energy throughout future force development," Simpson said.
"We're not about reducing demand or trying to be the most green, efficient warfighting machine, because that doesn't make any sense," she said.
The fact is that every platform the U.S. military has deployed has consumed more energy than the one it replaced. And that's OK. It may mean it has longer range or endurance, she said. Yet energy consumption is now being ingrained into every major weapon development program. It is a key performance parameter and every program must have an "energy supportability analysis" document accompanying it.
Simpson's office is at the forefront of prodding combatant commanders and the services to consider energy when conducting operations.
Part of that is ensuring that the lessons of the past are not forgotten. It was only a decade ago when fuel and water convoys became a prime target for insurgents in Iraq. Service members and civilians alike lost their lives and limbs as improvised explosive devices became a weapon of choice. Submarines have been called "the IEDs of the seas" because they too remain hidden from view and threaten vital supply lines, she said.
"There is always a risk for forgetting the lessons that we have learned. … We are taking that knowledge and employing it and pushing it back into those operational plans and working with the warfighters at a variety of different levels," she said.
The cost for fuel goes beyond the price per barrel. In fact, for the military, that cost is negligible. "If fuel were free, we would still be paying quite a cost for fuel on the battlefield," she said. For example, if fuel has to be protected in a convoy with unmanned aerial vehicles and guards, that requires troops that aren't out engaging the enemy so there is a loss of capability, she added.
The 2017 budget proposal has some $2.4 billion for programs addressing operational energy spread out across the services. While the operational energy office does not administer these funds, it serves as an advocate for them to lawmakers and their staffs. It does have about $38 million per year of its own to spend on new technologies. "It's not a tremendous amount but it is enough to selectively place a little bit of funding in places where we think it will make the most difference across the services," she said.
This year, the office is spending those funds on improving wargames and simulations and making sure energy is part of the equation when constructing models for battlefields.
The Synthetic Theater Operations Research Model is a major tool for wargaming, but it didn't include energy considerations, she said. The office paid for modifications so energy is a limiting factor and a consumable that can be measured. Participants can't always assume that energy will always be available, she added.
The operational energy office is learning from those wargames as fuel factors are inserted into the scenarios. "We've got some very surprising results," she said.

"We review all operational plans for all of our contingencies around the world. How is energy planned for and are there issues that need to be addressed? And quite frankly, we found some. But the good news is that they are being addressed and we are dealing with them today," Simpson said.
Other programs it has funded include efforts to reduce dismounted soldier battery demands by 30 percent and another that increased portable air-conditioning unit efficiency by 50 percent. It also funded a program to make portable hardwalls for temporary buildings less leaky and therefore more energy efficient.
Additionally, it is working with the Army Tank Automotive Research Development and Engineering Center to see what it can do to make tactical vehicles more fuel efficient, including the tankers that haul the fuel itself.
"We're spending so much energy moving energy, maybe we can be more efficient in that as well," she said.
As far as alternative fuels for the commonly used JP-8 and F-76, the Defense Department has not changed its tune, she said. Any such fuel must "drop-in" and work in existing engines. It also shouldn't cost any more than traditional fuels. With low petroleum prices, that makes it even more challenging for those wanting to sell the Defense Department substitutes for traditional diesel. The Defense Logistics Agency is spearheading alternative fuel efforts, and despite the hardline, it has made some progress. Last year, the agency bought 77.6 million gallons of replacement fuel from a company that used a blend of F-76 and fuel made from animal fats.
"We didn't pay any more than what we would have paid for traditional fuel," Simpson said.
The 2016 strategy avoids setting fuel efficiency goals. Installations do have mandates to reduce energy consumption, but that shouldn't be the case for those who are asked to train and fight in operations, Simpson said.
The 2011 strategy focused on reducing consumption and being more efficient but that was a means, not an end, she said. "The end game is to be more capable and effective," she added. Once fuel consumption mandates are in place, a unit may start to scale back on training, which may result in a lack of readiness. That is counterproductive.
One of the goals outlined in the strategy is to obtain a better understanding of how ground forces use energy. "We have really good visibility on how operational energy is consumed on the sea and in the air," she said. "The Navy can break it down to type of ship, and what they are being used for. The Air Force does the same."
They operate large systems from a relatively small number of locations. And in doing so, it's more straightforward to have visibility into how they are consuming energy, she said.
"Conversely, our ground forces are thousands of small pieces of equipment that consume energy. And they are not deployed out of large bases but numerous contingency bases and outposts throughout the world. It's just much more of a measurement challenge," she said. The office is working with the Army and Marines to get a better understanding of how they consume fuels.
"Knowing how we use energy in an operational and tactical unit will help us understand the risks and opportunities, and thus we can use that information to make better decisions in the future as we procure new equipment," she said. The knowledge could also be useful to local commanders as they are employing their forces and making decisions, she added.
The strategy's primary audience is combatant commands and the four services, she said. To ensure that the strategy isn't ignored, the Defense Operational Energy Board — comprising representatives from logistics communities, operational leads, all the global commands and the assistant secretaries of the services — meets regularly to keep tabs on progress being made.
"The services are really the ones going out and saying, 'This is what I need.' We set the direction, but it's up to the services to actually go out and make the connections," Simpson said.
Topics: Energy, Power Sources, Land Forces