ROBOTICS AND AUTONOMOUS SYSTEMS
DARPA's Crewless Vessel to Begin Sea Trials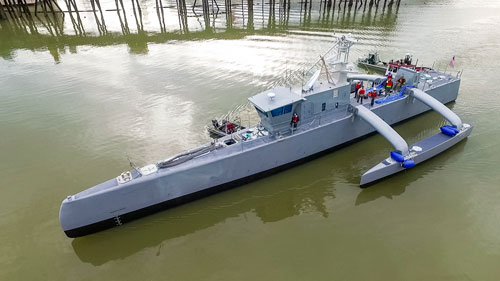 Anti-Submarine Warfare Continuous Trail Unmanned Vessel
An unmanned surface vessel capable of sailing anywhere in the world will soon begin sea trials, a military official said April 6.
The anti-submarine warfare continuous trail unmanned vessel (ACTUV) program, which is being developed by the Defense Advanced Research Projects Agency, was christened April 7 in Portland, Oregon.
The event marked the end of construction on the vessel — which is a 130-foot twin-screw trimaran known as the Sea Hunter — and the beginning of extended sea trials, said Scott Littlefield, DARPA program manager for ACTUV.
The ship will be leaving Portland in about two weeks and sailing to San Diego where it it will begin a two-year extended test phase in cooperation with the Office of Naval Research, he said during a media roundtable with reporters the day before the christening.
While the vessel was christened in April, it was launched in late January, Littlefield noted. "It has been floating in the water for a while," he said.
The Navy has for decades been investing in small unmanned sea vehicles, he said. Most of those were designed to be launched and recovered from ships.
"What we are doing in this program is building something that is substantially larger, that is actually designed to go directly from the pier out to an objective area and come back and has enough range and endurance that it can get anywhere in the world from U.S. territory, so it doesn't rely on a host ship to launch and recover it," he said.
That kind of technology requires a high level of autonomy, he said.
"We didn't want to simply build a remote-controlled boat, we actually wanted something that could behave appropriately and do complicated missions under what we called sparse supervisory control," he said. "That means there's still a human being in control, but the human being is not joy sticking the vessel around."
Using a 40-foot boat as a surrogate vessel, DARPA has already tested its autonomy software to ensure that ACTUV could obey established maritime rules known as international regulations for preventing collisions at sea.
"We've been taking that out to sea to show that it can in fact obey the rules of the road at sea and not run into other vessels and do that without a human being piloting it around," he said.
The main function of ACTUV — which has a top speed of 27 knots — is anti-submarine warfare, but DARPA also could equip it with other payloads for different missions, Littlefield said.
"We don't want ACTUV to be a one-trick pony. We really want to build a truck that's versatile to carry lots of different kinds of payloads," he said. "As part of our cooperative program with the Office of Naval Research we're also looking at some mine countermeasure payloads and in particular a mine sweeping payload."
Because of ACTUV's large size, it is has more space and carrying capacity as well as an electric power source that can host a number of payloads, he said.
DARPA also wants to use it alongside other unmanned vessels and manned ships, he said. "This whole concept of manned-unmanned teaming is a place that the Department of Defense is trying to go and I think ACTUV is a great platform for learning how to … work cooperatively with manned vessels."
While ACTUV wouldn't fit inside a littoral combat ship, it could be operated as a LCS mission module using the ship as "the mother ship to control it," he said.
"It gives you a tremendous amount of flexibility both in terms of the things that are carried by LCS and the additional capacity and kind of workload that you could accomplish using a large unmanned surface vehicle in tandem with it," he said.
At the start of the program, DARPA said it would like to achieve a series production cost of $20 million per vessel. The first prototype will be delivered for a construction cost between $22 million and $23 million, which doesn't include design and software expenses.
"We're getting pretty close to that goal and we think that … through economies of scale and learning curve that we can keep getting better," he said. It costs $15,000 to $20,000 to operate the vessel per day, he added.
By the end of 2016, DARPA plans to hand the program off to the Office of Naval Research, Littlefield said.
Photo: DARPA
Topics: Robotics, Unmanned Underwater Vehicles, Science and Engineering Technology, DARPA