Small Businesses See 'Golden Opportunities' in Special Operations Command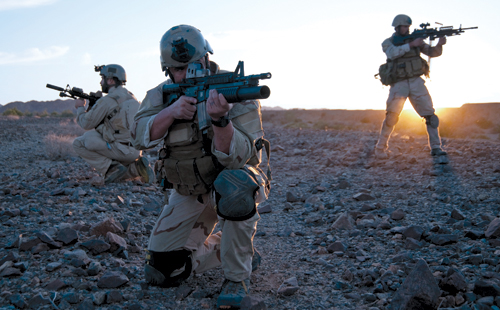 Navy SEALs
Drone Aviation, a manufacturer of surveillance aerostats, has made modest inroads into the defense market. It is finding, like many other small businesses, that it is hard to get noticed.
So the chance to submit a proposal to the U.S. Special Operations Command and the possibility of a one-on-one meeting with a SOCOM program executive can be a pivotal moment for a company trying to move up the ranks in the defense business.
SOCOM is drawing attention from companies across the United States for its approach to doing business. It has gained a reputation for being more inviting than the traditional military buying commands. If a SOCOM official likes a proposal, companies are called back to pitch the product directly to the decision makers. That opportunity can be "golden for little companies like us," said Drone Aviation President Dan Erdberg.
The small aerostats and tethered drones the company makes have been tested by the U.S. Army for years as overhead surveillance platforms or as communications relays that bounce signals off helicopters, fixed wing airplanes and drones around the battlefield. The system can be packed in a small trailer and towed by a pickup truck, the type of mobile, not too complicated piece of equipment that special operations forces look for, Erdberg said.
The company planned to submit a proposal to SOCOM's program executive office fixed wing, or PEO-FW, in response to a "request for information" posted last month. Among the products sought by SOCOM are readily available sensors that can be mounted on small, unmanned aerial vehicles and that require minimum logistics support.
The PEO-FW has been reviewing submissions and expects to invite a handful of companies to present a detailed pitch April 19 at the command's "technology Tuesday" event held atSofWerX, SOCOM's technology incubator in Ybor City, a historic Tampa, Florida, neighborhood not far from SOCOM headquarters at MacDill Air Force Base. The 10,000 square-foot open floor building has the look and feel of a tech startup, and its name is a melding of SOF and a stylized spelling of "works."
Erdberg said this method for evaluating products is far more open than what he normally encounters in the defense world. The company is hoping to have a chance to offer SOCOM its "winch aerostat small platform," or WASP. The helium-fueled tethered blimp is being marketed as an "eyes in the sky" alternative to more expensive drones or manned aircraft, and also as an airborne cellphone tower to provide mobile communications in warzones. The system has been sold to law enforcement agencies to monitor prison grounds or hunt for fugitives.
The Army has deployed it for three years at Fort Bliss, Texas, as part of a large experimental force that is testing communications technologies.
Industry analysts said SOCOM is a much sought-after customer by small businesses. The command regularly tries to fill unique "pop up" niche equipment requirements that are not big dollars by the standards of Pentagon weapons programs but are significant for small businesses, said Bloomberg Government defense analyst Robert Levinson. SOCOM awards roughly $3 billion per year in contracts with approximately 1,150 different firms.
"It's a growing market and likely to survive any downturn," he said during a recent webinar.
SOCOM has "a lot of industry days," said Levinson. "They want to communicate with businesses. Despite their penchant for secrecy they do want to talk to the private sector."
In an interview with Bloomberg Government, SOCOM Acquisition Executive James Geurts said the command competed 73.5 percent of all contracts awarded in fiscal year 2015. Of the contracts awarded, 33.1 percent went to small businesses, including 10.8 percent to service-disabled veteran-owned firms, 10.5 percent to small disadvantaged business, 4.6 percent to woman-owned small business, and 2.3 percent to historically underutilized business zones.
Photo: Defense Dept.
Topics: Robotics, Unmanned Air Vehicles, Special Operations-Low Intensity Conflict