Senior Pentagon Official Warns About Complacency in Combat Logistics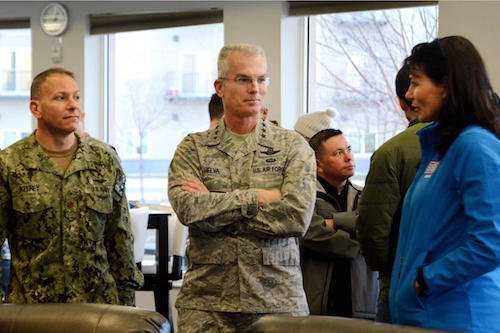 Air Force Gen. Paul J. Selva, vice chairman of the Joint Chiefs of Staff, visits Joint Base Elmendorf-Richardson, Alaska
One way to define an "enabler" is someone who encourages negative or self-destructive behavior. But on the military battlefield, enablers is the name given to support units like logistics, transportation and medical personnel.
As troop numbers come down and the Pentagon shifts its focus from massive ground wars to leaner operations, it is not paying enough attention to the enablers, warns Vice Chairman of the Joint Chiefs of Staff Air Force Gen. Paul J. Selva.
"In lean years we cut things that we think don't contribute to combat power," Selva said April 20 at the National Defense Industrial Association's annual logistics forum in Washington, D.C.
When money is tight, the military services concentrate resources on combat forces, often at the expense of support units, and this could be a dangerous trend, said Selva. "I worry about the logistics workforce."
The logistics infrastructure becomes an easy target when the services are looking to buy more "combat power," Selva said. As a consequence, "We're getting leaner on logistics enablers and heavier in relative terms on combat power." As vice chairman of the joint chiefs, he noted, "I like combat power. But I also ask the questions: Have we addressed the tail that comes with combat power? Have we addressed the depots, the logistics, training and sustainment infrastructure? If the answer is no, the combat power is going to be irrelevant."
A former commander of U.S. Transportation Command and a career pilot of military cargo planes and refueling tankers, Selva has an unusual appreciation for the work that goes into managing logistics support of forces in the field. He cited the complex operation the Pentagon orchestrated in late March to evacuate U.S. military family members from Turkey's Incirlik Air Base due to security concerns. It looked easier than it actually was, said Selva. "In the blink of an eye," the military and support contractors airlifted more than 700 family members and 60 pets. Just hours later, 250 children were enrolled in schools in Germany so they wouldn't miss class.
A robust logistics organization is what makes any operation successful, he said. "Combat power is a one-shot capability. Once I expend it, if I don't have the support infrastructure to sustain and reconstitute it, it's gone," he said. "That's something we have to address. … Operators are increasingly thinking that way, but we are not there yet."
Selva worries that the military services are shortchanging the enablers. "Look at their budgets, and see what's happening."
The Pentagon just launched an $18 billion innovation initiative — dubbed "third offset" — to modernize the military. This can't be a discussion of just "shiny objects," Selva said. "We can debate what third offset is or isn't, but right behind the technology is a very serious conversation about organizational structures to sustain that fight."
The topic of logistics is likely to be part of the debate on how the Pentagon should reorganize to better respond to new global challenges. This falls under the umbrella of "Goldwater-Nichols" reforms that soon will be unveiled by the Senate Armed Services Committee. The thrust of these reforms is the idea that the organizations created by the 1986 Goldwater-Nichols Act over time grew into bloated and inefficient military and civilian structures.
Logistics is not immune to bloat, Selva said. "There are places where we can make some serious changes. We can de-layer a lot of our processes, and we should." But Selva insisted that would oppose draconian cuts, and would support changes to the law that elevate the importance of joint-service logistics.
"I would like to see language that codifies the necessity for our J-4 structures, both in the joint staff and the combatant command staffs. They're incredibly important to sustaining the force." In the context of Goldwater-Nichols reforms, Selva said, "if the change is too drastic, the institution will rebel against it. … If we can reform around the edges of the goodness that Goldwater-Nichols brought us, count me in."
Drastic reorganizations can cause more problems than they solve, he argued. Selva more than a decade ago was in the thick of a heated bureaucratic turf battle over a proposal to merge the U.S.Transportation Command with the Defense Logistics Agency. At the time Selva was for it, but his thinking evolved, he said, as he saw that each organization had unique value. He would no longer back such a move.
Photo: Defense Dept.
Topics: Defense Department, Logistics