Experts See Pitfalls in Congress' Acquisition Reform Efforts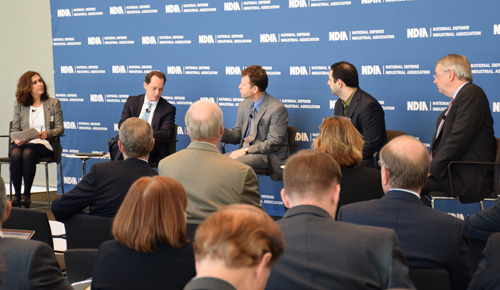 Ongoing congressional efforts to improve the Pentagon's acquisition system could backfire or fall far short of expectations, defense experts cautioned at a panel discussion on April 20.
Concerned about long acquisition timelines and the need to maintain the U.S. military's technological edge, leaders of the House and Senate Armed Services Committees are drafting a new round of legislation aimed at making the Defense Department more effective and nimble in the way it develops and procures new equipment.
However, additional reporting requirements aimed at beefing up congressional oversight of Pentagon acquisition efforts could cause problems, according to Camron Gorguinpour, director of transformational innovation in the office of the assistant secretary of the Air Force for acquisition.
"Intense reporting requirements and additional reporting requirements slow things down," he said at an Executive National Security Forum in Washington, D.C., hosted by the National Defense Industrial Association.
About 20 such requirements were part of acquisition reform legislation drafted last year, he noted.
"If there are more [in this year's National Defense Authorization Act], well at some point, that's just antithetical to agility," he said.
Analysts on the panel noted that past problems with major acquisition programs were sometimes caused by a failure of defense officials to set the right operational and technical requirements and make necessary tradeoffs. Legislative changes won't necessarily prevent that from happening again, they said.
Looking at acquisition problems or challenges in the last 10 to 15 years, "I don't think most of them were caused by the acquisition system per se in the sense of rules and … the lack of authorities or the specifics of the technical legislation," said Michael O'Hanlon, co-director of the Center for 21st Century Security and Intelligence at the Brookings Institution. "They were caused, I think, by bigger picture mistakes … in the way we weigh the priority of different goals."
Plans to make changes to Pentagon organizational constructs laid out in the 1986 Goldwater-Nichols Act, including the way acquisitions are managed, could result in overreach by reform-minded lawmakers, O'Hanlon warned. Some aspects of the procurement system are working well, he noted.
"Part of what I'm concerned about with that debate is that people are going to try to do too much," O'Hanlon said. In previous national security reform efforts, "people wanted to measure progress by the enormity of the change, and that can be a danger."
Roger Zakheim, counsel at the law firm Covington and Burling, LLP, and a former House Armed Services Committee staffer, said it would be shortsighted of lawmakers to zero in on reforming major acquisition program. Growth in operating and sustainment costs, as well as spending on the acquisition of services by the Defense Department, eats into procurement, he noted.
"If we just focus on major defense acquisition we're basically focusing on a smaller and smaller slice of the budget," he said.
Rep. Mac Thornberry, R-Texas, chairman of the House Armed Services Committee, has encouraged the Defense Department to be more accepting of failure early in the technology development process as long as the overall process moves quickly. The concept is similar to what has been embraced by commercial firms in Silicon Valley and elsewhere.
The Defense Department is trying to learn from Silicon Valley business practices, Gorguinpour noted. But there are limits to how much the "fail fast" model could apply to the Pentagon, he said.
"When a Silicon Valley startup fails fast, they typically don't get hauled before Congress," he said. "They don't end up on the front page of the newspapers."
There needs to be "a little bit of realism here that there are definitely strong political forces" that affect the way the Pentagon does business, he said.
Giving the Defense Department more authorities won't streamline acquisition efforts if officials don't use them. The Air Force has "other transaction" authority that many procurement officers aren't aware of, Gorguinpour said.
"We have a lot of authorities that we just don't use. We have a lot of flexibility that we don't actually take advantage of," he said.
His office is trying to utilize those authorities as it reaches out to commercial firms around the country. Later this week, Gorguinpour plans to travel to Boston, Massachusetts, with Secretary of the Air Force Deborah Lee James to speak with executives about ways that the Air Force can improve its business practices. While this is the first such visit, the service intends to do more, he noted.
But concerns about intellectual property are hindering the Pentagon's outreach efforts, the panelists said. There are only 16 intellectual property lawyers in the entire Air Force, and only eight arededicated to acquisition. Changing acquisition rules and statutes won't fix that problem, Gorguinpour said.
"At the end of the day, if we don't have the resources, the manpower resources within our agency that will be able to understand the nuisances … you're not going to see much improvement," he said.
Concerns about intellectual property rights, limits on profit margins and other headaches associated with dealing with the Defense Department are a turnoff to tech firms, Zakheim said.
"I don't think with Silicon Valley [and] with small business you're going to be able to legislate your way out of this" situation, he said.
Photo Credit: NDIA
Topics: Defense Department, Procurement