DoD Acquisition Chief Worried That Technology Development Will Stall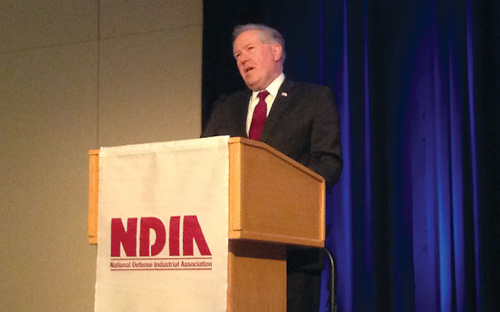 Frank Kendall
Budget shortfalls could prevent the Pentagon from taking critical technology development to the next level, the Defense Department's top acquisition official warned April 19.
The Pentagon is pursuing a "third offset" strategy intended to provide the U.S. military with cutting-edge tools to maintain technological superiority over potential adversaries.
"The idea there is to use our creativity across the board to try to do business better, more efficiently, more effectively [and] to be more creative about the technologies we buy ... and how we use them," Under Secretary of Defense for Acquisition, Technology and Logistics Frank Kendall said at the 32nd annual National Logistics Forum in Washington, D.C., hosted by the National Defense Industrial Association.
Pentagon budget plans call for $2 billion to $3 billion worth of investment in third-offset related activities in fiscal year 2017, including wargaming, modeling and simulation, and technology demonstrations, he said.
The demonstrations tend to emphasize autonomous systems, artificial intelligence, man-machine integration, and the ability to operate farther away from missile systems that are being built by potential adversaries, he noted.
The Defense Department hopes to spend about $18 billion over the next five years on these initiatives.
"A lot of it [is] going towards demonstrations of future capabilities that we might have," Kendall said. "What we did get into the budget was some near-term demos to demonstrate concepts, give the operators a chance to experiment with some things, as well as to move technology forward. That's step one of what would be a lot longer journey."
But budget constraints and the looming return of sequestration in fiscal year 2018 could derail the Pentagon's plans.
"What we don't have and what we can't afford right now is the money that follows those demonstrators to build … the full-scale development and the production and the fielding, and have the force structure associated with those things," the acquisition chief said.
The problem will only get worse in the early 2020s when the Defense Department is faced with a high nuclear modernization bill, he noted. Efforts are underway to develop a new long-range strike bomber and Ohio-class replacement ballistic missile submarine. The Pentagon also plans to update its Minuteman III and cruise missiles.
Those initiatives are expected to cost $12 billion to $15 billion per year beginning in fiscal year 2021, according to Kendall. The Pentagon will be paying for other expensive programs at that time, such as the joint strike fighter.
"We have a big affordability gap, and one of the things the next administration is really going to have to sort out is how it works its way through all of that," Kendall said. "It would be enormously helpful if we could get rid of the sequestration thing and have an intelligent debate about what we really need for national security."
The U.S. military's technological edge is eroding, he said, noting China's development of sophisticated missiles and sensors.
"They know that we're dependent on a relatively small number of assets, and that if you can attack those assets you have basically defeated the United States," he said.
Space platforms, forward air bases and aircraft carriers are at risk. Logistics systems — including ships, transport aircraft and logistics nodes that the U.S. military relies on — are also vulnerable, he noted.
"We're fighting an away game most of the time, which is a great position to be in except it makes your job a lot harder," Kendall said. "Our ability to logistically sustain the force is a big part of what we need to be able to do, hence the idea of a third offset strategy."
An inability to get programs into development by the end of the future years defense plan will mean the Pentagon will be without critical capabilities five or 10 years from now, he warned.
"We are already in trouble," he said. "This is not a future problem, it is a now problem."
Photo: Jon Harper
Topics: Defense Department, DOD Budget, Science and Engineering Technology